Beginning in the early 1600s, the practice of removing the testicles of prepubescent boys to preserve their high singing voices was a commonplace feature of the Italian musical scene. The ideal castrato's voice was as high-pitched and agile as a coloratura soprano's, but was supported by the powerful lungs of a full-grown man. Contemporary listeners compared the voices of castrati to those of angels, and the singers themselves were seen as something apart from ordinary life, separated from society by both their uncanny musical achievements and their disquieting sexual ambiguity. Officially frowned upon but tacitly approved by the Catholic Church, there were literally thousands of castrati until the practice was officially discontinued at the end of the nineteenth century. Many of them were church musicians, but the most accomplished became celebrated opera singers, flourishing in an art form that embraced virtuosity and artifice (those most Baroque of aesthetics) with a vengeance. Of all castrati, Carlo Broschi, better known by the stage name Farinelli, was the biggest success.
It's been twenty years since the US release of Farinelli il Castrato, a lavish look at the eighteenth-century opera star and the backstage complications brought on by his condition. At the time, Farinelli was most notable for its pioneering use of digital "morphing" (now there's a term that screams 1990s) of two voices (soprano Ewa Malas-Godlewska and countertenor Derek Lee Ragin) into one, giving modern listeners a chance to hear a now-extinct vocal type. (Only one castrato was ever recorded: Alessandro Moreschi's 1902 and 1904 recordings are available on a CD entitled The Last Castrato. While interesting, the limitations of acoustic recording and the exclusively sacred repertoire–Moreschi was a soloist, and later musical director, in the Papal choir of the Sistine Chapel–give only a hint of how Farinelli and other opera divos might have sounded.)
Just as Farinelli's use of digital technology has been superseded and is now commonplace, the film itself has gone from an arthouse sensation (it won the Golden Globe for Best Foreign Film and was nominated for an Oscar) to nearly forgotten, at least in America (it can be streamed on Amazon, but the only DVDs or Blu-Rays are imported or out of print; I watched it on a borrowed VHS copy). So how does Farinelli hold up now that its technical achievements are no longer novel?
Thankfully, the performances created through morphing aren't nearly as embarrassing as the primitive CGI from the same period: anyone hoping for the aural equivalent of The Lawnmower Man will be disappointed. The most obvious artifice is in the supernaturally long sustained notes, achieved by looping the recorded voice, but castrati were often credited with such feats, so it is based in fact. Stefano Dionisi, who plays Farinelli, is, of course, lip-syncing, but this too has precedence in the movies: leaving aside the many cases of actors' singing voices provided by an uncredited singer, even those actors who do their own singing are generally filming and recording at different times.
The rest of the film, while interesting, is a mixed bag, a bodice-ripping costume picture that doesn't let history get in the way of a juicy story. At the center of the film is Carlo's relationship with his older brother Riccardo (Enrico Lo Verso), a composer who manages the pair's careers, writing flashy arias for Carlo to sing while struggling to complete a masterpiece worthy of his talents. From their early years together, Carlo and Riccardo are inseparable, loyal only to each other: when George Frideric Handel (Jeroen Krabbé) appears offering to hire Farinelli for his own operas, Riccardo tells him off. Carlo will sing only what Riccardo composes for him.
The partnership extends offstage: "Beware the Broschi brothers," the widow Margareth (Caroline Cellier) later tells her servant Alexandra (Elsa Zylberstein): "It is said that they share everything, even their conquests." This is also shown to be true, a "pact" between the brothers that all the women drawn to Carlo by his charisma and success will first be pleasured by him (capable of performing, but not of climaxing) and then by Riccardo. This particular arc reaches a conclusion that is dramatically logical, but may strike modern viewers as overly tidy or simply gross.
As the above paragraph indicates, Farinelli is explicitly not interested in a decorous or whitewashed portrait of its title character. In fact, as a look at "Sex, Drugs, and Rock & Roll . . . 18th Century Style!" (as one reviewer had it), Farinelli follows the beats of the typical rock star biopic closely, with scenes of formative trauma (the castration itself, suggestively but not graphically depicted), early success (showing Farinelli earning his stage name), adulation, and glamorously bad behavior (a drunken Farinelli crashing a reception and telling the stuffy opera patrons what he really thinks of them). At one point, Margareth even says, "You're tearing me apart, Carlo!" Further, the movie is awash in images of almost pornographic luxury and decadence.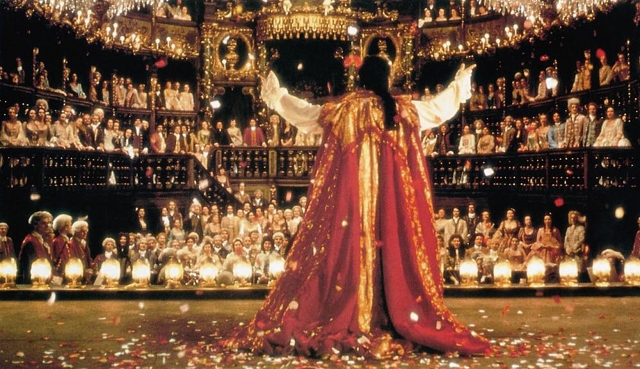 That's not to say the film only has sensation on its mind, however: directed by Gérard Corbiau (and co-written with Corbiau's brother Andrée), Farinelli most clearly resembles Amadeus, and desperately wants to be seen in the same light as that film, alternating its scenes of romance and intrigue with discussions of the true nature of art and the need for artistic fulfillment. Like the film that bears his name, Farinelli isn't content just to make audiences swoon: he wants to move their spirits as well.
This is where Handel comes back in and provides the bulk of the plot: the German-born composer Handel, after a long stint in Italy, had brought Italian-style opera to England, where his theater, financially supported by the King, was in direct competition with Nicola Porpora's Opera of the Nobility. In the film Porpora (Farinelli's real-life music teacher) brings Farinelli to London to sing for his theater, but Handel continually attempts to lure him away, with his own music as the bait. Where Riccardo's music shows off Farinelli's voice with showy but empty technical flourishes, Handel's music promises something substantial and spiritually satisfying. Farinelli craves serious art, but his loyalty to his brother prevents him from collaborating directly with Handel. This conflict is effectively the "love triangle" at the heart of the film. Ultimately, Handel learns a secret that will drive a wedge between the two brothers (one that will not be hard for audiences to guess).
Farinelli also reflects Amadeus by depicting Riccardo as a mediocrity with a nearly parasitic dependence on Carlo's talent. Although Handel is contrasted with Riccardo as a composer of depth and genius (he even schools Riccardo in composition in one scene, rewriting Riccardo's opera and taking over at the keyboard while Riccardo is reduced to fetching pens and paper for the master), the personalities of the two brothers show the influence of the Mozart-and-Salieri dynamic, with Carlo as supernaturally gifted but childlike and irresponsible and Riccardo as pedestrian and down-to-earth, jealously keeping Carlo's genius to himself. The primary difference (aside from the fact that Farinelli's characters don't make for such a clean allegory as in Amadeus) is one of tone: where Amadeus contrasts the mundanity of court and domestic life with the ideal world conjured by Mozart's music, Farinelli is just as heightened and melodramatic outside the theater as in performance. For its characters, real life is even more operatic than the stage.
At the end of the film, Farinelli has ended up at the court of the Spanish King Philip V. Farinelli's Spanish career is interesting enough that it could have been a film in itself (and it is the subject of a recent play by Claire van Kampen): Philip suffered from what we would now call chronic depression, and his Italian-born wife Elisabeth brought Farinelli into his court in hopes that his music and friendship would have therapeutic value. Philip isn't much of a presence in the film, but his condition is alluded to in a scene set during a solar eclipse. The members of Philip's court gather outside to view the eclipse through smoked glass; once the sun is completely shadowed, Philip asks Farinelli to sing, to "bring back the sun."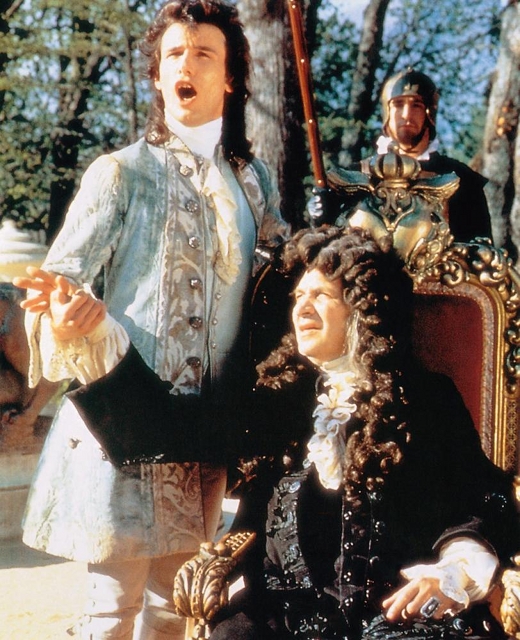 Another well-known anecdote, not included in the film, has Philip asking Farinelli how he could reward him for his talents, promising to honor any request. Farinelli, upon Elisabeth's direction, asked Philip only to allow himself to be shaved and dressed by his attendants so that he could appear in council. Such therapeutic and advisory roles were by no means unusual for court musicians, echoing the Biblical story of David playing for the ailing King Saul (1 Samuel 16), and in this way many castrati, including Farinelli, had second careers in politics (Farinelli ultimately served Philip and his successor, Ferdinand VI, for more than two decades).
Farinelli benefits from some knowledge of opera and its importance in both Italian cultural life and the one-upmanship of courts across Europe. Farinelli is portrayed as a celebrity, bringing crowds to near hysteria, commanding high fees and with access to the highest reaches of society; this is not an exaggeration. The extravagant costumes and staging (even his appearance onstage on horseback) give an idea of how spectacular Baroque Italian opera could be. (However, while it is true that Baroque opera is often static in appearance, without much stage movement, Farinelli is never shown sharing the stage with anyone else, giving his performances an air of solo recital rather than theater; other singers are alluded to, but never shown.)
The film plays fast and loose with history, as well: in real life, Farinelli had a wide repertoire, not limited only to his brother's music. It is true that Handel was unable to convince Farinelli to sing at his theater, but uninformed viewers may be left with the impression that Handel died after hearing Farinelli sing his music, ignoring the English-language oratorios like Messiah that Handel composed after London's audiences grew tired of Italian opera.
Even the stark divide between the empty virtuosity of Italian opera and the spiritual depth of Handel's German craftsmanship is exaggerated, more indebted to Amadeus than an accurate reflection of Baroque aesthetics. Obviously, Handel's music has stood the test of time (although, ironically enough, not his Italian operas, which went largely unperformed until their revival a few decades ago), but the degree to which his music is celebrated in the movie is informed by hindsight, and the attitudes attributed to the characters are anachronistic.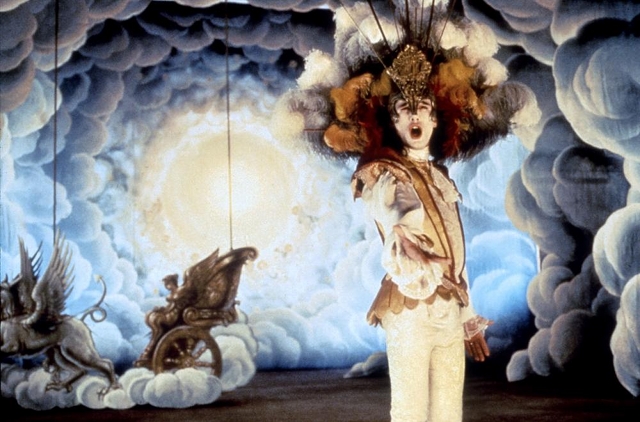 In many ways, the film's opposition of Italian and German musical styles reflects a gendered response that has been part of music criticism since the nineteenth century, when (primarily German) musicologists of the Romantic era treated Beethoven's heroic conception of large-scale form as not only an ideal artistic approach but the ultimate goal of the Austro-Germanic compositional tradition, and began reexamining earlier periods in search of support for that thesis. From that vantage point, it was inevitable that the more facile and self-consciously constructed music of the Italian Baroque would be found wanting.
Even more troubling was the conflation of stereotypes about national character with stereotypes about characteristically "masculine" and "feminine" approaches to music; in the film, Farinelli is repeatedly told that "making women swoon" is a waste of his talents, with the implication that music is man's work. One need only look to contemporary debates about "rockism" to see that music is still often judged on the basis of its perceived audience, with half that audience seen as easily dismissed. It is a divide that Farinelli displays but does not dispute.
Farinelli's treatment of musical gender is, of course, tied up with the status of its title character. The portrayal of the castrato is a decidedly contemporary version of a glamorous outsider. Most castrati didn't possess the chiseled male beauty of Dionisi: the side effects of castration frequently included obesity and womanly curves. Castrati were often mocked and slandered, especially outside of Italy, for their unmanliness and odd appearance. Still, rumors (and cuckolded husbands) followed many castrati: it was said that some women preferred taking castrati as lovers because there was no risk of pregnancy, or because they could maintain erections longer than uncastrated men. In combining accusations of unseemly femininity and a voracious (even predatory) sexual appetite, the criticisms leveled against castrati are remarkably similar to those historically aimed at gay men; some critics in London even feared that the influx of castrati in England would weaken the collective manhood of the nation. It is in this context that the frequent references to Farinelli as a "monster," "neither male nor female," are best understood. Farinelli the film doesn't exactly shatter old stereotypes, but it ultimately treats its title character with sympathy: Farinelli did not ask to be what he was, and on the stage he found a place in which, through artifice and role-play, he could exercise his gifts and, paradoxically, be himself.