The Hail, Caesar! trailer seems to be the biggest thing to hit the realm of cinephilia since . . . the Inside Llewyn Davis trailer, so now would seem to be a good time as any to dig into some of the fascinating real-life foundations of the Coen Brothers upcoming film.
Anyways, what's unusual about this film is that Josh Brolin is playing — more or less — a real person. Brolin's character, Eddie Mannix, was the real-life Vice President of MGM during the '30s, '40s, and '50s, and one of Hollywood's top "fixers." He was one of the most powerful men in the industry during his time and was chiefly responsible for protecting the "image" of MGM and its stars, making sure pregnant-out-of-wedlock starlets didn't appear to be brazen "hussies," or that gay leading men didn't appear to be "sissies," and keeping big time stars out of headlines about drug addiction, vehicular manslaughter, or any manner of Babylonian transgressions.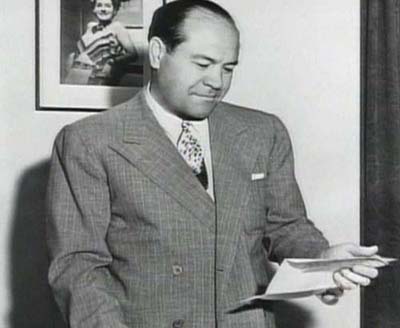 He inspired the character of studio boss Pat Brady in F. Scott Fitzgerald's final, unfinished novel The Loves of the Last Tycoon. When Elia Kazan adapted the novel for his final film, The Last Tycoon, in 1976, Robert Mitchum played the role of Brady. This was roughly a dozen years after Mannix's 1963 death, and his Hollywood had completely transformed into the Hollywood of Dennis Hopper, Michael Cimino, and swimming pools full of coke, but the darkest portrayal of Mannix had yet to come.
Mannix attained a kind of posthumous infamy for his supposed role — as some have theorized — in the death of Superman-actor George Reeves, officially a suicide. Some have argued that Mannix had Reeves murdered due to Reeves's extramarital involvement with Mannix's wife Toni, though I have my sincerest doubts about any such theory. In this capacity, he was played by Bob Hoskins in the movie Hollywoodland. I suspect this will be the only time that Bob Hoskins and Josh Brolin play the same character, unless Brolin gets the idea that he'd really like to do a new Mario Brothers movie.
But the real Eddie Mannix was an executive at MGM, while the movie's Mannix, based on the trailer, is "Head of Physical Production" at the fictional Capitol Pictures, the same studio that was in Barton Fink. Y'know, the one where "The Writer Is King." Also, the real Mannix had the personal name of Edgar, while Brolin's Mannix, based on one shot from the trailer, would seem to be an "Edward Mannix."
I think it's interesting (and odd) how the Coens are using a more-or-less real person as the lead character in their otherwise totally fictional period film. The closest they've done to this before would be in O Brother, Where Art Thou?, where Charles Durning's character (radio-hosting populist Mississippi governor Menelaus "Pappy" O'Daniel) was based on real-life radio-hosting populist Texas governor Lee "Pappy" O'Daniel, and of course, Baby Face Nelson made an appearance, a couple of years after his real life death, robbing banks in Mississippi, a state I don't believe the real Nelson ever visited.
The Coens have dabbled into film a clef methods before — Llewyn Davis is an askew Dave Van Ronk, Barton Fink is a parody of Clifford Odets, many of the Big Lebowski ensemble are inspired by real L.A. fringe players who the Coens know personally — but this seems to be of a whole different order.