Mild spoilers ahead!
E4's Foray into the Murder Mystery Genre
Anyone who has been watching television the past few years (show yourself, Soluters!) has almost certainly seen a rather larger saturation of murder mystery crime dramas on both sides of the Atlantic. In the UK, Midsomer Murders continues to go strong after all these years, The Fall was a critical and ratings success for BBC2, and just last spring, ITV's Broadchurch, a murder mystery set in an idyllic seaside town won the BAFTA TV Awards for Best Drama Series, Best Actress (Olivia Colman) and Best Supporting Actor (David Bradley), in addition to being remade by FOX as Gracepoint. Scandinavian crime dramas, namely Forbrydelsen and Bron/Broen, which were remade in the US as The Killing and The Bridge respectively, have found tremendous success throughout Europe. In the States, Hannibal is a cult favorite and True Detective was a hit for HBO.
With so many murder mysteries, the genre's piquancy can feel diluted with each passing offering. In short, it's a bit like reading too much Agatha Christie; everything starts to blur together. In the current TV landscape, some dramas like Hannibal and Bron/Broen escaped the confines of previous crime shows by exploring the psychological toll death took upon the characters. It was a much needed antidote to TV's ever growing reliance on violence to goose tension and move the plot forward. This is nothing new, but with the past success of violent shows like Breaking Bad, The Sopranos, and The Shield, many networks eager to find similar success and acclaim only focus on the superficial bits (blood, nudity, profanity) while ignoring what genuinely makes those shows interesting (complex characters, unflinching portraits of the darkness of human behavior, etc). So, to see some crime dramas take death seriously again is a welcome change of pace.
Glue, the eight-part E4 drama, is one of those dramas. A murder mystery set in the English countryside (namely the fictional farming and horse-racing town of Overton), the drama follows a group of friends, who drink, sleep around, get into trouble, and try to find happiness and possible escape from the ennui of country life. After a particularly debaucherous evening, one of teens is found dead underneath a tractor. The death of Caleb Bray (Tommy Lawrence Knight) sends ripples through the group, particularly devastating his brother Eli (Callum Turner), and soon the characters' dark secrets start tumbling out.
Based on that description alone, it would be easy enough to call it a cross between Skins and Broadchurch, or Top of the Lake and Dazed and Confused. However, it's so much more than that. A teen soap-murder mystery is nothing new; Veronica Mars did just that over a decade ago (where does the time go?). Unlike Veronica Mars, which took more after Buffy in its quippy, witty style, Glue is more somber and quiet in its depiction of one teen's death sending ripples through a tightly knit group of friends.
'I Chose a New Family': The characters of Glue

-Tina (Charlotte Spencer), aspiring horse jockey
In many ways, Glue is the tailor-made E4 drama. To those unfamiliar with E4, the sister network of Channel 4, it specializes in programmings aimed at the 16-24 age group. With their original dramas, they are best known for their flagship show, Skins, which centered on a group of teen ravers in Bristol, England. The show lasted seven series, best remembered for replacing the cast every two years (in an audacious move, the final series brought back five characters from earlier series so the viewer could see where they were in their 20s) and its frank depiction of teen sexuality, drug abuse, and violence. The show attracted a fair amount of controversy; detractors claimed the series was unrealistic and glorified substance abuse and debauchery. What is often overlooked is how despite its flaws, which would be more apparent after the brilliant first two series concluded, the show was acclaimed for its excellent casts and sharply observant writing. Skins had received a BAFTA nomination for Best Drama Series, a feat that would be unthinkable in American television. It followed in the footsteps of My So-Called Life and Freaks and Geeks, and gave Britain a teen soap could be simultaneously loved by teens and adults alike. The success of Skins would lead to Misfits, a comedy-drama about a group of found delinquents who receive superpowers after a freak lightning storm, and My Mad Fat Diary, a 90s-set drama based on the memoirs of writer Rae Earl. My Mad Fat Diary was a tipping point; the drama had its provocative moments, but its overall depiction of teen life was softer, less button-pushing than Skins and Misfits. Being noisy has its charms, particularly when a network wants to distinguish itself, but having a drama series illustrate that said network can also appreciate the quieter moments in life also goes a long way.  Glue may superficially share more traits with Skins, but its heart is more akin to My Mad Fat Diary.
Glue was created by Jack Thorne, BAFTA winner for The Fades and This is England '86 and a former writer for Skins and Shameless, so it undoubtedly shares some of the DNA of Skins. The first episode features James (Billy Howle) running naked through a field while high on ketamine before he jumps into a grain silo (the show is remarkably nonchalant in its depiction of male and female frontal nudity), while the second episode depicts an illegal rave in the nearby woods. However, after those two episodes, Glue turns its eye beyond the debauchery and to the often limited resources and opportunities available to young people in the countryside. A common theme in rural/small town English murder mysteries, particularly something like Broadchurch, is how the countryside is presented as 'pure Britain.' Everyone knows everyone in these tightly knit communities, and while dark secrets tumble out and fingers are pointed, more often the not the viewer can be reassured by the end of the series that the community will move forward in the face of tragedy. In sharp contrast, Glue's point-of-view is so centered on its young protagonists, the drama never feels like it's Making a Point™. The characters share in their tragedies and triumphs (the tragedies often outnumbering the triumphs), and while they are acutely aware of their surroundings, they are simply too caught up in their own lives to spend a lot of time to reflect on the greater picture. It's a fascinating paradox: in focusing on the minutiae of the characters' daily lives, the drama feels more insightful than those who use their surrounding as a 'one-size-fits-all' commentary on the state of the UK.
One of Glue's greatest strengths is how it takes a collection of teen drama archetypes (the hot girl, the brooding outcast, the charismatic bad boy) and tailors them to the country setting. Simply put, the characters actually do things. Take Tina. She is beautiful girl in the group, popular and charming, who comes from a broken family, complete with an alcoholic mum (Kierston Wareing). So far, so Degrassi. However, Tina is an aspiring horse jockey who hopes to be the first female derby winner in Britain. James, the quiet, sensitive boy next door is a farmhand struggling to find his own identity while being pressured by his mother to stay and help her maintain the farm. Annie (Jessie Cave) and Eli work at the horse stables, owned by Dominic (Tommy McDonnell). The characters are relatable and familiar, but they are all part of their countryside surroundings. The rural setting isn't merely window dressing; it's an intrinsic part of their identity. Identity, and one's allegiance to different groups, is one of the recurring themes of the series, and it is never more clear than in the character of Ruth Rosen (Yasmin Paige).
One foot in, one foot out: Ruth and the Romani Community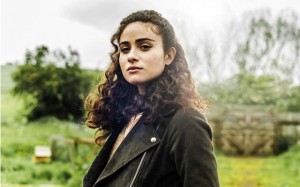 Ruth, a young half-Romani cop, is undeniably the heart of the show. A former friend of Tina and the gang, she has subsequently been ostracized following her decision to join the police force. She is thrust into the middle of the murder investigation; Caleb was Romani and the local community's relationship with the police is distrustful at best. Ruth's eagerness to prove herself to her superiors, coupled with her own struggles as a single mother and having to look at her former friends as suspects, is a rich showcase for any actor, and Yasmin Paige is more than up to the task. Ms. Paige has always been a vibrant performer, frequently in supporting roles, in films like Submarine and The Double and TV shows like The Sarah Jane Adventures. In Glue, she has the rich, multifaceted character she deserves, and she dives into the role with aplomb. Ruth could have easily been a one-note crusader, while serving as a teaching tool for why the 'Roma are people, too!' Instead, she's messy, she's ambitious to the point of irritation and  her steadfast determination can border on thoughtlessness for those around her. In showing all of her faults, Paige makes Ruth's combination of jaded intelligence and startling naiveté feel less jarring and more like the behavior of a young woman constantly struggling to prove herself and as such, the more she works to please one community, the more she alienates another, the other community often being the Roma travelers.
The Roma community has always received a great deal of prejudice in Europe, especially in the British Isles, but in a remarkable feat, Glue eschews treating its Romani characters as mysterious, wizened outsiders or a group of violent thugs. It so easily could have lapsed into 'Ruth is half Romani, so she is the best and therefore the only one who can be trusted of the bunch.' While the drama never shies away from showing the hardships or less flattering aspects of the traveller community, such as police harassment and how the Bray family in particular have been hit with years of tragedy, it never leers at these hardships or uses them to give the story an additional spice. Like the country setting, the Romani exist in the show, but they are blended into the story, living in uneasy balance with the non-traveller community. In a news report before the show's debut, a Roma consultant for the series said it was the first time she had heard a British drama feature the Romany language spoken with an English accent. It's little details like this that make Glue more than 'teen murder in the countryside.'
Realist or Escapist?
A rich cast of characters, coupled with a strong sense of place and a complicated yet respectful portrait of the Roma are just a few of the high marks of the show. The performances are uniformly excellent, with my choice standouts being Paige, Howle, and Spencer. The cinematography is gorgeous but never distractingly stylish. The plotting is taut, the twists are both surprising and fit nicely within the characters' motivations, sometimes putting previous actions in a new light, but never feeling like arbitrary turns to quickly grab the audience's attention. This isn't to say the show isn't without its faults. Some of the storylines feel a bit unfinished, and the tonal balancing between crime drama and teen soap is occasionally uneven in a few episodes. However, these are small nitpicks in an overall great series.
Watching Glue, I was reminded of a thesis I wrote about social realism in British television drama. Now, 'realism' is a loaded term, often with heavy connections to class issues, in addition to race, sexuality, and genes representation. This is a gross simplification, but in British TV, 'realism' is frequently seen as synonymous with unsentimental portraits of the working- and underclass (Run, Boys from the Blackstuff) or depictions of horrific tragedy and trauma (Southcliffe). The politics of the term aside, realism is also one of the most coveted pieces of praise a TV drama can receive in British media journalism (provided the series in question isn't obviously rooted in speculative fiction). In a review of Glue's second episode, The Telegraph called it 'bleakly realistic.' While some plot developments can strain credulity, it's a label that fits and its speaks volumes as to what makes the show work so well.
At its heart, Glue is a teen soap-murder mystery, with the two genres so intertwined, they are practically indistinguishable. And yet, its treatment of its character, its interest in who they are, their hopes and dreams, and the psychological effects trauma has on them, gives it far more clout than something like Pretty Little Liars. Glue works in genres often associated with escapist fare, and it's hard not to get wrapped up in the romantic entanglements and secret lives of the characters, all while guessing who is the killer. But, its realism in how clearly it sees its characters and their settings give it enough depth that calling it 'escapist' almost feels supercilious. It's a rare show that finds the balancing act between entertainment and serious TV. At the end of the day, I would say it lies more on the side of the former, but has just enough of the latter the viewer who watches it can feel like it wasn't a mindless time-waster.
It's entertainment with heart and intelligence, which is more than can be said about a lot of TV these days. Easily my choice for one of the ten best dramas of the year.