Star Wars has become the tree that's impossible to see for the forest. It's ceased to be a movie because it's become something both more and lesser — a franchise, a fandom, a massive corporate entity. All that makes it hard to appreciate just what George Lucas accomplished, especially now that his legacy has been tarnished by his attempt to rebottle the genie with his prequels and he's been kicked out of the world he created entirely.
Star Wars has been so endless imitated by many, if not most, of the movies that have followed it that it's hard to imagine what it was like to sit in the theater in 1977. What must it have been like to nod indulgently along with the cheesy, retro "Previously on" text crawl and suddenly have your hair blown back as you're jerked from the past into the future and a massive spaceship that makes even 2001 look like a B-movie soars over your head? 
It's been said that Star Wars changed movies forever so often that it's lost all meaning. To really understand what that means, we need to look at what the movies were like before. The rest of this month should give us a good idea of the media landscape Star Wars stomped into. What I'm interested in here is, what about the genres Star Wars exists in? With nearly fifty years of the movie's influence in the rearview, sci-fi, fantasy, and action have come to dominate Hollywood so completely that almost nothing else is left. But that wasn't yet the case in 1977. Where did audiences go to get their thrills before Star Wars changed the game?
Even though Star Wars premiered with over half the year still to go, the lead time for movies is so long that we'll count everything from 1977 as "before" Star Wars. But there's one notable exception. Planet of the Dinosaurs is a quickie cheapie that James Shea threw together rapidly enough to react to Star Wars' success. The opening shot is ripped off from Star Wars' so closely that the Rifftrax crew, still shellshocked from the prequels, can only scream, "LUCAS!" 
Aside from that, though, it's a perfect time capsule of what sci-fi fans had to put up with before Star Wars changed the game. Shea funneled all his money into the special-effects "money shots," (and, apparently, this awesome poster) and oh boy, does it show.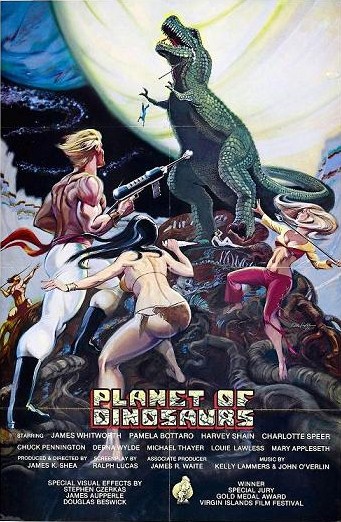 Not just because the stop-motion dinos are spectacular, because they are, even if we hardly ever get to see them. But because the rest of the movie serves no purpose except filling time between them. The cast is an interchangeable collection of improbably beautiful women and improbably schlubby men, give or take one who Shea made sure to give as few clothes as possible. If this sounds an awful lot like porn, well, that's exactly what it is, just with dinos instead of nudity.
With its stop motion effects, Planet of Dinosaurs feels an awful lot like a downmarket version of Ray Harryhausen's movies, and it had the misfortune of having to compete with the real thing (or would have if it had ever made it to theaters). Like Star Wars, Sinbad and the Eye of the Tiger is a deeply old-fashioned fantasy adventure. But Sinbad came by it honestly. Harryhausen didn't just grow up on the old-time matinee movies, he made a lot of them himself, and Sinbad itself is the end of a trilogy that started in 1958 with The Seventh Voyage of Sinbad — but the stop motion process took so long that they needed to recast Sinbad every time. 
Star Wars' revolutionary effects would make stop motion old hat before too long (ironic, since the movie features several memorable stop-motion sequences, including Chewie's chessboard). That's a great loss, not least because Harryhausen actually got better with age. The plot sends Sinbad to the ends of the earth to cure a prince who's been transformed into a baboon, which Harryhausen renders so well my grandpa asked me how they trained a real baboon to play chess.
Harryhausen can't compete with Star Wars' overflowing menagerie, but he still fills the screen with critters as often as possible — a demon, a giant bee, a giant walrus, a sabertoothed tiger, and a prehistoric "troglodyte." The villain also creates a giant bronze minotaur, but disappointingly, Sinbad violates Russian playwright Anton Chekhov's iron rule. If there's a gun on the mantelpiece in the first act, someone had better fire it in the last act, and if there's a big-assed bronze minotaur in the first act, somebody sure as fuck had better fight it in the last act, but instead it gets anticlimactically crushed by a pile of bricks. (It does give Sinbad a Star Wars connection, though: Peter Mayhew, the man in the Chewie suit, also plays the "Minoton" in live-action shots.) And the non-stop-motion effects are nowhere near as good: The icy cave where the climax takes place looks more like it's covered in saran wrap.
It doesn't seem fair to say Jabberwocky could never be made after Star Wars because director Terry Gilliam went on to have a long career. And anyway, it's hard to imagine any time when a movie like this would be considered normal. Starring a few of Gilliam's Monty Python castmates, it's a kind of spiritual sequel to The Holy Grail, with a monster terrorizing a shit-encrusted medieval kingdom and Michael Palin as a hapless peasant who, by the end, finds himself fighting it. There's even a Black Knight!
It doesn't really exist in Star Wars' Hollywood ecosystem. Giliam's said he only had enough money for one corridor and shot a bunch of scenes in one take because he couldn't afford the film to shoot another. But it's been said that the low budget of Roberto Rossellini's made-for-TV historical movies actually enhanced their realism because the past wasn't actually a pageant, and that's certainly the case here. Maybe because Gilliam couldn't afford make anything from scratch, Jabberwocky's world looks lived in. Gilliam's fascination with — I'd say love of, but, well, have you seen this fucking movie? — the medieval world inspires him to fill the screen with details so weird and specific you know he couldn't have made them up.
Unfortunately, what goes on in this world isn't nearly as interesting. Gilliam betrays his sketch-comedy roots with the one-darned-thing-after-another plot. For a while, when the king hosts a tournament to find a knight to slay the monster and Palin wanders into the knights' dressing room, it looks like it might be going somewhere. But that just leads him to a series of totally unrelated antics before Jabberwocky finally gets to the fireworks fantasy. But by then, it's almost over.