I had the good fortune to meet Yuri Norstein in 2010, during one of his visits to the states. We chatted a bit before he showed clips from his perpetually in-progress adaptation of Gogol's The Overcoat (nearly forty years in the making) and delivered some brief comments about his aesthetic philosophy. He's arguably the "most important" artist I've met in person: if not our best living animator, someone at least in the conversation. None other than Miyazaki considers himself a disciple; Michel Gondry has constructed homages to his work; Nick Park offered to fund the completion of The Overcoat. An animator's animator, if you will.
For all that, you could fit the entirety of Norstein's work as a director onto a single disc of under two hours, and that includes works where he served as co-director. He animates slowly and deliberately. Most of his films — the early art-in-motion collaborations like "The 25th, the First Day" and "Battle of Kerzhenets," the folk retellings of "Fox and Hare" and "Heron and Crane," and of course the much-beloved "Hedgehog in the Fog" — come in at around the ten-minute mark. His shortest work as a director is a recent, two-minute adaptation of Basho for Winter Days. His longest is the subject of today's discussion, the intimate epic "Tale of Tales".
"Tale of Tales" is driven not so much by narrative as by impressions, with meaning implied through poetic association, much like what we discussed last week. Here, the material is more heterogeneous. A curious little wolf watches a newborn baby. A family enjoys an idyllic summer: a memory, or a dream? A generation of young men is drafted into war, and many never return. A child wants to share his apple with a pair of crows while his alcoholic father ignores him. A poet struggles over his work. The little wolf scavenges for potatoes in an abandoned house. Seasons pass as these threads begin to crisscross.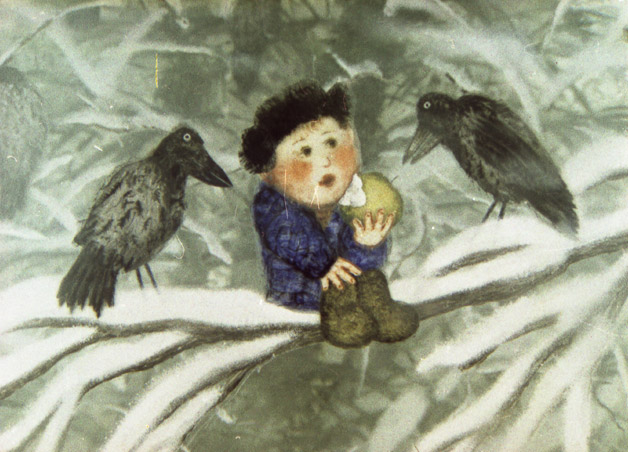 If you have a stereotypical view of Russian art, that it's slow and melancholy, philosophical and grey, then "Tale of Tales"… will not change your mind. It's a mostly wintry piece driven by echoes of the past, the kind of movie that dives into soul-ache and nostalgia in ways that recall Tarkovsky, but in a tiny fraction of the run time. As in Tarkovsky, it's a film about time, present here in the onward rush of progress (as grass and trees are replaced by automobiles and trains), in the loneliness of a world overturned, and most of all, in a lost generation in Russia, where over a third of the country's young men died during the war.
For those of us without a genetic or emotional connection to Russia's WWII losses, the biggest draw here is, of course, the artwork. Norstein's signature approach is to use paper cutouts on glass panes, so the camera captures not only the detail of his drawing, but also a bit of layered texture. Sometimes he even uses the glass itself for effects, frosting and warping in ways that blur our vision and heighten the dreamlike atmosphere. The figures themselves are crude but emotionally direct — among other things, he'd derived the little wolf's eyes from a photo of a nearly drowned cat — which is only heightened when they stand in contrast to the direct photography of things like automobiles. The effects in this film are gorgeous and often striking in their simplicity. (One of the most famous moments in the film, the disappearance of the men at the outset of war, is hard to forget.) He also finds time for the small details, the way a potato steams when it's pulled off the fire, the way we turn it in our reddening fingers and take that first cautious bite. Tarkovsky seems present as well in the dreamlike apples, an important symbol of lost innocence in Ivan's Childhood.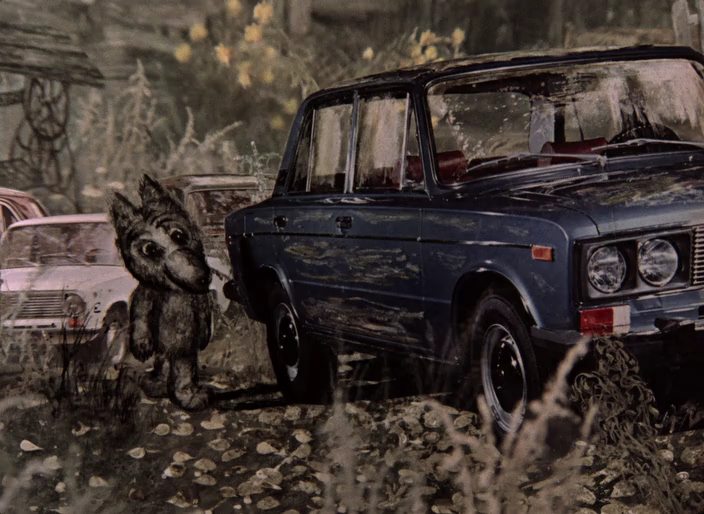 That said, Norstein tends to cite writers more than filmmakers as influences: back in the late 80s, when he was already shopping much of the same footage from The Overcoat, he mentioned Vasily Grossman and Boris Pasternak, both of whose most famous works of prose focus on ordinary Russians living through wartime. Grossman burrows deep into that ordinariness, crafting an epic portrait of WWII Russia from the perspective of families, teachers, scientists, and soldiers. Tracing his protagonists through a catastrophic civil war, Pasternak offers a glint of hope in the way that art manages to survive us. We can see both threads in "Tale of Tales". In addition, the Russian literary scene in the late 70s, when "Tale of Tales" was in development, included a prominent group of writers associated with what we call the "village prose" movement (Astaf'ev, V. Rasputin, Solzhenitsyn), who advocated for a closer relationship with nature and a rejection of Western technocracy. Though Norstein tends to avoid the (often reactionary) politics of that group, there are motifs they share: e.g. the plot of Rasputin's Farewell to Matyora involves an animal-spirit who watches over the changes in his town with curiosity, not unlike Norstein's little wolf.
The music cues are also key here. The little wolf overhears a lullaby in which he is a character: the wolf that will steal you (the baby) away if you don't stop crying. A well-known World War II-era standard, the tango "The Wearied Sun," plays as the faceless young men are drafted away from their families. Each of these melodies returns later in the film, like ghostly echoes of the past. Bach and Mozart fill in the dream-space or memory-space between. Norstein uses the music as a kind of narrative connective tissue, pulling motifs and emotional impressions from one segment to another. Note that the film's climax involves a desperate attempt to use that music in a restorative way. But so much has been lost in the meantime.
"Tale of Tales" famously scored highest of all animated films in a poll of animators and critics at the 1984 Arts Olympiad held in Los Angeles (to coincide with the Summer Games), which is why it's often cited as "the greatest animated film of all time." While I wouldn't go that far — it's not even my favorite Norstein — it's easy to see what drew the voters to the film, and it made for a pointed choice, given that Soviet leaders forbid any recognition of Norstein's achievement. History, however, had its own plans. As in Pasternak's case, the name on the award has long outlived the government that tried to erase it.
---
You can (legally) watch the whole film below. No subtitles, but they're not particularly necessary as there's no dialogue.
Speaking of which, every one of the Norstein films I mentioned above is available on Youtube — including the footage from The Overcoat — and if you haven't seen them before, it's time well spent.
By far, the best and most comprehensive online piece on Norstein in English was published by MTV. I cannot recommend it highly enough. But if even that's not enough for you, author and animation scholar Clare Kitson wrote a whole book about "Tale of Tales."
At the 2003 Laputa Animation Festival, another poll of critics and animators revealed that "Tale of Tales" has fallen to second place in the list of greatest animated films of all time, just behind… Norstein's "Hedgehog in the Fog."