Where does it go/All the light that we had?
-'It's All Over But The Crying'
Things Fall Apart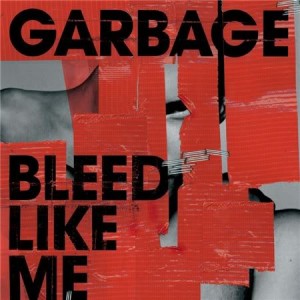 What a difference a decade makes.
Back in 1995, Garbage had burst onto the music scene and there wasn't really a rock band like them. Their expert fusion of alt rock and electronica, with a sprinkling of trip hop, sounded both familiar and completely different from everything else on the radio. Given Garbage's sensibilities laid in crafty pop tunes, comparisons to bands like Radiohead, Curve, and My Bloody Valentine, all known for their own experimental edges, felt simultaneously apt and a bit off. There was even the question of whether Garbage was a band or an elaborate music experiment (I'd argue they were the music experiment that became a band). Regardless of what they were, their debut album Garbage was a smash hit, going double platinum in the US and earning the band Grammy nominations for Best New Artist, Best Rock Song, and Best Rock Performance by a Duo or Group (both for 'Stupid Girl'). Their winning streak would continue with Version 2.0, the rare sophomore album that was even better than the band's excellent debut. The album played up the band's love of electronica and pop, and the result was one of the best albums of the 90s, and my choice for best pop album of that decade. While it initially got off to a slow commercial start, it held steady on the charts through 1998 and '99, eventually going double platinum in the US and UK, while earning raves across the world. The album was nominated at the 1999 Grammy Awards for Album of the Year and Best Rock Album, while the single, 'Special,' earned nods for Best Rock Song and Best Rock Performance by a Duo or Group the following year.
However, the 90s had ended and following the dizzying highs of Version 2.0, Garbage wanted to show their range, to demonstrate they were more than alchemists of 90s fad conscious pop music. The result was beautifulgarbage, the band's ode to hip hop, R&B, 60s girl groups, and power pop. The album was flawed, but genuinely strange, which is more than can be said about a lot of pop music from 2001. It earned generally positive reviews, including being listed by Rolling Stone as one of the Best Albums of 2001. However, it's release shortly after 9/11, its relative lack of singles, coupled with MTV and the music industry as a whole being all too eager to dump 90s acts in favor of a new crop of hot musicians, guaranteed the album would flop. This is to say nothing of the fans who perhaps were not terribly pleased to see their weirdo rock band suddenly sound like they were mimicking everyone else (which is weird in itself, but I digress).
Following a success world tour for beautifulgarbage, the band began production on Bleed Like Me in 2003, but slowly fell into a dark period. The song, 'Right Between the Eyes' was recorded in only 30 minutes, but gradually everything fell apart. Shirley Manson's divorce had been finalized, and she had to undergo surgery to remove a cyst from her vocal chords. Back in the studio, the band's constant fighting and inability to settle on a collection of songs and the general direction of the album led to a complete breakdown. Garbage quietly went on hiatus, uncertain if they would regroup. However, Butch Vig met up with Dave Grohl to see if he would play drums on the track, 'Bad Boyfriend.' He accepted and with a renewed sense of focus the band complete the album, and Bleed Like Me was released in 2005.
Out With the Humor, In With The Pain
Garbage has never been shy about exploring their dark side. From the enveloping sadness of 'A Stroke of Luck' and 'Milk,' to the ballads about losing control with 'The Trick is to Keep Breathing' and 'Medication,' to the suicide song, 'So Like A Rose.' However, these sad tracks where balanced with bouncier tunes. The jubilant songs have had their sad undercurrents, but a healthy dollop of jaded irony kept things from getting too morose.
On Bleed Like Me, the jaded irony is gone, and a torrent of bitterness, anger, and sadness hang over the lyrics. Manson, who wrote the majority of the lyrics, was no doubt struggling with feelings from her divorce, and a previous case of writers block probably didn't do much to lift her mood. Garbage is known for their great album openers, from the sultry come-on of 'Supervixen,' to the ecstatic rush of 'Temptation Waits' and the sullen strut of 'Shut Your Mouth,' and on Bleed Like Me, things get off to a shaky start. 'Bad Boyfriend' is well made, but so weirdly predictable, it fails to make an impact; it sounds like a deservedly forgotten b-side from their debut album. Here Manson pines for a 'bad boyfriend,' but instead of unleashing the full force of her scary-sexy vocals, she just sounds tired. The production is nice, but the humor and soul are missing:
One of the notable aspects of Bleed Like Me is how the band opted for a hard rock sound, largely eschewing the electronica elements of Version 2.0 and beautifulgarbage. It gives the band an angrier edge, and while it sometimes is put to masterful use (more on those songs in a bit), it also serves as a reminder that Garbage was so good at electronic music, and the relative lack of it is dismaying (you hear some of it on 'Metal Heart' and 'Run Baby Run,' thankfully). Sadder still, the rock-heavy sound has the unfortunate effect of making a lot of the songs sound the same. If beautifulgarbage suffered from too much experimentation and too few singles, Bleed Like Me feels almost like an overcompensation; almost every song sounds it could be a single. Songs like 'Boys Wanna Fight' and 'Why Don't You Come Over' are catchy and furious, perfect potential single material, but so unrelenting in their undercurrents of anger and sadness, listening to them can feel a bit exhausting, particularly if one has listened to all the songs in one setting.
Misery and Curiosity as Ear Candy
Given my assessment of the album thus far, one can be forgiven for thinking there are no bright spots. Au contraire, hallucinatory readers. 'Why Do You Love Me,' the album's lead single, is one of the band's best songs. A blistering, angry breakup song (breakup from a lover or breakup from the music industry? Take your pick), it takes the album's hard rock song and puts it to masterful use. Manson's vocals hold nothing back, and she shows the full range of her anger and depression. When she snaps, 'I get back up and I do again!' it's a declaration of war. In short, it's a breakup song with real bite.
On a less angry note, Manson lets her sexy side out with 'Sex is Not the Enemy.' The song treads familiar terrain with its 'let's be sexually liberated!' message, but the buzzing bass line, coupled with Manson's playfulness give the song a nice buoyancy.
The Darkest Depths
If the torrent of guitar-heavy rage in Bleed Like Me can err on the side of wearying, the album's sad tracks offer even less relief. The titular 'Bleed Like Me' is a melancholic catalogue of all the heartbroken misfits and oddballs of the world, ones whose chances of things improving are slim at best. Or as Manson sings of one such misfit: 'Avalanche is sullen and too thin/She starves herself to rid herself of sin/And the kick is so divine when she sees bones beneath her skin/And she says, "Hey baby, can you bleed like me?"'
In probably the album's slyest stabs at humor, one of the tracks is the aptly named 'It's All Over But The Crying.' However, the humor stops at the title and the misery hits like a tsunami.
However, the album's saddest song, 'Happy Home,' is also the one that sounds the most superficially happy. Garbage has always been fond of ending their album's with downer songs (Garbage-'Milk,' Version 2.0-'You Look So Fine,' and beautifulgarbage-'So Like A Rose'). On Bleed Like Me, the deceptively chipper sound of the song only makes it sadder. The bouncy guitars serve as an interesting contrast to lyrics that read like a suicide note. After a wallow in rage and melancholy, hearing Manson sing, 'And there's no more crying/And there's no more pain/I never thought for one second I'd have nothing left but shame,' is absolutely shattering.
Success in the pain?
So, how did critics and fans eat this all up. The critical response was more mixed, a common criticism being that the music sounded dated (a bit amusing, considering a lot of other bands from that time, such as Paramore, had a similar sound). However, the album was a commercial smash. It topped at #4 on the Billboard Top 200 chart, the first (and as of 2014, only) time the band had an album in the top ten. 'Why Do You Love Me' was also a hit, entering the top ten on the Hot Modern Rock Tracks chart, the first time since 'I Think I'm Paranoid' back in 1998. The Bleed Like Me world tour was also a rousing success, playing to sold out shows, although it was cut short due to the band's exhaustion.
Nearly 10 Years Later: A Retrospective
Revisiting Bleed Like Me is a bit like flipping through an old diary following a painful breakup or bout of depression. The bad feelings remain etched in time, and there is an almost perverse quality in revisiting them. Manson once said beautifulgarbage is often considered the weak spot in the band's discography, but I would suggest Bleed Like Me is their weakest album. That said, it's not a total disaster; 'Why Do You Love Me' is great, 'It's All Over But the Crying' is a lovely saturnine tune, and 'Metal Heart' and 'Run Baby Run' tap back into the band's electronic savviness. But, as a whole album, it's a grim listen. However, it's never easy to exorcise one's demons, and for that, I applaud Garbage for doing so.
Next Week: After a seven year hiatus, and riding on the recent wave of 90s nostalgia, Garbage is back with full enthusiasm with Not Your Kind of People.