WARNING: SPOILERS HEREIN
Here's the plot: A teenage male high school senior is an outcast with one or two close friends. He has his world mapped out among various groups, areas, and dangers he has to navigate in order to keep himself safe. He has a few quirky qualities that are meant to endear him to the audience that also separate him from everybody else in the movie. His end goal is to graduate high school and, perhaps, go to college. Along the way, he faces obstacles that force him to grow up and potentially get laid. By the end of the movie, everybody in the movie serves as a mere tool to get the main male character to mature and finally get into the college of his choice.
This year, the formula comes in two forms for two different audiences: Dope is made for the black Sundance audience, and Me and Earl and the Dying Girl is made for the white Sundance audience. Both movies follow the above formula to a fault. Dope is about a poor black male geek from The Bottoms in Inglewood, CA. Me and Earl and the Dying Girl is about an affluent white male geek in suburban Pennsylvania. This difference spawns two movies that feel completely separate from each other, yet are structurally similar.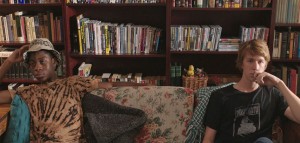 The "Me" in Me and Earl and the Dying Girl refers to Greg Gaines, a self-centered geek who tries to endear himself to all the various groups of his high school so that he won't get bullied by anybody. In turn, he refuses to commit to any single group or person so that he stays a neutral Switzerland in the various civil wars of his high school. His one friend is Earl, a black kid from the wrong side of the tracks built almost completely out of stereotypes, whom he refers to as his "coworker" instead of "friend." Together they make quirky and twee movies based on titles from the Criterion collection they have given terrible titles. Greg has no goal in life until he meets Rachel (aka The Dying Girl) who has cancer (her defining trait) and forces him to take his life seriously and apply to college.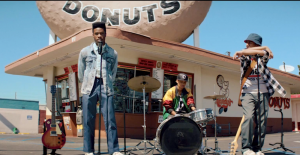 The central character in Dope is Malcolm, a self-professed geek who has his whole neighborhood mapped out in order to make it through every day alive, and with both shoes. Malcolm's two friends are Diggy, a self-assured politically-charged baby butch lesbian, and Jib, another self-professed geek. The three of them are obsessed with 1990s hip hop, yet still have a quirky punk band for geek rock. Unlike Greg, Malcolm wants to get into Harvard from the start, and has to navigate a college entrance interview with a drug kingpin by selling a bunch of bags of uncut MDMA.
Stylistically, they share a lot of the Sundance DNA. Both are essentially first-person tales focusing on a central male character (aka Zach Braff Syndrome). Both use a narrator's voice over, though Dope is narrated by an omniscient third, while Me and Earl and the Dying Girl is narrated by Greg himself. Both films have underdeveloped side characters that ultimately function as tools; the only side character whose post-movie life we learn about in both movies is Rachel because she's dead. Both have one side character of the opposing race: Me and Earl and the Dying Girl has Earl (and, technically, his brother who barely exists), while Dope has a white techno hippy.
Despite this variety of similarities in themes and even style choices, Dope and Me and Earl and the Dying Girl are two very different movies within very different subgenres. Me and Earl and the Dying Girl is a Sundance Coming-of-Age Comedy first, and a YA weepy second. Dope is a Sundance Coming-of-Age Comedy first and an inner city polemic second. Making more of a difference is how narrow-minded Me and Earl and the Dying Girl's Greg is, and how open-minded Dope's Malcolm is. Though they both use their perception to analyze their surrounding world and protect themselves from harm, Greg uses the information to disengage while Malcolm uses it to engage.
Where the rubber really meets the road is in the race relations of the movies. In 2015, Hollywood's minority makeup is still particularly egregious. The dominant M.O. is still hiring straight white men as directors and writers to make movies about straight white men for a straight white male audience. Last year, only 2 of the top 10 movies at the box office were led by women, and the highest grossing movie to have a non-white lead actor without makeup was Ride Along at #21. And, just today we discovered that Spider-Man is going to, yet again, be Peter Parker, the straight white male.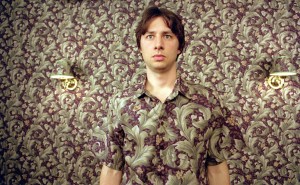 The conversation about indie movies focusing on the plight of the straight white male goes back at least to the backlash of Zach Braff's 2004 directorial debut Garden State. The plot of Garden State mimics Me and Earl and the Dying Girl, but for an adult sad sack rather than a teenage one. Zach Braff's Andrew is in a constantly medicated and detached state of existence. When his mother dies, he meets Natalie Portman's Sam, a pathological liar who constantly admits that she's lying when confronted. Sam forces Andrew to confront both his emotions and his father so that he can mature into an adult and form the first real relationship he's ever had. In both movies, a woman dies to change the central male character, who is also changed by the love interest who has little life of her own beyond the central character. Hell, Me and Earl and the Dying Girl even has a penchant for having static medium close-ups of Sam in front of kitschy wallpaper. All of this was tiresome 11 years ago.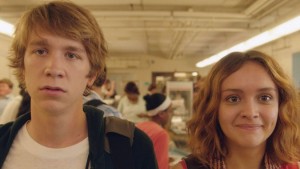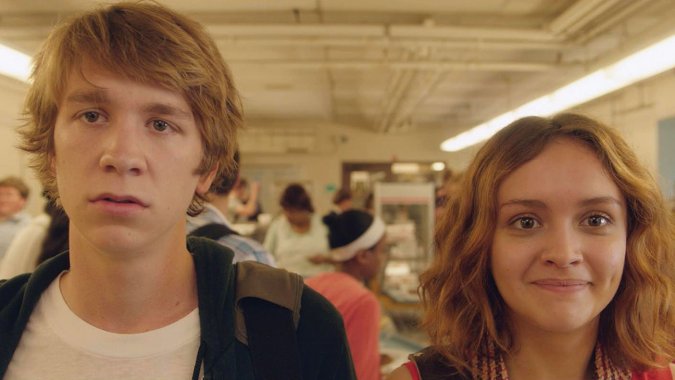 Things have only become worse in the ensuing years. With Me and Earl and the Dying Girl, the first-person narrative of self-centered Greg is used to justify the lack of care we get with both Earl and Rachel. Rachel is drawn with two qualities: an obsessive curiosity about Greg and cancer. She's dying, and she also likes Greg. We also find out she likes scissors from her mom. Rachel's death throws Greg's self-imposed isolation into sharp relief (similar to Garden State's Andrew's mother), and Sam discovers that Rachel had a life and creativity of her own that he was never curious about, thus causing the film to never care about.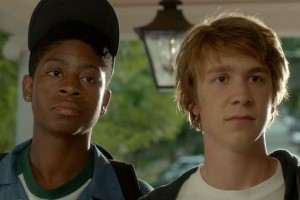 Earl receives an even worse treatment because he has the gall to live. Despite being second billed in the title, he disappears for large swathes of the movie, causing the viewer to wonder "where's Earl?" His character is built out of stereotypes for black characters that have been in movies for ages. He's poor, oversexed (according to the movie, his favorite word is "titties"), he can handle his drugs, and he is violent and can fight. His brother is a drug dealer/gang member, and they have a vicious guard dog who hates Greg. Because he survives (after all, he didn't have cancer!), Earl does not get a final redemptive scene where we discover he has a life outside of Greg. We only know that Earl judges Greg as having issues because of a scene where Earl and Rachel talk about Greg in front of Greg while Greg is too stoned to care. Everything is all about the straight white guy, aimed at the straight white guy, and serves to break the straight white guy out of the emotionally-stunted, self-centered prison that he built for himself.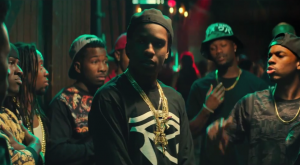 If Greg's prison is self-materialized, Dope's Malcolm's prison is placed upon him by society. Drugs, violence, and even the real possibility of death surround Malcolm who has internalized his world as being dangerous at all times. He has to go through metal detectors with a drug sniffing dog just to get to school. As both a joke and a reality in the opening world-defining montage, one of his friends is accidentally shot and killed during a fast food restaurant hold-up. On their way home from school, Malcolm and his friends have to debate between going down a street with the Bloods or around the corner where the drug dealers hang out all day.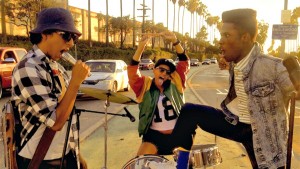 While Greg spends his whole movie striving to keep his social attachments neutral, Malcolm spends Dope trying to connect with the world in every way possible. He wants to fall in love with Nakia, the slightly older woman who is dating the local drug dealer, wants to get out of her situation, and is studying for a GED, showing that she had to drop out of high school in her past. Through plot circumstances, she also gets a future of sorts. One of his two geek friends, Diggy, is a self-assured baby butch whose family disapproves or her homosexuality and have church meetings to pray the gay away while she checks out the women. The other friend, Jib, is an Earl of Dope, except we learn even less about him than we do Earl. The other Earl of Dope is Will, a white hippy with computer skills and knowledge of the black web, who also throws massive parties and partakes in copious amounts of drugs.
The reality is that race and gender plays an important role in our acceptance of cinema's shorthand. If the viewer is a middle-class white male who demands to see films that make him think about his own life, chances are that viewer won't notice the racist constructs of Earl and be much more forgiving of White Male-centric narrative that negates the life of everybody else. Similarly, I doubt that many viewers noticed that the unknown nature of Jib's heritage is made a joke yet never revealed (he says he's 14% African).
Is one more acceptable than the other? Right now, yes. The long-suffering plight of the tragic affluent white male has been dominant even in the indie movie scene (Noah Baumbach, anybody?) for far too long. The real twist of the knife for Me and Earl and the Dying Girl is that it uses the film's conceit of having a self-centered protagonist to not develop any of its external characters beyond the stereotyped perceptions the protagonist has of everybody. Even so, white people get a wider variety of cliches than black people because there are more of them. There are the goths, the quirky white rapper, the jocks, the popular girls, and even Rachel. The black dude is Earl (and his brother). Even Dope's tertiary white character, Will the techno-hippy, is more developed as a character than Earl. If last year's Birdman was gross because of the way that denigrated and reduced all of its female characters (and it was), Me and Earl and the Dying Girl is downright unacceptable.
But, what about Dope? Well, it at least cares for the women to have 3 of them (though they never talk to each other). It develops many of its side characters beyond a Malcolm-centric construct, and gives them a life that we don't see. Sure, Dope is egregious about being all about Malcolm, but it cares a bit more. Even if it pushes the limits of tunnel vision characterization, Dope shows how to construct a side character so that it isn't just a simplistic construct formed by one trait. If we're going to have single character narratives, this is closer to what we should strive for.