Tune in Next Week is an ongoing feature, examining serials one chapter at a time. You can watch Chapter Eleven here.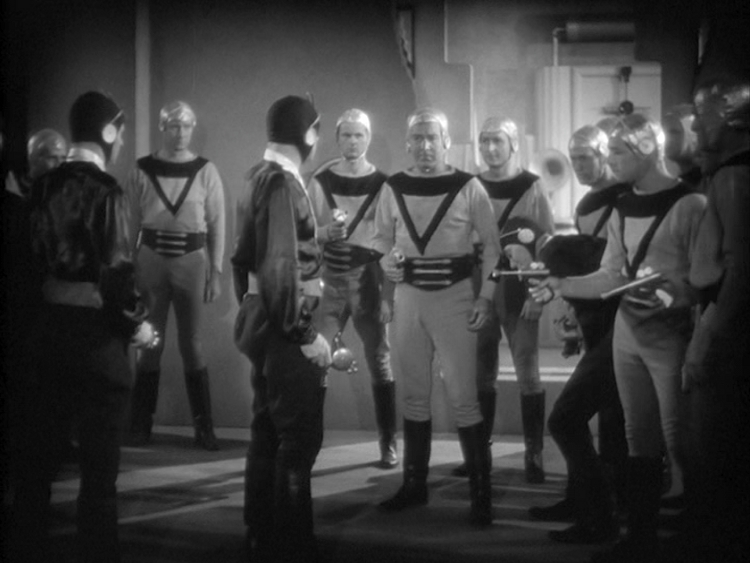 In the latest chapter of Buck Rogers, the threatened invasion of the Hidden City by Killer Kane's forces turns out to be short-lived. In fact, although the title gives away the thrust of the plot, "A Prince in Bondage" manages to thwart some of my expectations by virtue of its odd pacing. In a format that emphasizes action action ACTION, this chapter perversely keeps its most important developments offstage and makes room for a dialogue-only flashback, with the biggest action set pieces at the beginning and end of the chapter.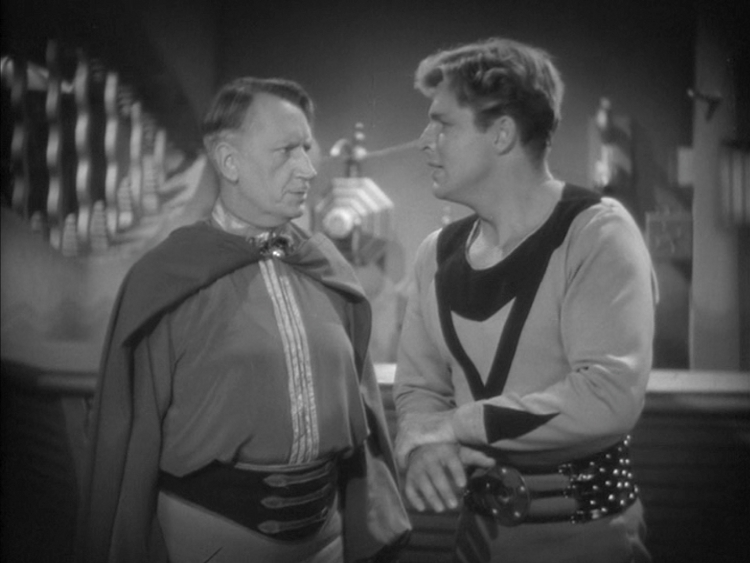 As Chapter Ten ended, Buck Rogers had been ray-gunned by Carson, the spy who snuck into the Hidden City aboard the ship Buck, Buddy, and Wilma stole from Killer Kane. At the same time, Kane's air patrol was on their way to the secret entrance of the Hidden City at the coordinates Carson had supplied, ready to wipe out Dr. Huer's rebels. With Buck incapacitated as Chapter Eleven begins, it's actually Air Marshal Kragg who saves the day, knocking out Carson and closing the gates to the Hidden City just in time. Only two of Kane's ships make it inside the landing area, the rest either crashing or turning away. The soldiers aboard the invading ships are quickly outnumbered and imprisoned. And Buck's wounds turn out to be superficial burns to his arm. Whew!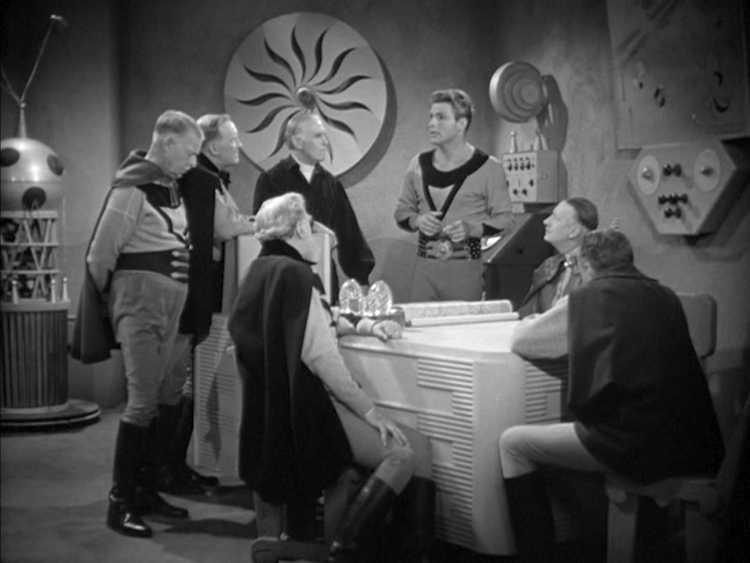 Nevertheless, now that Killer Kane knows where the Hidden City is, it's only a matter of time before he sends a larger attacking force. A war council is held in which it is decided that the rebels must strike quickly to keep their advantage, and their allies from Saturn must be called to aid them. However, when Dr. Huer tries to call Saturn on the radio, he is unable to make contact and declares that the receiver on Saturn must be dead (you'd think they would maintain regular contact anyway just to stay updated, but whatever). Buck volunteers to fly to Saturn in the stolen Kane ship (in order to get past the blockade) after Dr. Huer has souped it up for long-distance travel.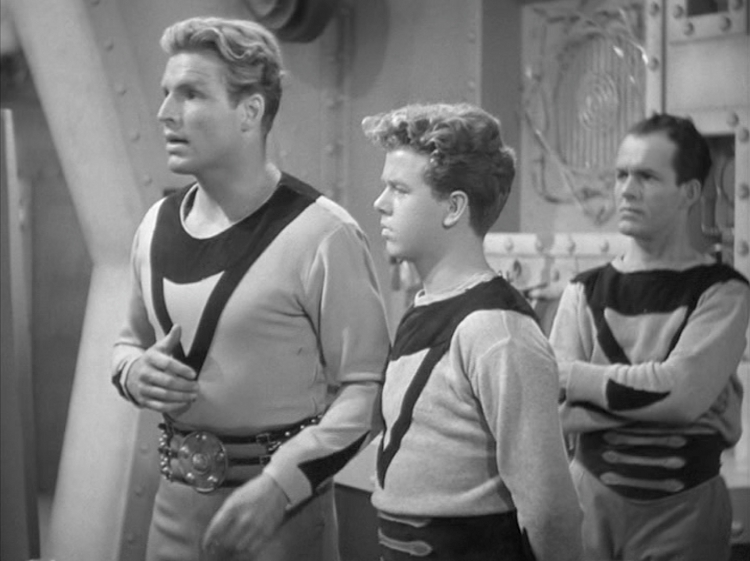 Buck intends to fly alone, so as not to deprive the Hidden City of any more defenders than they can spare, and that includes leaving Buddy behind. But come on. We all know Buddy well enough by now to know that he'll get to Saturn with Buck, one way or another. We know it; the characters know it: "Oh, I'll be seeing you, Buck," Buddy says. "He's probably very busy at something or other," Kragg comments when the lad doesn't appear to see off Buck.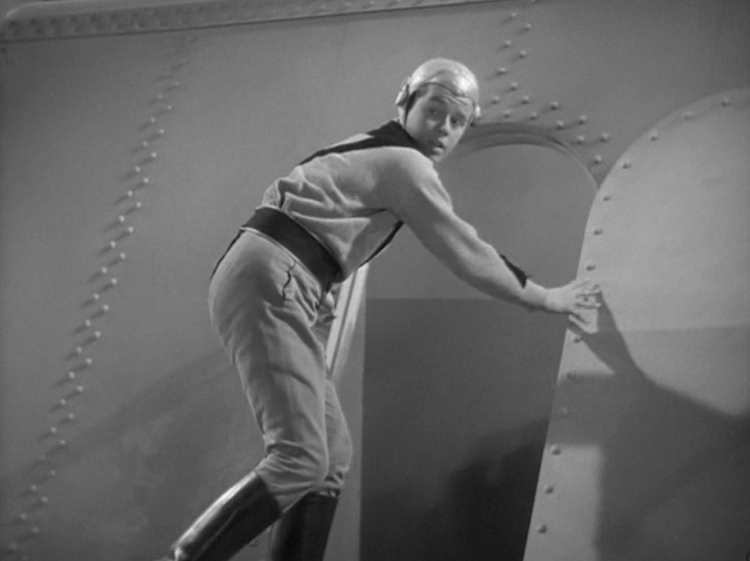 After Buck fakes his way through the enemy blockade by claiming to have escaped the Hidden City with secret information for Kane, he reacts no more strongly than raising an eyebrow when he spots Buddy lurking in the back of the ship (notice the similarity of Buddy's pose to Carson's in the previous chapter: two brothers in lurking, separated by the shifting tides of a war they could never understand). "You can come out anytime you want now," Buck says dryly, and after a perfunctory reckoning it's back to boy's-adventure fun times, with Buck and Buddy grinning and razzing each other. Surely the boys in the audience in 1930s sometimes felt that they, too, would have to fly to Saturn if they were ever to escape the crusty authority figures and icky girls that hemmed them in, and in this scene they could vicariously escape through Buster Crabbe, never more boyish than here.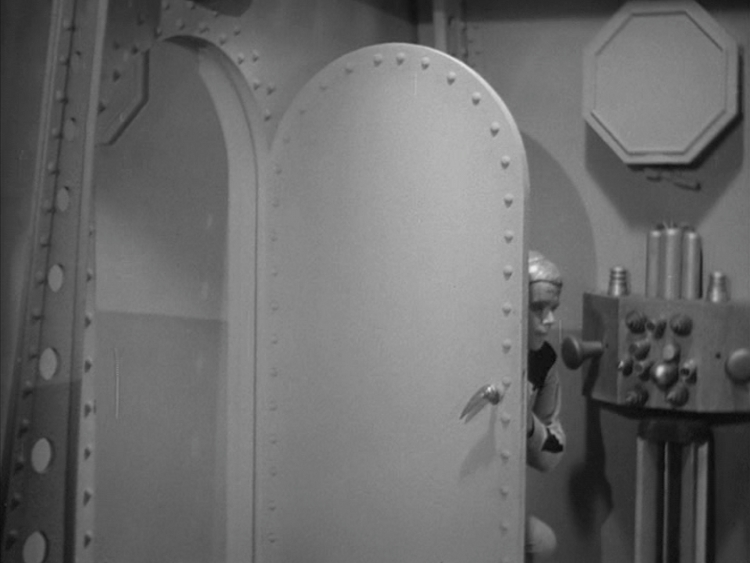 Once the pair arrive on Saturn, they are shocked to be accosted by a pair of guards wielding art deco blunderbusses (previously seen in the hands of the revolting Zuggs): all visitors, especially those from Earth, are to be taken directly to the Forum for questioning. It comes out that Laska and his men have not only escaped their imprisonment but taken Prince Tallen hostage, and even now the Council of the Wise contemplates complete surrender to Killer Kane.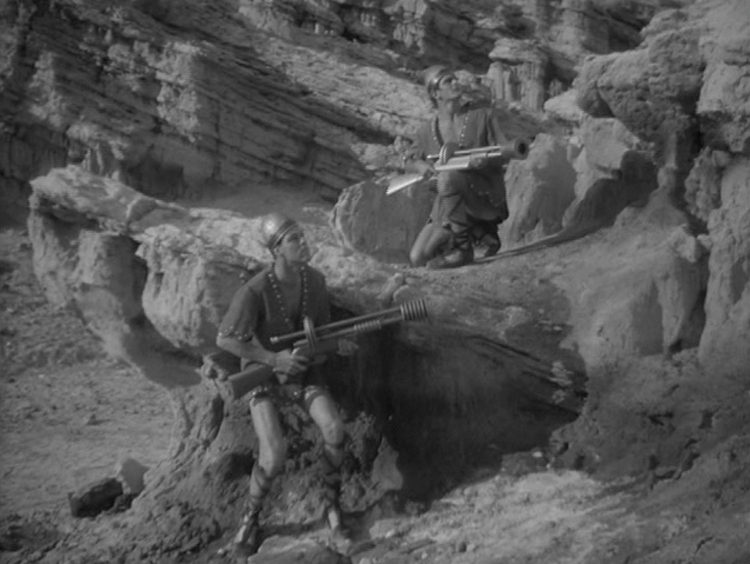 Buck and Buddy easily overpower the two soldiers and race toward the Forum. At the gates to the council chambers they simply push the guards out of the way as if they were costumed bit players instead of highly trained men-at-arms (perhaps they're pushovers because they're hoping Buck Rogers will free them from Laska and Kane's tyranny, but in any case they're the meekest guards we've seen yet, and that's really saying something).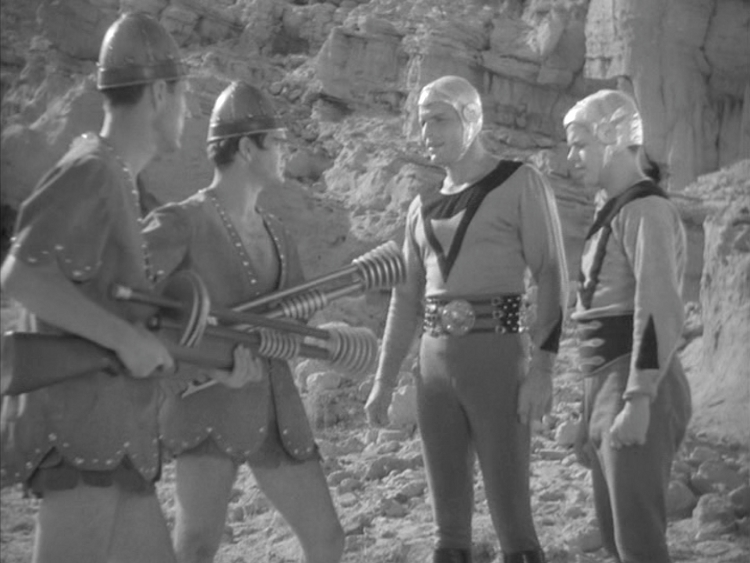 They interrupt the Council at almost the very last moment before they vote to surrender to Killer Kane. Buck does his best to convince the Council that Kane won't honor his word and return Prince Tallen safely, even if the Saturnians surrender to him. "You're dealing with the vilest type of crime known to man: kidnapping," Buck says; while that claim may seem a little strange today, it wouldn't have been controversial in the 1930s. It's not hard to imagine that the Lindbergh baby case (in 1932, famed aviator Charles Lindbergh's infant son was kidnapped and later found dead), the subsequent passage of the Federal Kidnapping Act, and the media circus surrounding the 1935 trial of Richard Hauptmann would have been fresh in audiences' minds.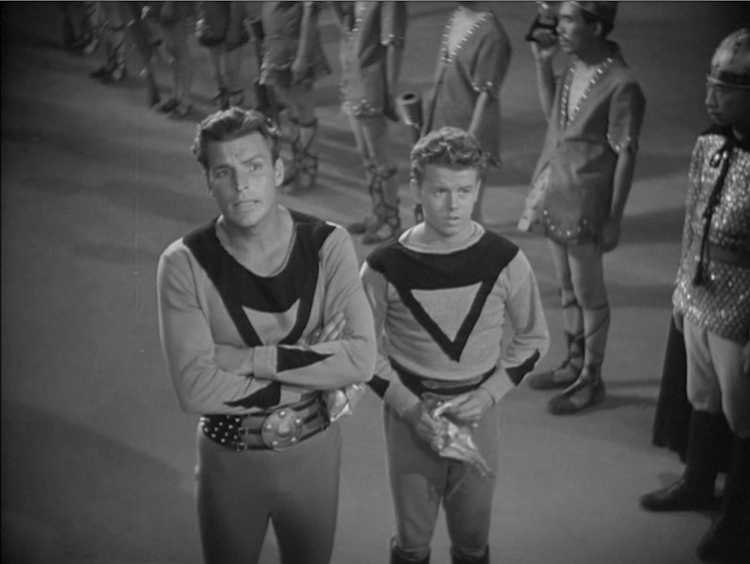 And by referring to the fight "for centuries" against kidnapping on Earth, Buck highlights a theme that was laid out all the way back in Chapter One: the idea that the failure of men in the twentieth century to be tough on crime only led to bolder criminals, and that, symbolically at least, it would take a twentieth-century man to correct that mistake by eliminating Killer Kane, the end product of that misplaced leniency. (I don't necessarily subscribe to the popular concept that all superhero stories are fascist, but it is true that the serials of the 1930s and '40s, subject to the Hays Code, were as rigidly dedicated to law and order as the similarly restricted comic books later produced under the Comics Code Authority. "Crime Doesn't Pay!" indeed.)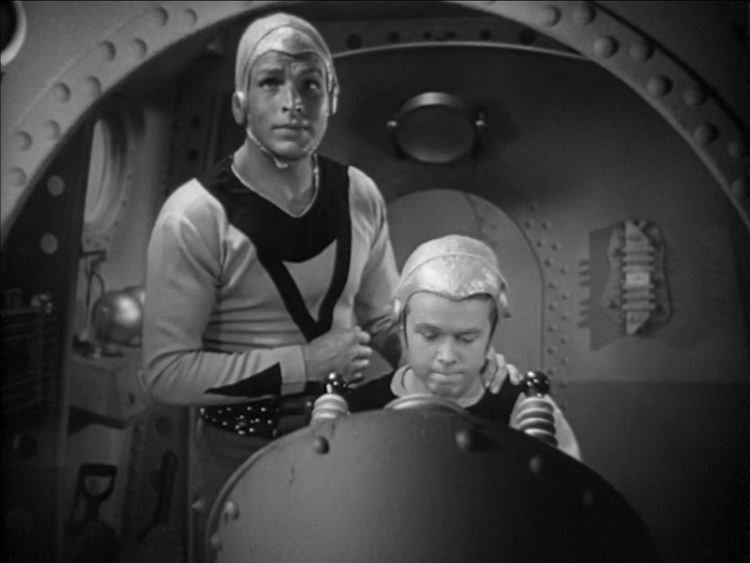 To further sway the Council, Buck introduces a flashback to his first meeting with Prince Tallen in Kane's council room (Tallen actually has more of a presence in this flashback than he does in the brief shots of him being held prisoner aboard Laska's ship). Can they trust a man who consigns his enemies to become drones in his "robot battalions," or who turns so quickly on would-be allies when they are of no use to him?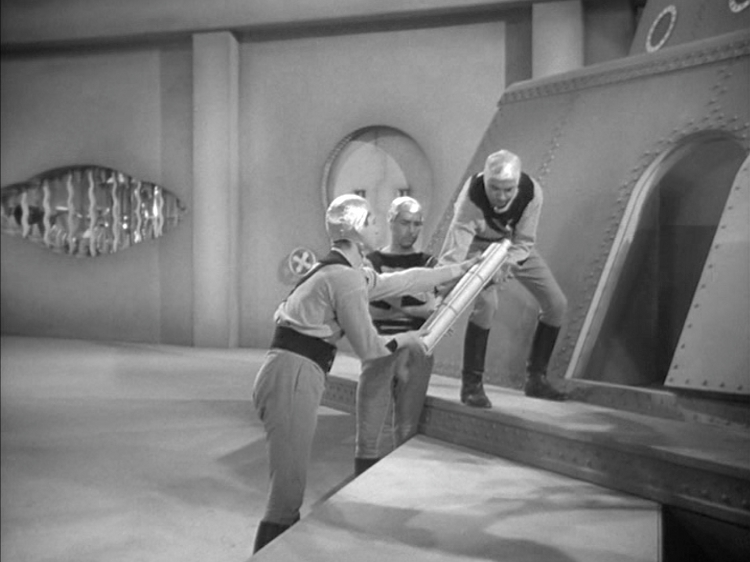 Buck's rhetoric and his reminder of who they're dealing with has the desired effect: the Councilor who had first proposed surrender withdraws his vote, and the decision is made to go to war against Kane instead. At almost the same instant, Captain Laska (who had been hovering above in his ship with his men and his prisoner Tallen) begins bombing the Forum, perhaps sensing that Buck Rogers' presence will turn the tide against surrender. Buck and Buddy leap into action, directing the panicked councilors and their attendants to the tunnels before the Forum ceiling collapses. Men and Zuggs alike crowd the halls as columns tumble, brought down by the combined force of several dozen sparklers. While helping others to safely, first Buck Rogers and then Buddy are struck down by falling rocks.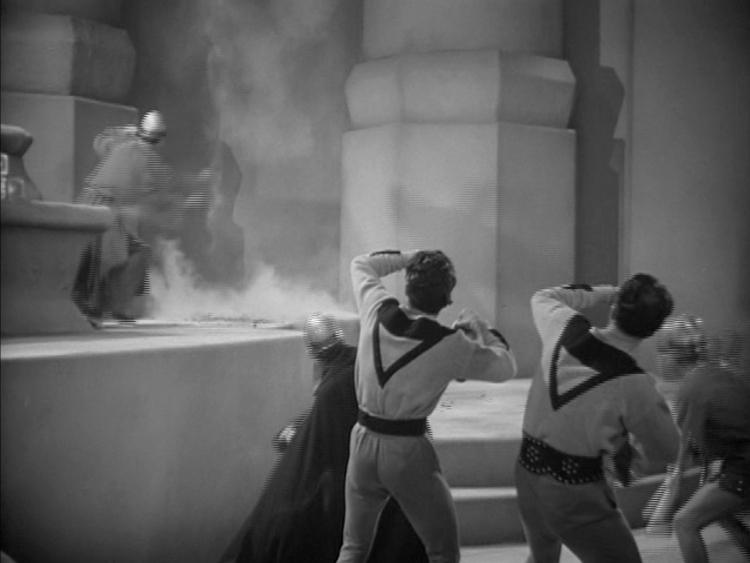 Will they live to join battle against Killer Kane and his men? Will the Saturnian forces be able to reach Earth before Kane wipes out the Hidden City rebels? Tune in Next Week to find out in the final chapter of Buck Rogers, "War of the Planets," along with a look back over the entire serial!