Tune in Next Week is an ongoing feature, examining serials one chapter at a time. You can watch Chapter Four here.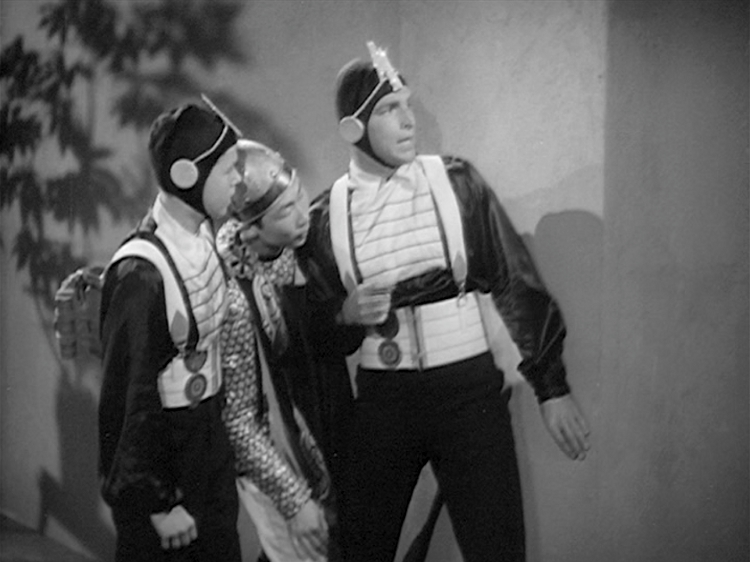 At the end of Chapter Three, Buck Rogers and Buddy Wade were trying to escape from Killer Kane's city with their new friend Prince Tallen of Saturn in tow. Although struck down by the rays of a mounted cannon, it is revealed at the beginning of Chapter Four that they are only paralysis rays, not death rays, so as soon as Buddy, who the rays just missed, knocks out the cannon with his own ray gun, they can move again. Tallen, the most affected by the ray, is moving slowly, but manages to keep going.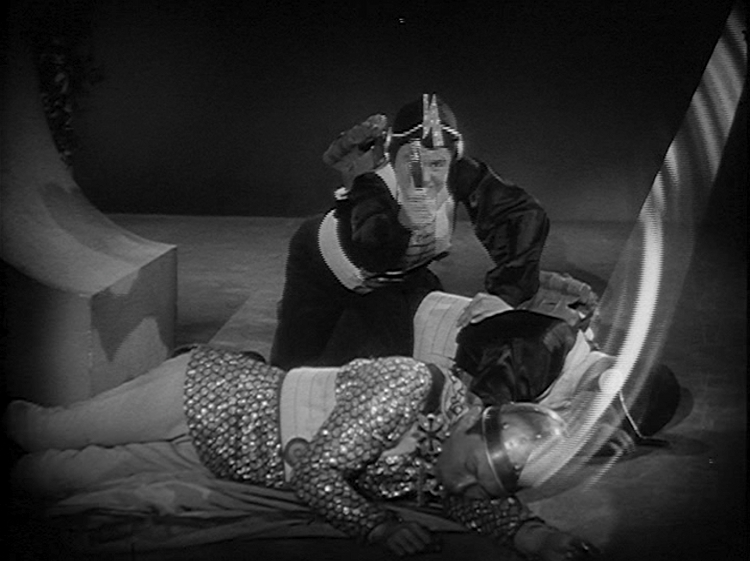 Buck bluffs a guard using the same protocol with which he was busted in Chapter Three (a nice touch) and learns that Kane has a private airfield. They wait until dawn, and after a skirmish the three men steal Kane's private ship from its hangar with the intention of returning to the Hidden City. Kane, enraged, sends more of his patrol ships to shoot down the stolen vessel and takes a few moments to berate his council: "I would be better served by this Buck Rogers, who walked through your men as if they were children!"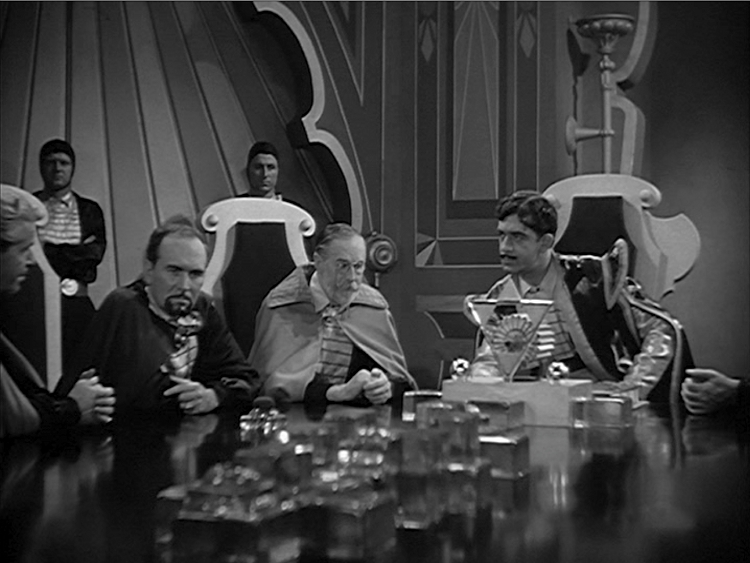 In the mean time, Wilma Deering back at the Hidden City has been ordered to lead a reconnaissance flight. So for the second time, Buck Rogers is in danger of being shot down by his own side because he is flying one of the enemy's ships. (Apparently there is nothing but open country between cities in the twenty-fifth century; not only is that fairly true to Nowlan's original book, in which the conquering Hans lived in domed cities and Americans lived in hidden camps scattered throughout the "wilderness," it's also reflected in the 1979 TV series, which updates the concept to a Planet of the Apes-style wasteland occupied by mutants outside of the cities. It's a resilient concept closely identified with early twentieth-century visions of progress; urbanization would continue to its extreme, with the concept of sprawl not really being a concern until the 1950s and later.)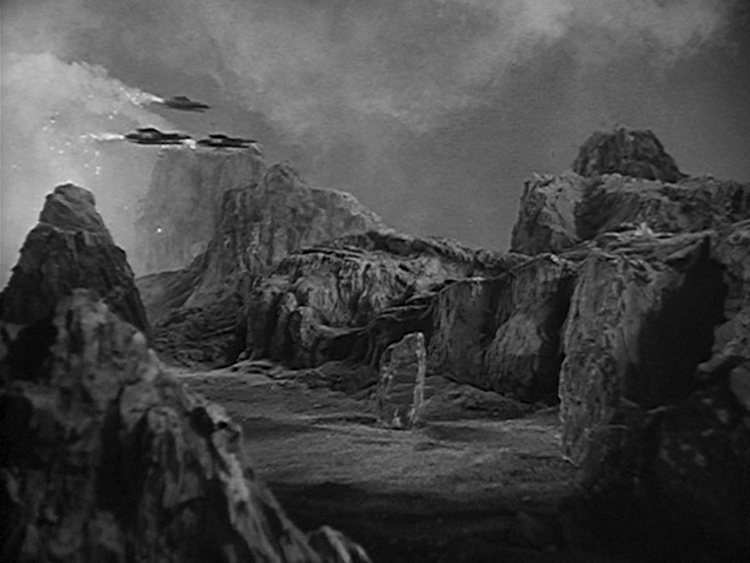 Fortunately for the sake of avoiding repetition, Buck is able to bring the hijacked ship to a landing and identify himself to Wilma. He introduces Prince Tallen and they agree to head back to the Hidden City together. (Why they don't just ride in Wilma's ship is not discussed, although if I had to guess, Kane's private ship would be of immense espionage value to Dr. Huer, just as the wrecked patrol ship was.) However, when Buck tries to take off (after Wilma and her Sky Patrol have gone, of course), the ship won't start, damaged by a hit from Wilma's ray, and our heroes are left at the mercy of Kane's aerial death squad and the swift vengeance of their master. A thorough carpet-bombing of the valley commences.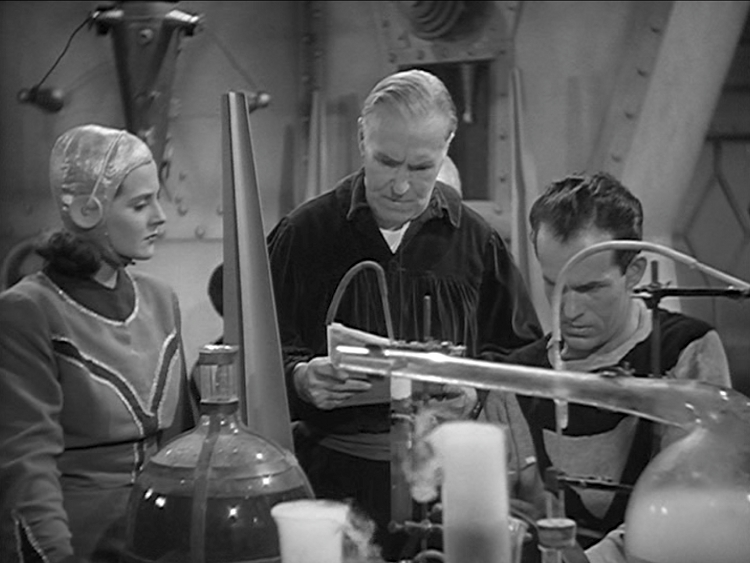 And that's it. This chapter is a little light on plot, so allow me a few digressions. In "Tomorrow's World," when Buck and Wilma took off for their mission to Saturn, both were Lieutenants. In Chapters Three and Four, Buck is named as "Colonel Rogers," and Wilma is . . . still a Lieutenant. Glass ceiling much, twenty-fifth century? Of course, titles get thrown around willy-nilly in this kind of fiction, without much regard to real-world military practice; Harry Turtledove it is not. Still, with Wilma's status as the token woman on the Hidden City's defense force and how quickly Buck Rogers has come to outrank her, it's actually a step backward from Nowlan's gender-equal future.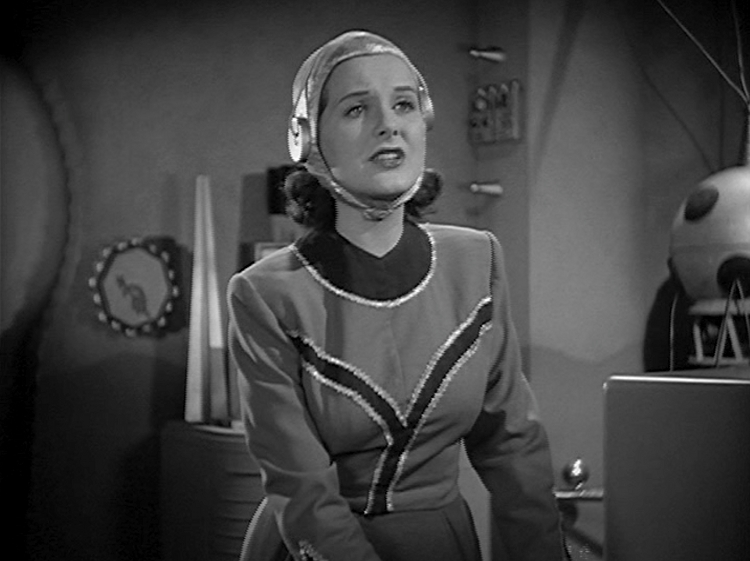 Film audiences in 1939 probably would have been more familiar with the daily Buck Rogers comic strip or the weekly radio show than Nowlan's novel, however, which raises the question of how the changes from the source material would have been received. As mentioned, Buddy was Wilma's younger brother in the comic strip rather than Buck's companion from the twentieth century, and presumably other changes were made for budgetary or story reasons. (As far as I can tell, Prince Tallen is a character newly created for the film.) Serials were quite free in reshaping their source material, whether based on comics and radio, classic novels, or even historical events. "What else is new?" you may ask. Aside from the limitations on budgets and special effects that would have made it impossible to recreate many scenes on film, there was simply no expectation that stories, indeed even basic details, would be preserved unchanged in the transition to film.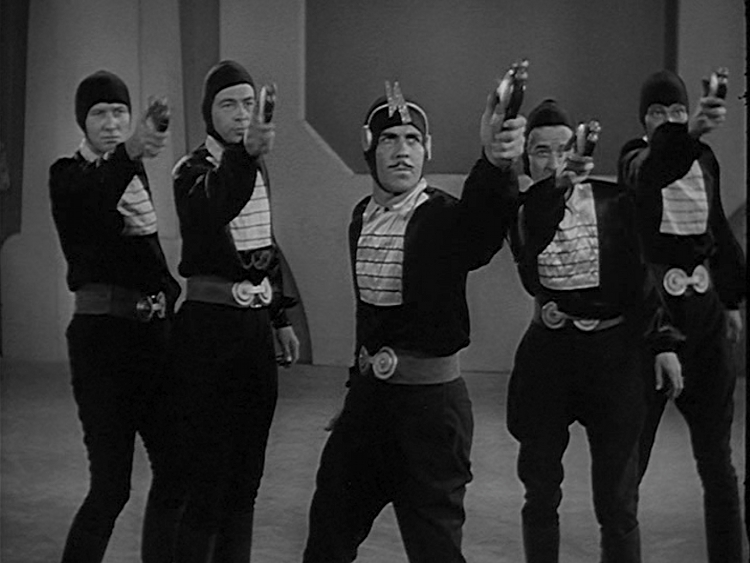 At least when it comes to popular characters from the comics, there wasn't anything like the organized fandom that today expresses itself loudly about movie adaptations. (Whether those loud voices actually have an influence on the studios is best saved for an another discussion.) Publishers and networks were active in developing fan clubs to keep audiences involved and on the hook for new product (as with a great deal of modern merchandising and promotional practice, we have Edgar Rice Burroughs to thank for this), but it was largely a one-way street. The first major science fiction fan convention was the first Worldcon, held in New York in 1939; by comparison, comic book fans didn't really start organizing until the 1960s. In any case, serials were product that was screened as part of a slate of shorts and features, not important enough on their own for either producers or fans to get hung up on, say, Captain America's secret identity.
Finally, as mentioned before, it's become clear that Prince Tallen, played by Korean-American Philson Ahn, has become an ally of Buck Rogers, won over by both Rogers' integrity and the realization that Kane isn't the beneficent leader he pretends to be. The brother of the much more prolific actor Philip Ahn, Philson didn't appear in very many films, and his only other major credit was in The Good Earth. Actors of Asian descent were not unheard of in the serials; the most prominent is Keye Luke, who played Charlie Chan's "Number One Son" Lee and appeared in two serials as Kato, the Green Hornet's partner. In many cases, however, Asian roles (including Charlie Chan himself) were played by white actors, sometimes as less than flattering caricatures (as in the inflammatory wartime Batman, shown below).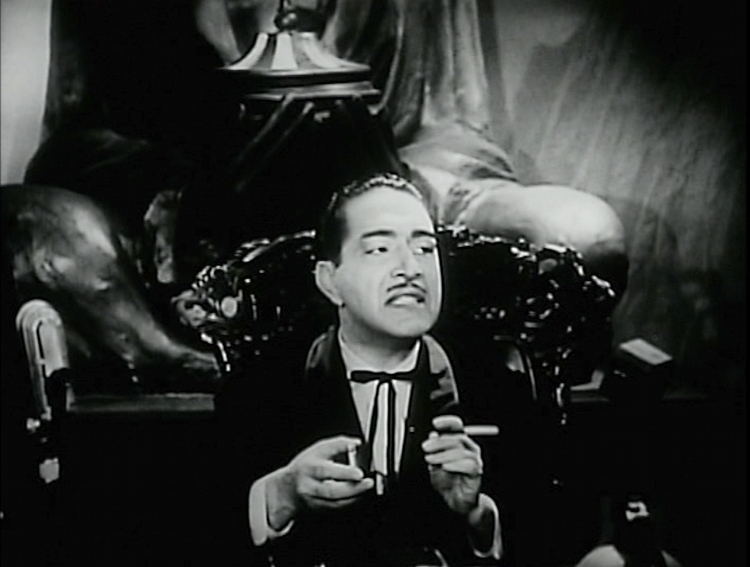 What's noteworthy here is how little the film's characterization of Tallen relies on Ahn's ethnicity. He is meant to be from Saturn, and so far there's little of the stereotypical Asian in his character and very little of the "techno-Orientalist" trope in which such characters are simultaneously masters and products of inhuman technology (consider the "alien" Han conquerors in Nowlan's novel or crypto-Asian invaders like Flash Gordon's Ming the Merciless). Unless he breaks out some karate moves or Confucian aphorisms in coming chapters, I think it's safe to say that Tallen is simply himself, an unusual bit of truly color-blind casting for the era.
Tune in Next Week as we look at Chapter Five, titled "The Phantom Plane," which I can only assume means a guest appearance from Wonder Woman.