Since Cinemascore began operation in 1979 only 19 films have received the lowest score. In this series I'll be reviewing those 19 films. This week, the Australian government tries to end its tourism problem once and for all.
So What is it?
Wolf Creek is Australia's answer to The Texas Chainsaw Massacre.  A sparse and brutal horror movie, it follows Ben (Nathan Phillips), a twenty-something Australian man who buys a cheap used car to take a pair of British tourists, beautiful and outgoing Kristy (Kestie Morassi) and the more reserved Liz (Cassandra Magrath), on a tour of the Outback, where they fall victim to a notorious serial killer.
The story is told in three segments. The first and longest, is a naturalistic and impressionistic travel-log where we're given a feel for our protagonists. The film has a light touch with its characters. They are authentically drawn and believably flawed, but not particularly deep or complex. The characterization is sharp enough to make them each feel like a real and distinct person, but still vague enough not to interfere with the "this could happen to you!" vibe of the story. These are not the obnoxious murder fodder that we'd expect in a teen slasher, nor the complicated nuanced leads of a more psychological horror, but something more ordinary and familiar. These scenes are leisurely paced, but not unengaging. And the film slowly builds tension as we're immersed in the beautiful, if harsh and unforgiving, Australian landscape. Eventually the three are saved from some car trouble by Mick Taylor (John Jarratt). Mick is a bit rough around the edges but he's affable and charming, and he persuades them to let him tow the car to his camp where he can fix it overnight.
The next morning Liz wakes up in a shed with her arms and legs bound and a gag in her mouth. And for the next section of the film we follow her as our primary protagonist. Liz is tough and resourceful, and quickly frees herself. Unable to find a running car she begins to flee the camp on foot, but turns back when she hears Kristy screaming from another building.  Peering through a window, she sees Kristy tied up, half undressed, and bleeding, while Mick is torturing and mocking her. This scene isn't particularly gory, the camera doesn't fetishize Kristy or her suffering, and the violence is mostly implied, but there's a naturalism to it's presentation that makes it feel far more brutal than much more explicit horror movies. John Jarratt doesn't alter his performance at all in these scenes, remaining as affable and cheerful during the torture as he was when he was first seducing his victims, and the effect is chilling. He seems truly unable to recognize the suffering he's putting people through.  And he seems to be genuinely enjoying himself.
Liz, who is not prone to helplessness or hysterics, improvises a small car bomb, and when Mick goes to deal with the fire, she steals his rifle and shoots him through the neck, knocking him unconscious. She then immediately walks over to him, puts the gun to his head, and goes for the kill shot. No fucking around. Unfortunately she's unable to figure out how to get a bullet into the chamber, so she beats him with the butt of the rifle a few times, takes his keys, and unties Kristy.  Ben is nowhere to be found and it's safe to assume Mick quickly disposed of him in order to get to the girls, so the two find a running truck and make their escape. Unfortunately, by now Mick has recovered.  Liz rams him with the truck on the way out, but he survives and takes pursuit in another vehicle.
The women have a decent head start, but no idea of where they are. They decide to push the truck off a cliff and hide, hoping that Mick will assume they died in the wreck. Mick does not assume this, and hikes down to investigate, taking his keys with him. With only a short head start before he discovers the ruse, Liz runs back to the camp to find another car. Kristy is in bad shape, and so Liz leaves her behind, but promises to return as soon as possible.
Back at the camp Liz discovers evidence of the massive scope of Mick's crimes, finds another gun that she doesn't take with her, and eventually finds a working car among the fleet of stolen vehicles left over from Mick's earlier victims. Unfortunately by now Mick has returned. He gets the drop on her, grabs her, and severs her spine with a bowie knife, leaving her alive, but completely paralyzed, turning her into what he describes as a "head on a stick."
This is a grim end to our heroine and it casts a shadow over the rest of the film. It's not quite right to call it a tonal shift, but it's sort of a tonal reveal. This is a bleak movie, and survival isn't going to have anything to do with fairness, or morality, or intelligence, or courage, or skill, or anything else that might save a typical horror star. This final section is an exercise in cruelty and inevitability.
We now return to Kristy, who wakes up the next morning somewhat recovered from her injuries and realizes her friend is not coming back. She makes a run for the highway, and flags down a passing car, but Mick catches up to her, shoots the driver and runs her off the road, killing her.
We then see Ben, who hasn't been killed after all. Mick has nailed him to a wall in a pseudo-crucifixion, and left him either to die or just to suffer before he returns for further abuse. Ben manages to escape, pulling his wrists through the nails and out of the razor wire that's holding him up. This one is pretty gory. Ben doesn't bother looking for the girls, and instead immediately flees to the outback. He eventually finds the road and makes it back to town. The final text of the movie tells us that Ben was tried for the girls' murder, as he was initially unable to locate the camp, and that Mick Taylor has never been caught. This is a strange way to end the movie, since neither Ben nor Mick are real. But it gives the ending a bleak and haunting quality, depriving us of any sense of closure. This sort of violence can't be shaken off. It can't be recovered from. And it's out there, still.
So Why the F?
So this movie opened on Christmas Day.
Not only that, but the film's American marketing sold it as a much more conventional slasher, even advertising it with the incredibly tasteless tagline "The Thrill Is In The Hunt."  You need to manage expectations with a film like this. Even the critics hated it in the US, with Roger Ebert writing that the festival favorite, "Made me want to vomit and cry at the same time" and, "If anyone you know says this is the [movie] they want to see, my advice is: Don't know that person no more".
So Were they right?
Wolf Creek is a rough watch, but it's absolutely the movie it wants to be.  It's bleak, relentless, and terrifying.  And John Jarrett creates a fairly iconic villain.  There's a reason why this developed the following it has, and a reason why it spawned so many sequels and spinoffs.
But at the same time, I can't blame the F-ers here. Once Liz gets killed, all the air goes out of the movie, and the rest of film is just wallowing in misery. Liz's fate is also exceptionally cruel for a character who has been smart, considerate, and courageous through most of the film. That's the point of course, but you can only follow intentionality so far, eventually you've got to find some personal value in the thing. It's easy to resent a movie, even a well-made movie, that puts you through so much suffering and then withholds any sort of catharsis at the end. On top of that, the film's dubious relationship with the "true story" that inspired it, places it in a shaky space between exploiting a real life tragedy on one side, and trying to mask an ordinary slasher in a layer of pretentious bullshit on the other.
I don't know guys, it's a B+, but I really think you'd have a much better time just watching Alone In The Dark again.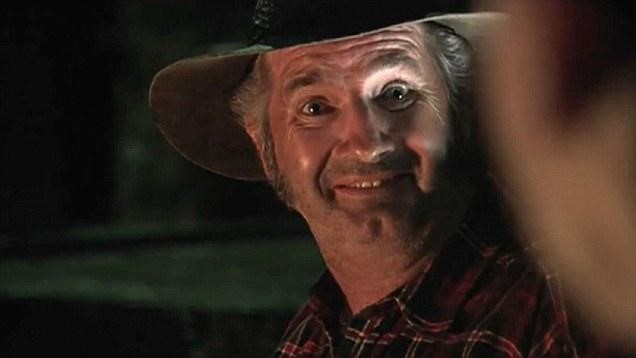 Next Time:  We finally answer the question, "How did it get burned?"