I first had the inkling that I was a woman on January 21, 2017. This was the day of the Women's March but that had absolutely nothing to do with it, because I spent the day watching 20th Century Women for the first time. As I came out of it, my thoughts were merely "great movie, my favorite of the year!", strong praise but at a time I was throwing around five-star ratings like they were candy. But my thoughts kept returning to this movie, in a way that was unusual even for movies I counted among my all-time favorites. I saw it again five days later, liked it even more, and literally could not stop thinking about in every subsequent waking moment. This continued for weeks, and then months. It took me years later to figure out what exactly was happening in this time, because this was obviously not just the reaction to seeing a really great movie, or even to seeing my new favorite movie. I hadn't come close to figuring it out by the time I finally put fingers to keyboard and wrote at length about 20th Century Women in late 2017. I wrote a little under 9500 words about this movie and not a single one of those words got to what I now know was the heart of the matter: it cracked my egg. It gave me the language and understanding of gender to realize that I was a 21st century woman, and it sent my brain buzzing like that because I simply couldn't process what I was being told. I saw on-screen a cis-presenting boy being taught how to be a "man" by a bunch of women, who in reality are teaching him the many different realities of lived-in female experience. Jamie goes deep into his own cringey, oblivious version of feminism and then recedes in "masculine" anger as a response, and his teachers are similarly confused on what their gender means to them, lashing out at each other in an attempt to figure out themselves. Their confusion was my confusion until early 2021, after an umpteenth viewing of Women on New Year's Day, when I finally admitted what Mike Mills had taught me about myself by making a movie about himself. I can't pretend I've come anywhere close to settling on the kind of woman I am or even want to be, but it's not like my inspirations did either. I will try to tell you about myself, but it will be impossible.
As much as I love every little thing about 20th Century Women and have committed them all to memory, there's no point in denying my strongest connection to it, that I want to be Abbie Porter when I grow up. If Mills didn't base Abbie on his sister, he would've been setting out to write the best friend and mentor any burgeoning trans girl could have. It's not just the hair, though the effect of that can't be overstated (someday, I'll have the courage to get the red dye job and dress as her for Halloween). She's the ideal guide to womanhood beyond the hyperfeminine stereotypes, opening you up to the coolest music and the best feminist literature while moving freely along the hard-soft dichotomy. None of this comes easy for her, and she has the same tortured relationship to her body that so many women, queer or not, have to deal with; her legendary menstruation setpiece is a loud assertion of bodily power after she's been made to feel that her cancer has made her "less" of a woman. But she takes such pleasure in gifting both her toughest and best experiences to Jamie, sharing herself and believing that the other person can build on what she's told them. She's been the face I put forward on the internet for six years now, and I can only hope I've lived up to her lessons about life as a woman.
I briefly thought about taking Abbie as my new name, but wrote it off because I knew another online trans woman who took that name for much the same reason (I knew this Abbie for a good while before I came out, once again I did not pick up on some very glaring signs about myself). But another name proved a lot harder to dismiss, even as I kept insisting to myself that it was "too obvious". As I struggled to come up with any alternatives, I realized it was obvious for a very good reason. And so, as of this year and hopefully forever after, my name is Greta.
Greta Gerwig was the biggest part of my initial interest in 20th Century Women, having fallen in love with her (as many did) in Frances Ha and carried that love with me even as her subsequent non-Baumbach projects all petered out (the alternate universe where she commits to How I Met Your Dad and I lose sight of her is a grim but hilarious one to consider). Her gifts as a comedic actress remain unparalleled, inimitable neo-screwball deliveries grounded in the real world because they're always teetering on collapse. Gerwig characters are almost always spilling out on all sides, barely holding it together but with enough gumption that she can pull herself out of the tailspin. Initially she seemed almost aspirational to me, absurd and funny and living life as a constant dance (and sometimes as an International Dance Craze). With some distance I see what a precarious balance Gerwig characters are operating on, a balance that's only seemed more and more familiar to me as I learn more about myself; I see myself so clearly in the way she rolls into conversations with the energy of "I've already said something I know is stupid but I'm too far in to stop now", and a rewatch of Frances Ha now that I'm much closer to Frances's age and situation made it so much more stressful than the Noah Baumbach movies before it that people claimed were unwatchably cringey (for more of my takes on this subject, stay tuned for my essay "I'm Weirdly On Tonight: The Baumbach-Gerwig Divide and the Age of Greenberg", which I may have convinced myself to actually write with this dumb joke). Gerwig's commitment to playing women in spirals makes her turn as Abbie even more extraordinary and powerful, many of her performance trademarks (especially the dancing and the hilarious screaming) now in the context of a woman who's learned to (mostly) keep herself under control even as she struggles just as much as Frances. Abbie is the most optimistic endpoint for any Gerwig character, weathering the storm and coming out of it tougher, smarter, and more creatively and emotionally fulfilled. It makes perfect sense that Abbie became Gerwig's farewell to acting before moving to directing (until Babette Gladney let her regress once again into anxiousness), ending a career on a note of hard-fought security so that she can now guide others through the most painful and silly emotions.
I still hadn't figured out what Gerwig had taught me by the time she made the leap to directing, not questioning my straight cisness even after I bought the Girls on Tops GRETA GERWIG tee, which should come with a certificate saying "Congratulations! You're queer". I went into both Lady Bird and Little Women hoping for or even expecting the same transcendent (pun very much intended) experience that 20CW had granted me, not understanding that a moment of instantaneous self-realization like that is very hard to repeat (I'd say that was also true of C'mon C'mon but that's just a weaker movie than those three, though that doesn't damn it too much and I'll never forget Scoot McNairy pretending to check his watch). LB and LW merely proved to be amazing movies that I'm sure introduced countless young women (whether they knew they were women or not) to the exact same feelings she and Abbie gave me. When Barbie was first announced, I was particularly excited for it because it was the first Gerwig-Baumbach screenplay since my beloved Mistress America, the promise of a return to the side of Gerwig that really haunted my memories. But in the years before it finally reached screens, I always had to keep that terrible question in the back of my mind: What if it's bad? Sure, I survived another personal hero embarrassing themselves and even at its worst this probably wouldn't be as baffling or as racist as The Laundromat, but as I pieced together just how much Gerwig has meant to me, the matter had higher stakes than a director whiffing. I've put enough faith in Gerwig to make her the backbone of my conception of self, what if that level of faith was put in another promising director giving themselves up to the system?
My experience with my first viewing of Barbie was a very different one than seeing 20CW for the first time. I went in excited but nervous, the hype bonanza around it had begun to wear even me down (this will be the one time you read the word "Barbenheimer" in this) and there was still the very real fear that Gerwig had sold her soul to sell toys. As it played out, I wasn't bothered by the toy-commercialness of it all so much as its surface-level understanding of gender roles, "girls do it like this, boys do it like that" stuff (I'd be offended by my erasure as a woman who's happy to listen and talk about Stephen Malkmus if I wasn't positive that joke was a loving dig at what it's like to live with Noah Baumbach). By the time of America Ferrera's big monologue saying almost those exact words, my teeth were fully on-edge at what I figured was a personal hero falling prey to the most simplistic first-wave feminist sentiments imaginable. Perhaps Little Women's most iconic scene saw Saoirse Ronan also driven to monologue about "Women!" and all the things they can do that society tells them they can't. But the point of that speech is all in the stinger, from Gerwig's pen rather than Louisa May Alcott's: "…But I'm so lonely!". You can frame your life as an example of Every Woman's Struggle but it will all come back to your own personal aches because you're not Every Woman, you're you and that's often not a comfortable thing to be. The Barbie monologue stretches those initial grievances out over twice the length until it seems like it's never going to get to that last line. But I just had to be patient and wait for it to come.
I started getting won back around the time of "I'm Just Ken" because I'm not made of stone, but that's nothing compared to the sucker-punch that was waiting for me in  In those subsequent ten minutes, everything the movie is actually about comes to the forefront, and Barbie reveals herself as a very confused, identityless (and yes, lonely) woman who longs for personhood and a relationship to her gender that makes sense to her. She tried hyperfemininity and it didn't work, and now she's left uncertain somewhere in the middle. Ferrera's speech couldn't help her because framing one's self as Every Woman still leaves you without an identity of your own. But socializing with Ferrera and finding a model for the kind of womanhood she wants for herself helped a whole lot, providing the seed of who she can subsequently grow into. By the end, Barbie has found an idea of herself as she relates to all the women before her, without the burden of having to represent all those women or anything but herself. And as a reward for her hard journey to self-actualization, she's gifted with memories of girl- and womanhoods that she never got to experience, and with a vagina. Come on. A close friend (who happens to be the wife of the close friend quoted at the top) said it best: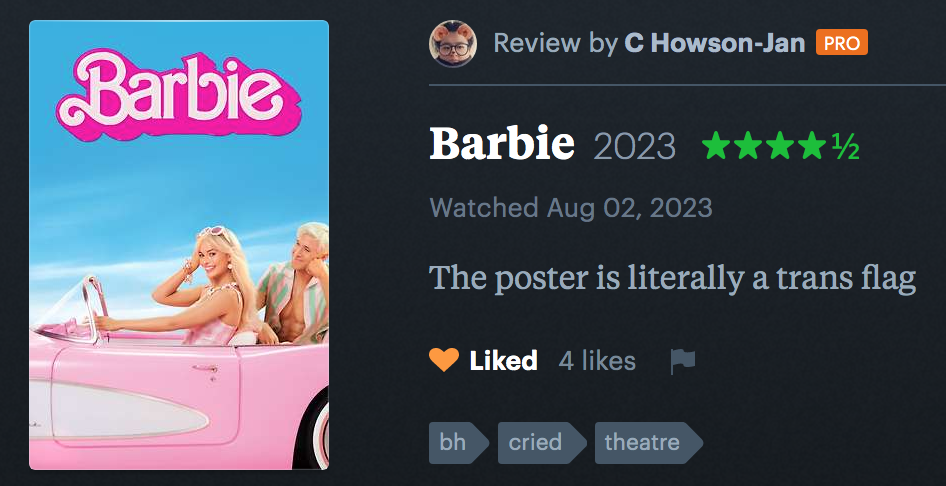 My relief at Gerwig pulling through at the end was nothing compared to the stew of emotions from the woman who guided me to transness looking me dead in the eye and explaining my whole existence back to me. It played like a welcome to womanhood not unlike Abbie's, one that carries with it pain and exhaustion but also promises so much joy ahead of me. That it happened to coincide with me finally going on hormones only made it seem even more miraculously personal, like Gerwig knew the exact time that I needed these words the most. And it did this after its previous commentary on gender roles seemed to only reach "men love The Godfather and women hate cellulite", what seems to be didactic and binary suddenly giving way to feelings that can't be explained nearly as easily but that I feel in my gut.
When I went back to Barbie knowing where it was leading, I had a lot more fun, soaking in its dazzling color and hyper silliness (close in spots to Mistress America delirium, especially the roving gang of Mattel executives) and seeing nuance where there was previously none, like its portrayal of how men suffer under patriarchy that's 100% jokes with no attempts to Get Serious. That's much of its magic, that it commits wholeheartedly to sugary silliness (with brief spasms of melancholy) and saves its haymaker for the very end; I somehow was exactly as unprepared for the ending the second time as I was the first. It's still not perfect, and I still grimaced when it came time for Ferrera's monologue, underlining themes it would've been fine leaving to stand on their own. But then at the end of it, I got hit with another surprise personal attack, the "But I'm so lonely!" I thought at first was missing: Ferrera referring to Barbie as "a doll representing a woman", a phrase that suddenly steers the speech straight into Trans Feelings much more than cis grievances. Did Gerwig set out to make the poppiest, most audience-friendly trans allegory she could (as much as I love Baumbach, I somehow doubt this was his contribution to the script)? She did cast famed doll Hari Nef as one of the many Barbies, but even if this is her falling ass-backwards into a queer narrative, the meanings are so clear to me that initial intention is pointless, this is the text. And my genderfluid sibling felt much the same, relating hard to Ferrera's words and taking from them an illustration of why they rejected committing themselves to womanhood, it's too much stress for too little reward. These are incredible takeaways from a billion-dollar grosser about a toy line, and they wrestle this away from its corporate overlords and into the land of intimate, daring, queer art. I get it if you can see nothing in this except what it does for Mattel's bottom line (it's hard not to be cynical about that when you hear reports of Mattel's forthcoming dark, "A24-type" Barney the Dinosaur movie), especially if trans allegories are only something you can appreciate in the abstract rather than from personal experience. But I can put up no defenses against it because, as far as I'm concerned, it gets everything right.
As you can tell, I love Gerwig the director and have been thrilled by her climb to the top, but I've been hit with the nagging, guilty feeling that I will never be quite as connected to her as a director than as a performer. Part of this is just a matter of what I watched first, I'd absolutely still be a fan for life if I got in on Lady Bird. And it's hard for anybody to be good at anything as Gerwig is good at acting. But mostly I suspect that I need to see Gerwig on-screen in order to see myself. Saoirse Ronan and Margot Robbie are amazing at adapting the Gerwig spirit into something new, but that also means they take it further away from a place of uncomfortable but cathartic recognition. I was not nor will I ever be a Lady Bird (Lola Kirke in Mistress is much closer to my junior-Gerwig days), and until the end Robbie is purposely playing entirely outside the bounds of human behavior (in a very moving, hilarious way). But I feel on-screen Gerwig deep in my bones, hers is often not a pleasant vision of myself but even the lowest depths of Frances Ha-ian embarrassment are the best kind of exposure therapy; the most fraught extremes of "haven't figured myself out yet" have turned out to be great help in figuring myself out. I wouldn't want to see Gerwig continue to tread water in that mold, but I can't deny the absence I've felt not getting her screen presence as (what used to be) an unconscious guiding hand. Unbelievably, all this is covered by the end of Barbie, via a line that reduced me to rubble both times I've seen it:
"I want to be a part of the people that make meaning, not the thing that is made."
The first time I heard this, I knew instantly that Barbie had become in this moment, or had always been, Gerwig, now speaking specifically of Gerwig's need to tell her own stories rather than perform the stories of others. Acting is a notoriously dehumanizing profession for women in particular, putting themselves and their bodies at the mercy of one person (usually a man)'s interpretation of what they represent. The only escape that still allows for creative expression is behind the camera, where the meaning is constructed. That's incredibly powerful as a declaration of autonomy (autonomy that couldn't be stifled by Mattel holding the purse strings), but it hit me like a freight train for how it made me think about my own relationship to Gerwig's work. Had I hijacked her to force my meaning on her, only wanting my truth rather than hers? Was I using her as a Barbie doll to process my feelings about myself? With those questions, I was thrust back into Barbie's sparkly shoes, feeling the whole basis of my identity shifting beneath my feet and being terrified and saddened that I'm doing this woman thing all wrong. And then I remember that, in this moment, Barbie is Gerwig and Barbie is me. Gerwig is me speaking my worst fears about my connection to her, and I am Gerwig telling me that it's all going to be okay, because I've made my own meaning with her help.
It's Greta, and it's Greta.