1932 was an important year for Bela Lugosi. Having made his (silent) Hollywood debut in 1923, he appeared in a variety of films across a wide number of genres before finally making his breakthrough in 1931's Dracula. While his filmography was well into double digits by the time 1932 rolled around, this would be his first year as Bela Lugosi: Horror Icon – and he made it count, starring in five films. The two that don't quite fit into the genre still sound quite disturbing – he plays a "demented madman" in Chandu the Magician and – possibly even worse – the head of a motion picture studio in The Death Kiss, but it's the three full-on horror films that have really stood the test of time.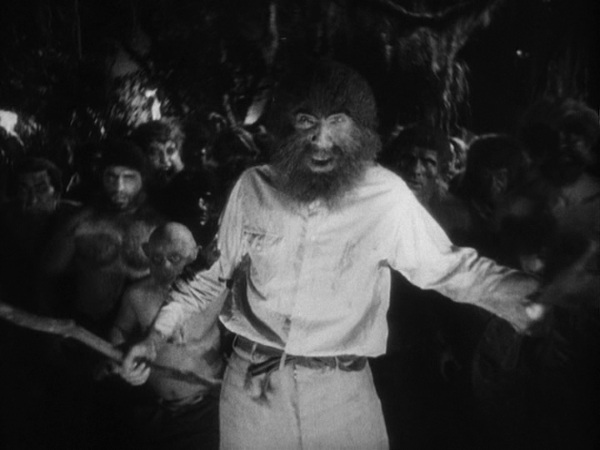 Lugosi's best-remembered film of 1932 is Island of Lost Souls, and for good reason: Charles Laughton's gloriously arrogant, whip-cracking Dr. Moreau is one of the best performances that the genre has to offer. Dumped onto the doctor's island by a surly, drunk freighter captain, Richard Arlen's everyman protagonist is initially somewhat charmed by Moreau and his curious home, but unexplained screams from the jungle lead to unpleasant discoveries, and the doctor's hubris is soon turned against him.
It's a film full of rich characters, with hard-drinking seamen and human-animal experiments ranging from the grotesque to the alluring, but Lugosi manages to stand out. His wolfman-esque character, billed as The Sayer of the Law, acts as the de facto leader of the bunch of beast-men who live among the trees; Moreau's desire to achieve Godlike status through his twisted experiments has led to a set of rules that he asks his subjects to recite, and Lugosi acts as their voice. When rebellion becomes inevitable, The Sayer continues to perform that role, his cries of "law no more!" acting as the spark for the fire that turns Moreau's island into a graveyard.
Lost Souls has remained in the public eye for a number of reasons, some good – the general quality of the film, and Laughton's performance in particular – and some less desirable, such as the controversy that led to it being banned in the UK for many years, and the catastrophic failure of Richard Stanley's 90s remake. H.G. Wells, author of the original novel, thought that the film leaned too hard into the horror elements and lacked philosophical depth as a result, but that eagerness to shock (and the incredibly effective beast-man makeup) is a large part of what makes the film still pack a punch today.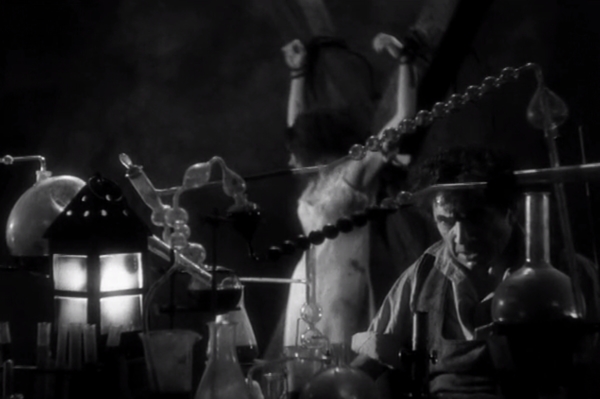 Curiously, Lost Souls wasn't Lugosi's only voyage into the seemingly niche "scientist mashes human and beast together to prove his intellectual supremacy" sub-genre in 1932. In the vaguely Edgar Allan Poe-inspired Murders in the Rue Morgue, one of the less-beloved entries in Universal's astonishing slate of early-30s horror, Lugosi gets to show off his own scientific chops. He plays a simple carnival scientist who longs to prove the theory of evolution… even if it costs the lives of a few unwilling female accomplices. By day he talks to an ape for half-interested sideshow visitors; by night he kidnaps young women, injects gorilla blood into their veins and observes the grim results in a makeshift laboratory. These would seem like unusual career options for most men, but Lugosi's character here is named Dr. Mirakle, so – let's face it – he probably had little choice in the matter.
The fact that this film isn't as fondly remembered as the classic Universal monster movies that surround it is surely at least partly due to another censorship controversy; even before the dawn of the Hays Code, Rue Morgue had twenty minutes chopped out of it for excessive violence. That's actually quite a frightening proposition, given how grim much of the surviving theatrical cut is – when Lugosi opens a trap door to let one of his lifeless victims drop into the waters below it is a moment of sheer villainy that feels shocking even now. There's some nice character work to balance out the bleakness, though, with medical-student protagonist Leon Ames proving to be a charismatic lead and D'Arcy Corrigan portraying one of the all-time great creepy morgue attendants.
The early menace largely dissipates into ape-based mayhem, although that too is pretty well executed – despite the inevitable disconnect caused by blatant use of what appears to be an entirely different species of ape for close-up reaction shots. Dr. Mirakle is dispatched by his own pet (when you live by the ape, you must be prepared to die by the ape), who has fallen in love with their latest victim and carries her up the side of the building in a scene which now feels like an amusing foreshadowing of the following year's substantially better-remembered slice of ape chaos, King Kong.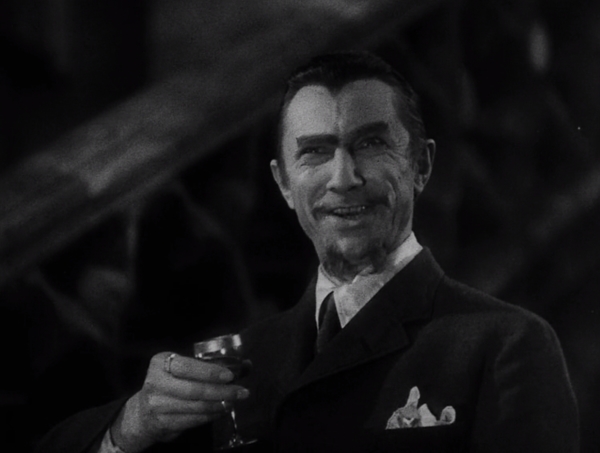 Even in the disturbingly fast-moving world of 1930s Hollywood, Lugosi's year was absurdly stacked. And, not content with being on both the giving and receiving end of the human-animal-combination scientific community, he also took time out to invent the zombie movie. White Zombie is a timeless story: Boy meets girl, boy accepts suspicious job offer from wealthy stranger, boy and girl travel to Haiti to get married, mysterious stranger enlists the help of voodoo master Bela Lugosi to ruin marriage, a vulture turns up, and then everything goes insane. The "first-ever zombie movie" hype might be the main reason that this film remains part of the classic horror canon, but it has plenty to offer in terms of quality, as well as novelty.
The vast majority of zombie cinema follows the Night of the Living Dead model – shambling reanimated corpses, compelled to kill and eat human flesh – but White Zombie is a more traditional affair, with living bodies reduced to mindless slaves by voodoo magic (and perhaps a little chemical assistance). For some idiot reason, the handsome young couple at the center of the story don't see anything suspicious about a lonely, rich white man living alone in the West Indies offering his home as a venue for their marriage – despite the fact that they've only just met and nobody they know will be there. Could it possibly be that he has some ulterior motive? Like maybe he wants to get the husband out of the picture so he can rid the new bride of her free will and creepily stare at her empty, expressionless face while she plays the piano?
Lonely, rich Beaumont lacks the voodoo mastery to do this alone, but Lugosi does this kind of thing for fun, so enlisting his fearsome powers is merely a formality. And, even though Lugosi's performance here isn't quite as striking as his Dracula or some of his later (less-than-amicable) collaborations with Boris Karloff, he's still at the center of the most iconic scenes – his familiar eyes float in darkness over scenes of advancing zombies; he carves voodoo dolls from wax to enslave his prey… and then there's that vulture, which seems to function in a sort of "witch's familiar" role but spends most of its screen time screeching wildly in a "scramble for the remote control because I can't believe how loud these bird noises are" sort of way.
The story here is far less pure and focused than the early Universal horror films, but what it lacks in clarity it makes up in insanity. My one major gripe with a lot of the Universal classics is the poorly-integrated comic relief; Zombie does a lot better on that front, with some wry wit from its sympathetic missionary character (who is always struggling to keep his pipe lit) that lightens the mood without feeling like he's been crammed in from a different sort of film entirely. The direction here, from little-remembered journeyman director Victor Halperin, is surprisingly stylish and inventive. Some clever camera tricks make for some effectively spooky hallucination scenes, and as the action ramps up later there are all manner of fancy edits and transitions, including one wipe that seems to be modeled after Lugosi's hairline! There's also a truly wonderful moment when the transition between scenes unexpectedly and cleverly turns into a split-screen, with the separated husband and wife staring out into the darkness unaware of each others presence.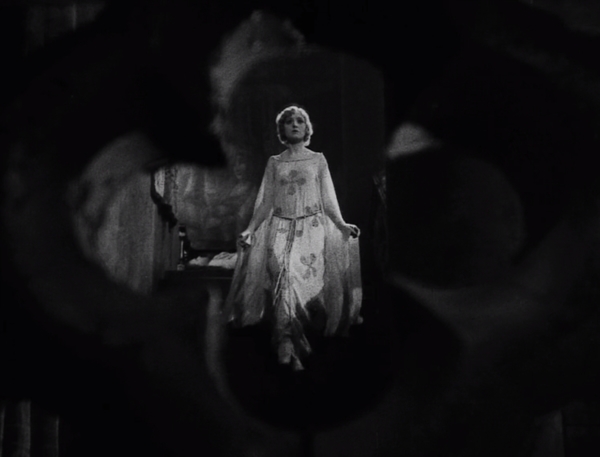 Lugosi's decision to turn down Frankenstein after his break-out is often cited as the reason that his career never reached those heights again, but there's plenty of evidence from 1932 alone that he could carry a film. Sadly, as a thickly-accented, unusual-looking man with a fairly limited acting range – a classic example of a character actor who has tasted the sweet, sweet candy of the leading role – it was perhaps inevitable that Hollywood would struggle to find roles for him. Years playing second banana to Karloff would follow, and then a slow slide into obscurity, addiction and Ed Wood. But like many of the finest horror icons, Lugosi always seemed to be giving his all, even when grappling with malfunctioning octopi in tepid water. Dracula will always be his most enduring role, but these twelve months that followed turned him from a one-hit wonder into a true legend of Horror.