Well, Krusty, that's not very in-depth, maybe a little irreverent, but I can't disagree. And I'm not even sure it's a criticism. Fellini-Satyricon isn't a narrative film so much as Fellini dunking you headfirst into a fever dream or the ultimate bad trip. Yeah, it's an overused description, but there aren't many movies it fits as well as this one. It's feverish, with its lurid colors and excesses of sex and violence. The banquet scene where an enormous roast pig is sliced open and even more food spills out is about the best metaphor you could ask for. And it's dreamlike, not just lacking a clear plot but replacing the conventions of storytelling with the conventions of dreaming (the frequent absence of subtitles on the MGM World Films DVD I rented certainly doesn't hurt). Our protagonist is Enclopio, if that's the right word for a character who rarely affects the plot or ties himself to a set personality, is our only throughline — and even he disappears for long passages. The opening offers what might be a plot with the love triangle (again, if this shallow, predatory relationship can be worthy of the word) between Encolpio, Ascylto, and Gitone. But all the exciting stuff happens in summary, and then we're off on the road to nowhere. A starving artist dies, returns as a living rich man, then dies again. Encolpio, declares he can no longer be friends with Ascylto after he steals, rapes, and sells his beloved slave. And then they spend the second half of the movie palling around together anyway. Encolpio falls asleep in the desert and wakes up on the beach. We wander through sets that seem to have no spatial relationship to each other – have we traveled a thousand miles or none at all?
Satyricon never really tops the nightmare vibe of the first half hour: Encolpio finds the demonic, animalistic Acylto in a cavernous empty bathhouse, half-lit like we're seeing it through sleep-closed eyelids. Then Enclopio chases Gitone to a weird alien simulation of the theater, a fog-hidden burlesque of burlesque with creepy patricians laughing at vaguely jokelike events including what may or may not be a real dismemberment and the clown menacingly growling at them, "Applaud! Applaud!"  The two go from there to a twilight bordello where we see strange scenes of perversion through windows like the viewers at an old-fashioned nickelodeon (most memorably two nudes of unknown gender shaking their booties on all fours, unremarked on and out of focus). They walk out onto the street, and we get the same view of the real (?) world of urban poverty.

Fellini even recreates recurring dreams: the scene of Encolpio and Ascylto wandering into a deserted villa and finding a beautiful slave girl who joins them for an orgy almost immediately is pure erotic fantasy.  And the next scene is a variation of the classic naked-on-stage dream as Encolpio has sex with a strange woman surrounded by a highly critical crowd and can't get it up. Nino Rota's score is pitched at the level of nightmare, making use of unearthly squeals and backwards tape loops.

Just to throw us off even more, Satyricon puts dreams and stories inside of dreams. Not just that, these dreams are more real than the baseline "reality" of the frame story, tamping down the noise and frenzy, taking place in real outdoor locations, and using more muted color and sound.  And let's be clear, there is a whole lot of noise and frenzy in this movie. There's so much it can be almost exhausting, especially without plot signposts to give us some idea of how close we're getting to the end. The first scene may be giving the audience to take a breath and gear up for what's coming, just a long look at a blank grey wall. Or maybe Fellini's having a little joke with us. "Oh, you want spectacle? Have cement," and then launching right into the spectacle anyway.   
Satyricon's format allows it to undermine our sense of reality, and as a result gives Fellini a chance to screw around with assumptions of gender that are seeming less grounded in reality all the time. The Emperor is played by a woman; at one point, Encolpio walks down the aisle in a marriage ceremony where the priest consistently calls him the "bride," but his groom (who, consistent with Satyricon's non-plot, never appears again) wears a headscarf that looks suspiciously like a bridal veil. And then there's Giton, one of the finest showcases for Rino Carboni's gorgeous makeup work. His sex is indiscernible even when he's bare-chested, and the one time he speaks, he's dubbed by a middle-aged woman
But isn't that what we'd expect from a Fellini film (try reading that in any voice but Woody Allen's)? As far as someone who's so unknown outside cinephile circles in this country can have a popular image, this is Fellini's: the mad, fantastical circus-master. And yes, his previous films always had one foot in this world, but the other was firmly grounded in real people and real emotions. Don't forget he started out as an Italian Neorealist: his earlier work leaned heavily on fantasy sequences, but they were an extension of his characters' real emotions. (He's been called a Magical Neorealist — was it mutual influence from his South American contemporaries or convergent evolution?) Fellini-Satyricon is one big fantasy sequence, a Twin Peaks that never leaves the Black Lodge. We see the same whirling, dramatic montage that climaxed Juliet of the Spirits, but in the previous movie it had been an expression of inner turmoil that went far beyond sex to explore Juliet's spiritual and existential crises. In Satyricon, poor baby can't get a boner. Far from the deep, heartrending emotionality of Fellini's other work, Satyricon makes just a few stabs at genuine feeling. But one of them, as the story ends, just like the text the credits say it's "freely adapted from," mid-sentence and we see our characters reduced to a painting on a ruined building thousands of years later, is undeniably powerful.
As always, Roger Ebert writes about this movie far better than I ever could; make sure you check out his contemporary review: https://www.rogerebert.com/reviews/fellini-satyricon-1970 and his Great Movies retrospective: https://www.rogerebert.com/reviews/fellini-satyricon-2001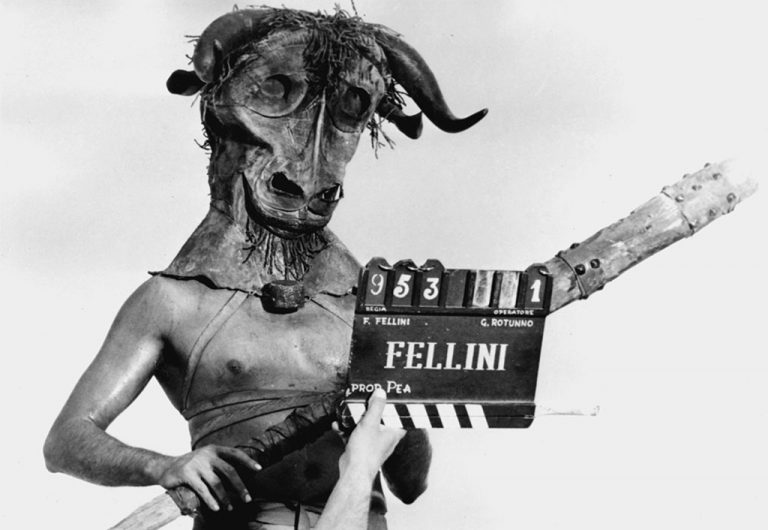 .