A Time to Love and a Time to Die found Douglas Sirk, near the end of his 1950s run of melodramas mostly set in the American upper and middle class and widely celebrated for their lushness and artifice, adapting an Erich Maria Remarque novel that opens on the Russian-German front in 1944, and takes the point of view of a German soldier. At first, Ernst Gräber (John Gavin) is little more than a name and a uniform, a small part of an ever-decreasing, demoralised army that can now only retreat through the desolate, snowy landscape, returning to towns and villages it had previously destroyed and executing an occasional group of captured partisans. But then, having been lucky enough to survive until this point, Ernst gets really lucky: he is granted a three-week leave, his first in two years. Within those two weeks, he will return to his hometown of Verden; find it in ruins and under continuous air raids; attempt a search for his missing parents; fall in love; and get married. And then he will have to go back.
Sirk's work may have a reputation, but even a quick journey through his greatest hits reveals that they're not as unified in their approach as that reputation suggests; you may well not find another Sirk melodrama as plot-heavy as Magnificent Obsession, as grown-up as There's Always Tomorrow, or as feverish and close to knowing camp as Written on the Wind. By that metric, A Time to Love and a Time to Die might be his most grounded, unostentatious, quietly engrossing movie, which is naturally dictated by the subject matter but is also presumably influenced by Sirk's personal history: the German-born filmmaker's first marriage, to a woman who would later join the Nazi party, produced a son who was legally barred from seeing his father after the latter's re-marriage to the Jewish actress Hilde Jary (with whom Sirk would eventually escape the country on Christmas Eve 1936) and later died, aged 19, on the Eastern front. From the very start, the change in mood is telegraphed by a fundamental visual choice: where the director's preceding films had been photographed either in sumptuous, attention-grabbing Technicolor or in black-and-white, A Time to Love is the only one shot in Eastmancolor, with its appropriately muted, earthy tones.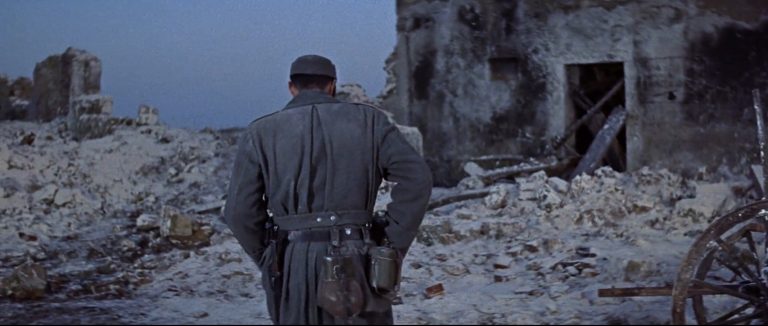 It's a strong translation of its source material, too. Perhaps the most common issue with film adaptations of narrative-driven novels is that they tend to feel compressed, hitting obligatory plot beats as if on schedule without stopping to take a breath or think of an actual structure. A Time to Love and a Time to Die, however, takes precisely this rushed quality and finds its structure in it, since it is perfect for the story of someone who never has enough time, yet constantly has to adapt to unexpected developments. As the story begins, Ernst finds himself with a fixed time frame; so does the film, which, at a generous 132 minutes, is the longest of Sirk's career, and neither forgets how valuable that time is.
The screenplay, credited to Orin Jannings, finds most of the right things to get rid of, motivated partly by Hays Code restrictions, partly by its own good sense. Remarque never came across a gruesome detail of war he didn't grimly point out to the reader by way of "dispassionate" observation, and the characters in his source novel – which, in the original German, carries a simpler title Time to Live and Time to Die – can't go a page without offering insights on their situation that soon start to feel like the author's own forcibly inserted ruminations. The movie cuts down on that, concentrating on the narrative and picking up on the more unobtrusive and rewarding part of Remarque's commentary, which lies in the many compelling contradictions of life during wartime, from the somber to the ironic to the highly poignant. The arrival of spring in Russia means finding your compatriots' corpses under the disappearing snow; "It is your duty to comfort and cheer your dear ones," the soldiers are told by the higher-ups still keeping up the bullshit façade, before finding that there's no one even left to comfort and cheer; gout saves a soldier's life; a boyish Nazi official cheerfully notes how he's been put in a position of power after never finishing school; lovers reflect on how their country wanted to conquer the world, and now, even if they survive, they'll be trapped at home, hated wherever else they go. In perhaps the single most moving moment, a restaurant's chanteuse keeps entertaining the guests even after they've all been evacuated to the basement, apologizing for the air raid making her song "slightly off tone." To be fortunate enough not to get destroyed by another bombing is all a song, a house or a tree needs to do to become a symbol of hope and the persistence of life.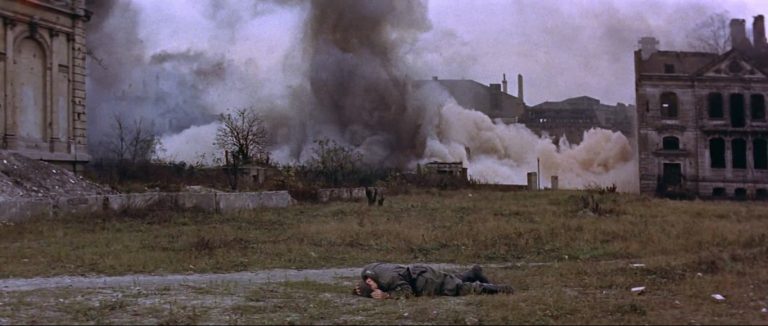 And then there's the spontaneous, rapidly developing romance between Ernst and his formerly distant acquaintance, Elisabeth (Lilo Pulver), at once born out of all the horror that surrounds them – they wouldn't have crossed paths if Ernst hadn't stopped by her house to ask her father about his missing parents, only to learn that the man's been put in a concentration camp for proclaiming the war lost, something Remarque's sister was executed for in real life – and a shockingly sweet counterpoint to it. (The film helpfully underlines the contradiction in front of the characters themselves by having them find a tree that's gone into full bloom due to the heat from a blast that destroyed a building next to it.) A Time to Love and a Time to Die is a classic wartime romance where the characters' love comes from their desperate desire for connection and support in extraordinary circumstances; its company is superb films like Vincente Minnelli's The Clock (1945), with which it shares the presence of the ever-reliable Keenan Wynn, and Aleksey German's Twenty Days Without War (1977).
But Ernst and Elisabeth's time together may be even more precious, and their circumstances even more despairing, than those of the usual protagonists of such stories, due to their nationality. They are no Nazi sympathizers – both are disillusioned, bitter, and conscientious (although Ernst has no compunctions about taking a bath in the house of a former schoolmate who's a party member and accepting booze from him, a nice injection of pragmatism) – but that won't prevent the bombs from falling nearby as they embrace at night or bluff their way into an old-fashioned romantic dinner in an expensive, officers-only establishment. The actors make them a tender, sympathetic pairing; Gavin, who two years later would get the unenviable task of having to co-anchor the second half of Psycho (but also the highly enviable task of being in Psycho), is no great thespian – his entire performance here is outshined in a late scene by nothing more than a glare from a bit player  who would go on to become an icon – and he tends to fall back on a stiffly proclamatory mode of acting. But he has an appealing sincerity, and he's elevated by Pulver, who is always present and engaged and demands engagement in return, owning the film by giving Elisabeth a natural girlishness and eccentricity that haven't been extinguished by her having necessarily become a stoic survivor.
[Vague but insistent SPOILERS follow.]
And then comes the ending, inevitable and ironic and frustrating. When I first saw the film, even in light of the title it struck me as a major misstep, in part because I could readily imagine a resolution that was less knee-jerk fatalistic and yet tougher and more haunting. The novel, which I read soon afterwards, makes a case for it being the only ending possible; Remarque's philosophizing, and the distance provided by it, reinforce it as a natural endpoint of the idea that no matter how conscientious you are, war sets in motion forces that you cannot, and should not, hope to control. Rewatching the film, I understood that its immediacy, so useful to its other aspects, means that it cannot afford to similarly set up the final minute, which still comes off crude as a result. On the other hand, my fear that it would retroactively make me less invested in the preceding two-plus hours proved to be entirely unfounded, and this is perhaps the biggest takeaway. Between a time to love and a time to die, one is more important than the other.