A consummate entertainer of a movie and a rare uplifting critical and audience smash in the '70s American cinema, The Sting stands today as an exemplary con man comedy, but it's still a movie of its time – just one that earns its uplift and escapism by expertly balancing it out with grit and stakes. It's the fall of 1936; the Depression is still on, and Johnny Hooker (Robert Redford) makes his money by stealing it via elaborate street-level pigeon drops. After he and his two partners stumble onto the biggest wad of cash they've ever seen – $11,000 – their happiness proves short-lived: turns out the money belonged to Doyle Lonnegan (Robert Shaw), a limping, nasal-voiced, vindictive snake of a crime boss who doesn't think twice before retaliating – not even because he's lost any kind of a substantial sum, merely to "discourage this sort of thing". Before the day is over, Hooker's longtime friend and mentor is murdered, and he flees to Chicago in search of the famed con man Henry Gondorff (Paul Newman), who is introduced snoring away, drunk and unshaven, on the floor by his bed.
"Don't worry, kid; I still know how", he assures Hooker, however, and gathers a crew whose subsequent revenge on Lonnegan takes form of a prolonged con involving an entire fake betting parlor. The parallels between a caper and the filmmaking process are inescapable, and to The Sting they come as naturally as breathing; in order to successfully dupe their mark, the con men have to create their own world, and their process here involves casting, directing, acting, building sets (as well as using "real", "functional" locations, sometimes to a hilarious effect), using specific make-up, wardrobe, and props (down to guns and fake blood, naturally), even taking advantage of nostalgia by resurrecting a scam that, we're told, hadn't been popular for a decade or two by the time the story takes place. The con is not merely performed; it's lovingly handcrafted, even if it also inevitably settles into a routine for a little while before the climax.
It's entirely fitting, then, that the film itself was shot almost entirely on the Universal backlot rather than actual locations, and that you roll with the illusion whether you're aware of it or not. The audience is in a tricky place in a film like this, desiring the experience of both the accomplice and the mark, and The Sting knows how to provide the joy of being in on a plan and of being conned yourself. (One key way it achieves this is by keeping Hooker an audience surrogate until the very end.) The film's division into chapters and careful plotting and planning establishes a sense of comfort and trust in the early stages of the con, which allows for fair improvisation, curveballs and rug-pulling later on. Not all of it, though, is equally successful; if the film ever falters, it is when it trades the lovely melancholy of a particular third-act storyline involving Hooker for an overly cute, rushed and far-fetched twist.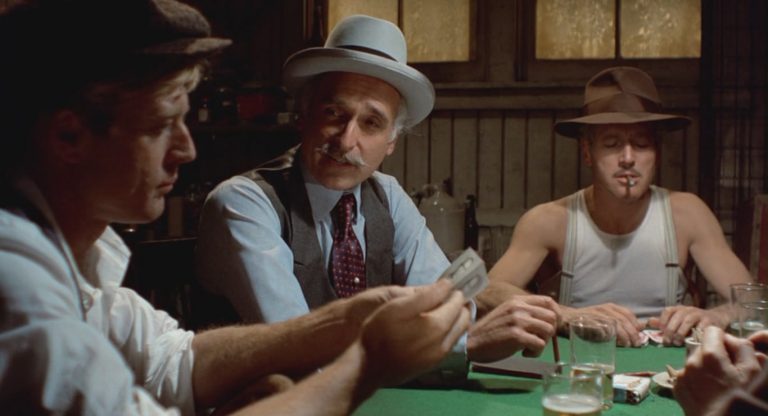 The Sting reunited Newman and Redford with George Roy Hill, who'd previously directed them in Butch Cassidy and the Sundance Kid – another period piece centering on a pair of criminals, but a decidedly woozier, stranger affair, both tense and lightly narcotized, a western in which outlaws avoid killing anybody and delight in riding bicycles before finding themselves on the receiving end of an unforgiving, almost movie-long chase. The Sting puts all three men in a much more natural environment. Hill's direction is controlled yet witty, and his indulgence in old-timey stylization – the Saturday Evening Post-style title cards, the iris shots and wipes, the use of Scott Joplin rags – gives the film its own style without attracting too much attention to itself. Newman and Redford, meanwhile, are much more in their element putting together an intricate plot rather than blowing up trains, and their characters benefit from not being on equal ground, with Gondorff a wisecracking old pro and Hooker an earnest, revenge-driven novice.
They exist in a world that's unglamorous but consistently pleasurable – rainy streets, cramped apartments, smoke-filled rooms, 1930s train carriages – and are surrounded by an ensemble that utilizes character-actor looks and expertise to portray people who all have an iconic quality about them, be it Kid Twist (Harold Gould), the perfectly named, fearsomely elegant and self-possessed old fox of a con man; Billie (Eileen Brennan), the husky-voiced, raven-haired, no-nonsense yet sympathetic "countess" of a merry-go-round whom Gondorff shacks up with; the inexperienced but honor-bound Joe Erie (Jack Kehoe); the exposition-delivering, announcer voice-providing J.J. Singleton (Ray Walston); or the bald, domineering, got-no-time-for-your-bullshit FBI agent Polk (Dana Elcar). All these and other people – down to those present only as rattled-off names from "The List", like Horse Face Lee, Slim Miller, Suitcase Murphy, Crying Jonesy and Limehouse Chappie – simultaneously inhabit and tantalizingly suggest an entire underground world of professional con men that has existed long before the story began and will continue to exist as Gondorff and Hooker, now together, make their way through it. In this case, the story of the beginning of a criminal partnership is far more satisfying than that of its end.