There are two kinds of people in the world: People who were in Hell In The Pacific, and women — a comment on the AV Club
It's a joke, sure, but are there more potent avatars of manliness than Lee Marvin and Toshiro Mifune? In a World War II movie, no less? Both had actual World War II experience and reputations for wildness, and both display masculinity that is too rough to be cool, a la Steve McQueen — he draws the eye, they grab it. So putting them on a desert island to fight would seem to be a recipe for an uncut guy movie, at least a solid war movie, but screenwriters Reuben Bercovitch, Alexander Jacobs ad Eric Bercovici have more on their minds. And somewhat mad director John Boorman had his own ideas. Man itself is under question.
Boorman had just directed Marvin in Point Blank, turning a straightforward crime tale into an existential ghost story with fey undertones, and Marvin apparently was all for Boorman's vision. He also was an enormous Mifune fan and managed to pitch a pretty crazy idea to the studio in an effort to make a movie with the Japanese star — just the two of them as soldiers for America and Japan marooned on an island at some point in World War II. Oh, and filming will take place on location (the island nation of Palau). And Mifune needs an interpreter, who apparently didn't actually interpret a lot. And Boorman will nearly lose a leg filming. Lights, camera, action!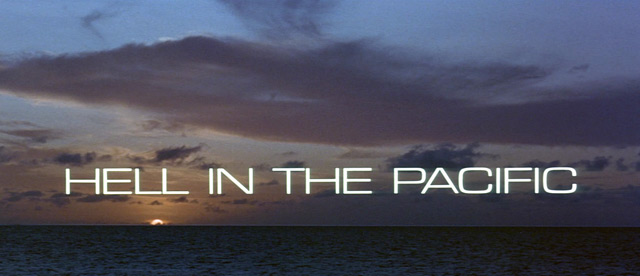 Cur the sun
Conrad Hall shoots in Panavision, with its enormous 2.35:1 aspect ratio — somehow, miraculously, this is preserved on my VHS copy. Boorman gives us plenty of close-ups of his stars but will also maroon them in the frame, with foliage and beach and water emphasizing their isolation. And he uses this to have fun at a few points — one deep focus shot has Mifune in the foreground, gathering fish offshore, while Marvin sneaks along the beach in the background to steal Mifune's water, it's like something out of Looney Tunes.
There is some cartoonish humor in the opening half of the movie, as Marvin wakes up on the hunk of rock that Mifune has already been marooned on for some time. (The characters don't really have names, I'll just use actor names throughout.) Marvin is desperate for the water Mifune has been collecting through a clever bamboo apparatus and attacks in the manner of Bugs Bunny, through annoyance — he hides in the jungle and sings loudly, banging on his canteen, keeping Mifune up. Without a gun, he throws his bullets on Mifune's campfire — when they explode and Mifune lies prone to avoid richochet, Marvin pisses on him from an overhang. Mifune, as one may imagine, does not cotton to this and builds a wealth of booby traps and sharpened stakes and alarms around his camp, and when Marvin's singing finally cracks him he goes on a hopping mad rant worthy of Yosemite Sam himself. They're continuing the war their countries began, but in an increasingly ridiculous way.
And while these men are killers, they are afraid of death. Their initial showdown — with them at the very edges of the screen– culminates with each imagining the clash of knife and spear, and each pictures himself dying at the hands of the other, rather than a moment of triumph. (This comes after Mifune steps forward with his spear, doing that brandishing motion of his that is the bossest fucking thing ever — you are primed for something to go down.) Later, Mifune's rage and Marvin's thirst lead them to charge at each other bellowing like beasts, clearly ready for actual mayhem, but Marvin faints from exhaustion. Mifune raises his spear — and lowers it. Marvin wakes up blindfolded and yoked to a heavy log, with another tied to his feet for good measure, chained but alive.
Do not fuck with this man
Boorman is a person who seems very skeptical about the idea of civilization — see Zardoz, where primitives are told the gun is good and the penis is evil by lunatics who have civilized themselves into immortality, until one of those primitives brings the whole thing crashing down. But skeptical does not mean cynical. Marvin and Mifune fight because their civilizations are clashing, but they are able to make their own choices — they are not animals, or automatons. They're men.
Mifune may be merciful but he's not stupid, he keeps Marvin well hobbled so he's malevonetly lurching and stalking up and down the beach like a Sasquatch version of Banqo's ghost. But he keeps quiet, and that ultimately means Mifune lets his guard down and leaves Marvin alone. He returns to the one true moment of ownage in the movie: Shot of the yoke log, without Marvin, cut to: Mifune looking up, cut to: Marvin looking down from a ledge with the barest brutal smile, cut to: Mifune, beat up and tied to the log. But Marvin is also in no mood for killing, reading orders to destroy POWS and disdainfully snorting "Good lord, Washington DC."
Throughout the movie, Marvin speaks in English and Mifune Japanese — neither apparently makes the effort to learn from each other. And in a movie with only two people, we never get one's dialogue — Mifune is never subtitled. I've read reviews saying this doesn't let us understand him fully and that may be true, but it also makes him more himself. If he is other, he is a true other without training wheels to pander to our ignorance. He's his own man, on an equal plane with Marvin.
And yet he and Marvin wind up being able to communicate, even as they maintain their language. They talk with each other and their tones carry conversation. Marvin cuts Mifune loose in frustration with his own shoddy meal preparation — "you can do the cooking, cause I am through!" — and they occupy their own sides of the beach in wary accord.
God dammit, where's Annette?
Boorman is not cynical, but he is skeptical. A stupid person would use the island, the removal of civilization, to bring the men to harmony. But we have not gone back to the Garden, the island sucks. Collecting water is a chore. It's dirty and hot, Mifune tries to keep himself fairly neat (Marvin does not give a shit) but both men are reduced to rags by their existence. At one point Mifune tries to sneak a delicious clam all for himself and Marvin goes nuts, it's the first non-fish they've eaten in weeks. Fuck this island, it's not called Heaven In The Pacific.
So despite their language barrier, despite Mifune initially taking Marvin's favorite log without asking ("You can have it, just don't be sneaky about it!"), they work together to create a raft. Bamboo is a tool throughout the time on the island — one of war as Mifune makes stakes and spears, one of peace as he uses it as a sluice to collect water, and now one of liberation. The raft is strong enough to power through the breakers and Mifune and Marvin set sail, men who have ceased fighting themselves in order to craft tools to fight nature.
Nature doesn't go down without a fight. The open water requires vigilance, storms lash the raft and the men grow weak. At one point both of them are tied to the mast in formations that mirror the yokes they were each kept prisoner by. But they strike land! Or at least, another island.
At this point, Marvin and Mifune are a team, using their soldierly skills to help each other. Mifune takes the lead going up to what are clearly Japanese bases, but Marvin finds American gear on the island and realizes his side has been here — he runs after, yelling "Don't shoot!" in fear of occupying forces taking Mifune out. But the island is abandoned and the two scavenge for goods, Marvin at one point being surprised by Mifune's sudden appearance — "For a second I thought you were a Jap!" he says in one of the more on-the-nose bits of dialogue.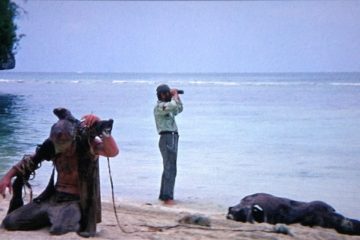 Before they were such good friends
The men find clothes, wine, shaving gear! And shorn and in fresh shirts (of the same make), toasting each other in one of the abandoned buildings, they could be co-workers in some other part of civilization. They drink and talk, not understanding each other but conversing anyway. Until Mifune, getting drunk, sees pictures of Japanese corpses in an abandoned Life Magazine. And Marvin, getting drunk, starts badgering Mifune about why the Japanese don't believe in God. Ominous noises grow louder as the two stand up and face off — instead of the open island of the earlier confrontation, they're in close quarters, fists clenched staring at each other over a small fire. And then…
Well, and then producers, who were clearly wondering what the shit they'd gotten into, inserted a clip of a building exploding (apparently from a Pink Panther movie!) for a downer ending. They're both blown up! Sad! Boorman's original ending was not as dramatic but still not happy — the two men turn their backs on each other and walk away.
Men in nature, men in civilization — men at war. Boorman brings none of the psychosexual undertones in Point Blank to complicate the issue here, survival is the only issue at play and it is redefined from confrontational to collaborative back to confrontational. " Someday, we will be one entity, governed by simplicity, as the borders fade away," The Mendoza Line sing in their song "We're All In This Alone" (yes, it's a breakup song). Boorman is skeptical, not cynical. Men are social creatures who will find reasons to stay apart, no matter where we are. And who is "we," anyway? In Hell In The Pacific, there are two kinds of people.