It's usually a bad idea to fall in love with a ghost. It's an equally bad idea to fall in love with a person pretending to be a ghost. But these are the two ways we take pleasure in watching cinematic fiction: either we are drawn into the story, which is, after all, a ghost story (created through a series of still images which we perceive as moving, or as a digitally encoded version of this effect), or we appreciate the actors' performances (as people they are not).
Directed by Alfred Hitchcock, Vertigo (1959) uses a two-part story of a doubly-doomed romance to slyly mock our love of movies. What makes the film a fascinatingly perverse study of how all sorts of strange desires are legitimated and encouraged in a darkened theatre, at the same time, makes it a troubling fantasy about punishing two women. One gets off rather lightly; the other loses her life.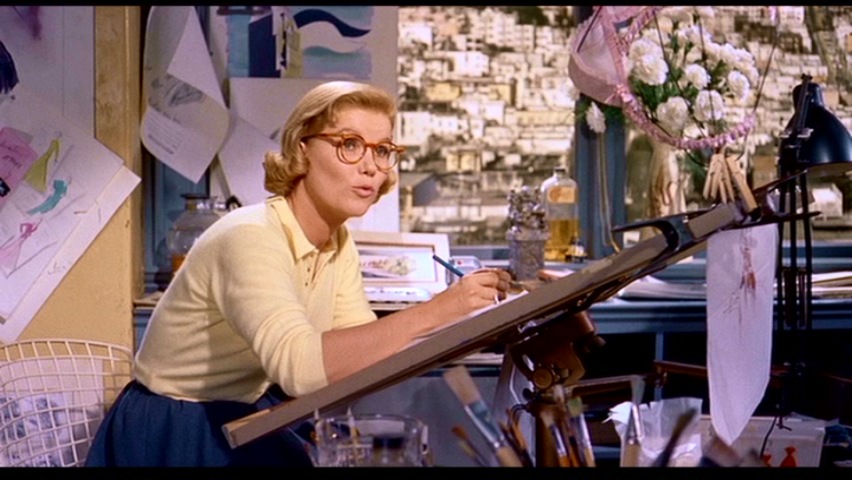 The first woman is Midge, a professional artist, who was previously engaged to Scotty, a police detective who's had to retire because of his traumatic fear of heights that resulted in a fellow officer's death and nearly his own. She broke off their engagement, presumably because she wasn't ready to settle down. They remain close friends.
Midge's dowdy look (she wears glasses, of course) reinforces the stereotype—especially popular in the late 50s/early 60s—of a single woman. Yet she has a passion for life and searches for a guy as modern-thinking as she is. This would thus exclude Scotty.
The plot starts when Gavin Elster, a rich friend of Scotty's, asks him to spy on his wife, Madeleine, whom he suspects of being possessed by the spirit of an ancestor, Carlotta Valdes. Carlotta committed suicide in 1857, after being the mistress to a rich man who abandoned her and took their child. Gavin, while telling the story, remarks, with a distinct trace of longing in his voice, that in "those days," a man could do anything to a woman. He adds that he's especially concerned because his wife, for her own protection, hasn't been told about Carlotta's tragic fate.
Predictably, Scotty is fascinated by Madeleine, who spends hours looking at Carlotta's portrait in a museum. In case we're slow to recognize the striking resemblance, Hitchcock has the camera do quick zooms from the individual features of Carlotta to those of Madeleine, in particular, focusing on the same locket that both women wear. Scotty follows Madeleine through the city, and happens to be there when she jumps into the water. He rescues her and takes her back to his apartment so she can recover in private.
Midge, who initially helped Scotty with the investigation, sees Madeleine leave. In a heavy-handed plot turn, Midge, who'd been happy being an independent woman, becomes jealous. She invites Scotty up to her apartment to see her latest artistic creation, having told him she's resumed painting. What Scotty sees is her self-portrait made to comically resemble Carlotta's portrait. This greatly upsets him, and he storms out.
At first, this scene drives home Scotty's having fallen madly in love with Madeleine. But the camera stays on Midge, who pulls at her hair and berates herself, slashing at the canvas with a knife. Having been guilty of mocking the fantasy in which Scotty so fervently believes, she punishes herself for her misdeed.
Acting increasingly possessed, Madeleine tells Scotty that time is running out. She takes him to a mission. After telling him that she loves him, she runs into a bell tower. Scotty pursues her as she climbs the stairs to the top. But he has to stop because of his vertigo. Hearing a woman's scream, he looks out a window and sees a body fall.
A courtroom scene follows. Although Madeleine's death is ruled a suicide, suspicions about Scotty hang heavy in the air, confirming to him that he is responsible for her fate. He ends up in a mental hospital—this is movie shorthand for indicating that he is no longer to be held accountable for his actions.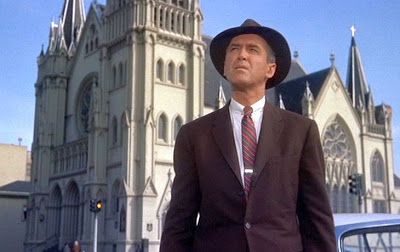 Wandering the streets of the city, Scotty sees Judy Barton, who looks strikingly similar to his lost love. He tracks her down, and after some pleading, she agrees to go out with him later that evening.
We then see a flashback of the death scene: what Scotty didn't see was that when Judy, who pretended to be Madeleine, reached the top, Gavin threw his real wife (her neck already having been broken) off of the tower. It was all a complicated setup for a perfect murder, with Scotty as witness.
The scene returns to the present. Judy packs her things and quickly writes a letter to Scotty. In a voice over, she says she stayed in the city because she'd fallen in love with him. She changes her mind about leaving and tears up the letter. The tables have turned: what seemed like Scotty's bad love for a doomed, but innocent, woman is now the bad love of a woman, who is far from innocent—being an accomplice to murder, for Scotty.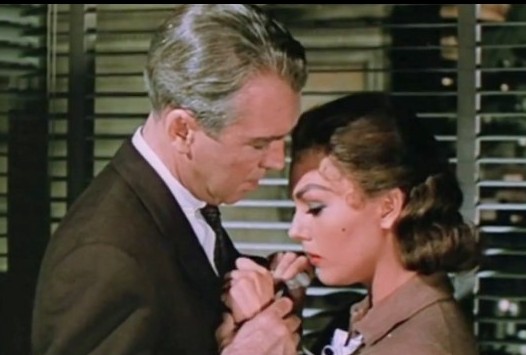 If the first part of Vertigo moved slowly, as if Hitchcock were afraid we might not be able to understand Scotty and Madeleine's relationship, the second part moves at breathtaking speed. Scotty demands that Judy change her appearance in order to look exactly like Madeleine. With no other way of ensuring that Scotty will love her, Judy carries out his wishes. When the transformation is complete, Scotty is speechless. It's suggested, but not shown, that a night of lovemaking ensues.
The next day, Judy is relaxed, which causes her fatal mistake. Dressing for dinner, she puts on the locket that she earlier wore when pretending to be Madeleine. Once Scotty sees it, his fantasy is shattered. He knows she is guilty, and schemes to make her confess, taking her to the scene of the crime.
His love turned into psychotic rage, he drags her to the top of the tower against her will. What happens next is unavoidable—in a macabre touch, she is frightened by a nun who has come up the stairs behind them, and she falls to her death. The movie ends.
Perhaps the film's being entirely free of political or social subtext makes it appealing. And the use of doubling gives it a psychological depth. The combining of different genres—film noir (Judy as the femme fatale who endangers Scotty's life), ghost story, and romantic tragedy—predates the modern blockbuster that offers something for practically everyone.
The performances, however, are not exactly earthshaking. As Madeleine/Judy, Kim Novak is appropriately icy cool and aloof in the role of Madeleine, but the flashback and letter writing scene so thoroughly explain Judy's motivation that little needs to be done on Novak's part. Barbara Bel Geddes plays against stereotype by making Midge attractive, but her character drops out of the second half. James Stewart has a haunted look that suits Scotty and appears more than willing to chew the scenery at the end of the film.
Therefore I find it rather strange that Vertigo has wound up at the top of a 2015 poll of the 50 all-time best films, with Citizen Kane (1941) second and Tokyo Story (1953) third. I can only conclude that, like Citizen Kane (formerly in first place), Vertigo hearkens back to our enjoyment of putting a puzzle together; the world it offers us is one where every piece logically fits. In contrast, Tokyo Story counsels us to deal with the emotional messiness of life, especially moments of heartbreaking sadness.
Then again, I suppose the fantasy of escape is what makes films about bad love compelling—to experience the cinematic dream suddenly turn into a nightmare. It's an emotional horror story, where the ghosts haunt our own desires.