The mockumentaries assembled by Christopher Guest, such as This Is Spinal Tap (1984) and Best In Show (2000) have become increasingly mean-spirited. In A Mighty Wind (2003), the film wasted little opportunity to look past the political significance of folk music and paint its artists as cheese merchants plying their wares in no less different of a way that the most commercially hungry songwriter. The film would have at least been provocative if it had featured a Bob Dylan-esque character, and treated him the same way. But for whatever reason (lack of courage, creativity) the film didn't. Which brings us to For Your Consideration (2006). Exhibiting a similar lack of focus, it is hard to tell where the vitriol is being directed. The numerous targets mount up quickly, becoming more predictable as the film goes on.
The film's premise is that a mysterious rumor on the internet circulates about Marilyn Hack, a veteran actor, during the filming of a small-budget art-house picture originally titled Home For Purim. This rumor states that her performance is noteworthy, possibly Oscar-worthy. There is then speculation that Victor Allan Miller, her co-star, and Callie Webb, who also has a prominent role, might be nominated as well.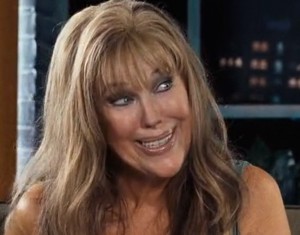 As the film is not even finished, these actors are professionals to the degree that while they're still finishing the film, they don't try to outperform one another. If their on-stage roles stay roughly the same, their off-stage lives change drastically, as dreams of fame and fortune swallow them whole. In particular, Marilyn and Victor are severely punished for aspiring above their station by looking ridiculous as they try to look younger. Of course, all the buzz about the film turns out to be an illusion; and in an added irony, the intense, Method-devoted young actor, Brian Chubb, is the only one nominated, and he sleeps through the message left on his answering machine.
Although a thin premise on which to base an entire film, the opening scenes of For Your Consideration are unexpectedly hilarious. Used just the right amount of times, the gag of having actors in a period-piece (WW II) melodrama intersperse their staged southern accents with Yiddish is brilliantly over the top. Another running joke is the publicist who tells everyone he is one-eighth Native American, blatantly crosses the line between celebrating his heritage and using it to promote a film that has absolutely nothing to do with Native American culture.
There is also a scene where the director literally throws the script away, having the actors improvise, which naturally draws the wrath of the writers. This scene shows how each participant in the film really believes his or her contribution is the most important. A joke that hits even harder when you realize how bad a movie Home For Purim really is. For it is the writers who are to blame for awkwardly injecting current politics (a lesbian introducing her girlfriend to the family) into a period piece and terribly exposition-heavy dialogue.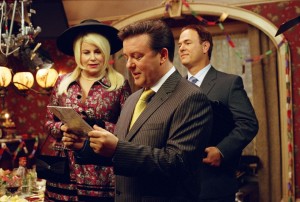 Then the film changes. The controlling studio head, played by Ricky Gervais with his usual fast-talking, self-deprecating, bullying manner, shows up. He thinks it would be best to change what he says is "too Jewish" about the film. Thus the title is changed to Home For Thanksgiving.
But not only does the title change: the whole feeling of For Your Considerations changes. We no longer see any more onstage scenes, which really animated the comic tone. Instead, suggested by the studio head's desire for popularity at all costs, an idea borrowed from an earlier Hollywood satire, The Big Picture (1989), For Your Consideration turns into a commentary on the Hollywood publicity machine, lampooning Hollywood gossip TV shows. This bait and switch feels especially lightweight because For Your Consideration says nothing memorable about the business of show business.
We have travelled a long way indeed from This Is Spinal Tap, a film about which I wrote earlier, as a highlight of 80s film, which showed not only the variety of performances that could be drawn from the mockumentary format, but also how rock music borrowed so heavily from the showmanship of the theatre. At the very least, For Your Consideration would benefit from some sex, drugs, and rock and roll. Even then, the film that starts with actors struggling to break free from clichéd roles can only picture actors as stereotypically driven by their egos.
In a sure sign of the film's mean-spiritedenss, the most monstrous actor turns out to be Marilyn. At the end of the film, she goes back to teaching acting and we get the obvious message that she is a failure because she has nothing of any worth to pass on to her students. Her new-age platitudes – like "emptying yourself of yourself" – are meant to be especially irritating. Again the film insists that any serious discussion of acting is a waste of time. We should know better than to believe that actors could break free of a system seemingly designed to demean them and dismiss their creative input at every turn.
Unlike Best In Show, the film displays a lack of interest about its subject matter. Best In Show had much to say about dog shows, providing at times an off-handedly serious appraisal of a cultural practice. Of the memorable characters in Best in Show, one of them was played by Parker Posey, whose character transferred her neuroses to her dog.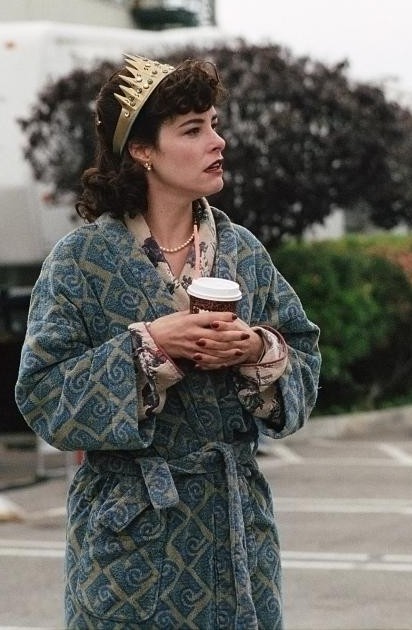 Playing the role of Callie, Posey becomes the center of attention in For Your Consideration, as well, most notably in the film's final sequence, which shows her character going back to doing one-woman comedy shows. In this scene Posey really cuts loose as she gets to wildly alternate between taking responsibility for and doling out blame for a failed relationship. It really shows off Posey's acting range: earlier in the scenes from Home From Purim, she acted like an actor trying to deliberately underact, giving the game away with a carefully manufactured and calibrated series of nervous mannerisms.
If a major part of the film's buffoonery revolves around Marilyn and Victor's getting one last chance to exit the "where are they now" files, For Your Consideration may unwittingly hit a serious note in its featuring of Posey. Why is a female actor with such talent been largely absent from any major recent films? This may be why For Your Consideration seems a bit offensive: it can now be seen as a pre-emptive defense against the charge that Hollywood has too few opportunities for female actors who are no longer ingénues.
In the same way the film's not showing the Oscar ceremony suggests a lack of desire to really tip a Hollywood sacred cow; I'm not sure how the filmmakers could have missed that the film they made, For Your Consideration, repeats what Home For Purim became—now titled Home For Thanksgiving, it is safe and predictable, only noteworthy for its promise of being interesting but failing to deliver on its promise.