I don't know whether it says more about the music's staying power or my own listening habits, but it's a little odd either way to discover that of all the years I've covered, the one I was actually around for any amount of has the least music I recognize. Fortunately, there's plenty of music here that's worth discovering. 2001 was the most country-heavy of the pop charts we've covered so far, which means lots of sappy, over-polished pop-country, but it also gives room for Tim McGraw to get sappy in the best way and throw some cold water on the genre's Neanderthal idea of manhood in "Grown Men Don't Cry." LeAnn Womack likewise manages to pull off the balancing act of diva skill and down-home grit in the tradition of country legends like Dolly Parton and Emmylou Harris or her contemporaries like Gillian Welch and Alison Krauss with "I Hope You Dance," that rare "inspirational" song that inspires you to do more than change the channel. If overproduction plagued these artists' country music peers, other genres were even worse – but it took Enya to remind us that lush atmosphere takes both more and less than throwing a bunch of noise at the wall to see what sticks. With "Only Time," she creates a whole sonic universe with nothing but her voice, a few plucked strings, and a whole lotta reverb. Mary J. Blige introduces "hateration" and "holleration" into the English language with "Family Affair," and makes her command to leave all that outside and "just dance with me" impossible to disobey.
R&B/hip hop fusion were all over the charts this year, but aside from Mary J., few did it better than Craig David, breathlessly rapping his way through his lyrics before wrapping it up in traditional vocalizing on his deliciously complicated multiple-narrator epic on "Fill Me In." Hip hop producer Double Take takes another approach on his remix of Joe's R&B number "Stutter," turning a pokey ballad into an irresistible banger with a brilliantly simple gimmick: he matches the lyrical content to a literally stuttering beat. "Stutter"'s what George Jones called "a good old cheating song," and the chart was packed with them – at least eight by my count, enough that you could make a pretty decent album of just "NOW! That's What I Call Adultery!" Whatever the reason (Monicagate hangover?) Shaggy and RikRok had the definitive statement on the subject with "It Wasn't Me." It's a mini-masterpiece of comedy, with Shaggy's advice to deny the whole thing becoming less and less helpful as we find out "She caught me on the counter/Saw me bangin' on the sofa/I even had her in the shower/She even caught me on camera!" (Whether this meant RikRok somehow didn't notice his wife watching him over multiple sexual adventures in multiple locations, or, as Nathan Rabin they were having an "acrobatic, roving marathon fuck session" is also a mystery.) Sunshine Anderson obviously wasn't impressed on her take-no-crap anthem "Heard It All Before": "I was at work, it wasn't my car you saw, baby, I swear it wasn't me/But your lies ain't working now./Look who's hurting now/See I had to shut you down."
From righteous rage to easygoing good-timing, we've got Ja Rule and Case's feel-good club jam "Livin' It Up." Erick Sermon captures an even more chilled-out vibe on "Music." While the "featuring Marvin Gaye" credit might seem like red flag for a Timberlake/Prince-style fiasco, the song fits better into the long and proud tradition of sampling as a way to make new music from old, taking bits and pieces of Marvin Gaye's voice and his backer's bassline to create a groove the man himself would be proud of. And now, onto the top ten:
Travis Tritt – It's a Great Day to Be Alive

Sorry folks, I've gotta get uncool with you for a little bit (not that it'll be the last time). Post-millennial pop country's an uncool proposition at the best of times, and as for this song specifically…well come on, just look at this album cover.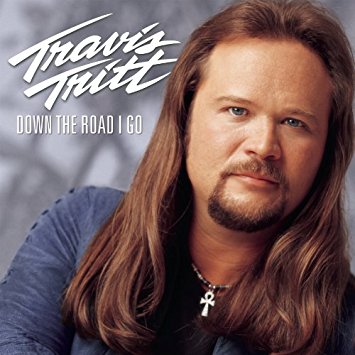 But great music can come just as much from the fearlessness of appearing lame as it can from rockstar swagger. Even Tritt himself admits it: "It's a goofy thing but I just gotta say…" Like all of the great uncool songs, this one's greatness comes from the emotion behind it. There's no shortage of songs about how great it is to be alive in the midst of passion or success or other extremes, but this song takes a kind of happiness that most lyricists pass by: the quieter contentment that we can find an ordinary life well-lived. No champagne and women for Tritt, just some "rice cookin' in the microwave" and "a three-day beard I don't plan to shave." He doesn't deny the darker side of life, either: "Sometimes it's lonely, sometimes it's only me/And the shadows that fill this room/Sometimes I'm fallin', desperately callin'/Howlin' at the moon." But in the song's high point, after the music drops out and comes right back with extra drums for emphasis, he flips that long, mournful howl into a shout of pure joy. That instrumentation's the other reason Tritt managed to sneak into the top ten. Amidst the fussed-over, overwhelming sonic clutter of most of the year's music (and it's not like Travis Tritt was immune to it either), Tritt's spare, hoedown-band accompaniment is a breath of fresh air. This is what country sounds like. It's ironic that country can find the widest appeal by embracing its complete country-ness, but it's true – just listen to every country-hater's favorite country music, Johnny Cash's American series, if you need the proof. Even those of us with a bias against the genre and its imagined audience can't resist the spare appeal of a couple good ole boys and their guitars.
U2 – Beautiful Day

Speaking of uncool, U2's material success may have survived the turn of the century, but their rock-fan respectability hasn't. After the constant experimentation of the nineties, their settling into the role of cozy, commercial-scoring dinosaurs can look pretty shabby, and it's just about as far as you can get from the post-punk rawness of their early years. But what the heck, I'm biased. Late-period U2 was too much a part of my adolescence cannibalizing my parents' CD collection for me to look at it objectively; it wouldn't be a stretch to say those albums taught me how to love music. But I don't really feel any need to fall back on nostalgia to defend this track – it has plenty merits of its own. (And anyway, it's hard to accuse them of leaning too hard into predictable respectability when the same album features Bono belting out the lyrics "A mole/Diggin' in a hole/Diggin' up my sould now?Goin' down/Excavation!" with the same passion as "In the name of love.") If anyone doesn't recognize the yearning in the praryerlike refrain, "Touch me/Take me to that other place/Teach me/I know I'm not a hopeless case," I don't wanna know them. While it's been reduced by pop cultural osmosis to a simple affirmation, based, like the patriotic hijacking of "Born in the USA" on a single line in the chorus: "It's a beautiful day/Don't let it get away." And while the song is fundamentally hopeful, it's much darker and more complex than we often think of it. This day isn't beautiful in any obvious way: Bono sings to a listener whose life is going nowhere, symbolized by a traffic jam, "out of luck," and "in the mud." The bridge's catalog of the world includes "canyons broken by cloud" and "the bird with the lead in her mouth," but also the earth's destruction by oil drills and overfishing. It's not so much of an affirmation of beauty as a desperate hope to find it in ugliness. Near the end, the song even suggests that beauty is most present in tragedy and destruction: "After the flood, all the colors came out." Musically, it shows a band embracing a safe, radio-friendly sound without retreating completely from experimentation, with its techno backing and audio effects that turn Larry Mullen's drums into a living, pulsing heartbeat.
Alicia Keys – Fallin'

R&B at the turn of the millenium had fallen a ways off from the glory days of the sixties and seventies, with most of the best work in the genre fitting at least as well under the hip hop label, and R&B proper dominated by oversinging overproduced Whitney Houston wannabes. Alicia Keys is an obvious exception, and she's often described as a neo-soul classicist, but that doesn't quite cover it: on this track alone, she combines soul with gospel, classical, jazz, the more contemporary "quiet storm" sound .g. The groove (produced by Keys herself) is softly, swayingly hypnotic and while the gospelish backup vocals deepen the atmosphere, there's never any question that she rules the stage all by herself. In one of the song's most powerful moments, everything but Keys' voice drops out completely for a piercing, nonverbal wail. Later, she takes a softer moan (another gospel touch) and layers it in different keys, like she's building the track brick by brick. As the album title Songs in a Minor suggests, Keys was barely entering adulthood when she cut this album, but she still took a stand to choose her own material and produce her own music. Tracks like this make the wisdom of that decision clear. "Fallin'" may be a song in a minor, but it shows the maturity and depth of feeling of an old, old soul.
Missy Elliott ft. Ludacris – One Minute Man/Ludacris – Southern Hospitality


As the honorable mentions show, 2001 was a great year for feminist anthems, but Missy Elliott left all the P!nks and Beyonces of the world in the dust with her tribute to a woman's most basic right: not having to put up with some scrub who promises more than he can deliver. Or, as wikipedia puts it in its trademark deadpan way, "Incorporating elements of oriental music, the song deals with premature ejaculation." (Geez, guys, maybe read the article on tact before you get to editing.)  Producer Timbaland ably backs her up on this worthy mission with an infectious beat combining opposite ends of the musical spectrum with fat bass and high-pitched electronic squeals. Elliott's breathy delivery makes her exacting standards seem like a small price to pay, but she combines that feminine sex appeal with intimidating swagger and expert flow that's more than equal to the best of her male peers. Speaking of, she gets another expert assist from a young Ludacris, who'd burst onto the scene with "Southern Hospitality" the previous year. Both songs show off the trademark style that set him apart from the crowd, with the ingeniously simple gimmick of shouting out the rhyming words and inviting listeners to join in: "Pretty ass CLOTHES!/Pretty-ass TOES!/Oh how I love these pretty ass HOES!/Pretty-ass high-class/Anything GOES!" As that selection shows, Luda's a master of Spinal Tap's fine line between stupid and clever, elevating brainless content and schoolyard rhymes to high art with the the breathless ease he tears into them, piling up simple rhyme schemes into something deliriously complex. And it's hard not to be jealous of anyone who could chart with two hits by two of the era's greatest producers right out of the gate: "Southern Hospitality" features beats by the Neptunes, and if some of the years other songs featured more complex and intriguing instrumentals, nothing can top "Hospitality" for sheer roof-rattling power. Maybe Ludacris took the "One Minute Man" job as penance for lyrics like "If you're a player and you know you don't love these hoes" on "Hospitality." But the remix with Jay-Z  makes me wonder if Missy Elliott just didn't care.


On this bafflingly misguided track, Jay-Z slams into Elliott's song to go on about how it's actually totally cool to be a one-minute man, guys, and stomps all over Elliott's female empowerment with skeevy lyrics like "Get your independent ass out of here" and "Now be a nice wifey and run home to your hubby/Cause we both know what we doing is wrong/Don't forget to put your ring back on." This version mercifully escaped the Hot 100 — but if it hadn't, you can bet it wouldn't be allowed within a million miles of this list.
Jay-Z – Izzo (H.O.V.A.)/I Just Wanna Love U (Give It 2 Me)


Despite that size-15 foot-in-mouth, in 2001, a gangly, big-eyed kid from the Brooklyn projects was (and let's be honest, still is) the epitome of superstar cool. We don't often think of how unlikely an icon Jay-Z is, and no wonder — his swagger is so effortlessly convincing that he could look like Quasimodo and no one would notice. He dropped his signature album, The Blueprint, this year, and while "Izzo (H.O.V.A.)" isn't as great as some of the record's high points, it's still a perfect summation of the legend of Hov. What's a Hov? Well, one of the many titles the former Shaun Carter took in his rap career, as he explains elsewhere on The Blueprint was "God MC/Me, Jay-Hova." The song details how he rose to that height from bleak inner-city poverty he describes in vivid language that transports the listener to a shadowy world right out of a black-and-white gangster movie:
I was raised in the projects
Roaches and rats
Smokers out back
Sellin' they mama's sofa
Lookouts on the corner
Focused on the Ave
Ladies in the window
Focused on the kinfolk
Me under a lamp post,
Why I got my hand closed?
Cracks in my palm,
Watchin' the long arm
Of the law.
And in the middle of all this myth-making, "Izzo" also starts another legend with its DJ, Kanye West, debuting his sample-heavy signature style with the string section from the Jackson 5's "I Want You Back." Even better is the Neptunes' beat for "I Just Wanna Love U," where Pharrell Williams literally rocks the bells to create a sound like nothing else on the radio and offers a preview of the Curtis Mayfieldesque falsetto that would later launch him to stardom as a solo artist/silly hat enthusiast. It's also a showcase for the appeal of Jay-Z's swagger, as it shows him combing self-aggrandizement and self-deprecation, with his recreation of the "I don't need anything except this ashtray and…" scene from The Jerk: "Might buy you Crist', but that about it/Might light your wrist, but that about it/Fuck it, I might wife you and buy you nice whips…" He also indulges in the kind of goofiness it's hard to imagine coming from, say, his mentor Biggie, describing how he and his lady are "Both in the club, high, singing off key/And I wish I never met her at all," beautifully embarrassing himself for a line that serves double duty as description of their relationship and an impression of their singing ability. And is that him quoting The Solute's favorite episode of the The Solute's favorite show when he says "What else can I say about dude/I gets biz-zay"? Even his intro to "Izzo" sounds at first like standard-issue self-promotion before revealing his touchingly genuine gratitude and humility: "Thanks for coming out tonight. You could have been anywhere in the world, but you're here with me. I appreciate that."
OutKast – So Fresh, So Clean

Hip hop at the beginning of the new millennium was in a very different place than it had been at the end of the previous one. Where the nineties saw increasingly complex epics about life on the margins, in 2001, keeping it real seemed to amount to bragging about all the stupid crap you bought with the money you fleeced off the gullible record buyers of the world. But if rap lyrics lost something in depth of content, that opened the genre up to artists like OutKast's Big Boi and Andre 3000 to play around with the lyrics themselves. Their masterpiece of delirious word wizardry, B.O.B. accompanied this track on 2000's Stankonia, but never found chart traction. But "So Fresh, So Clean" makes a fine substitute. What's it about? I dunno, about how Andre and Big Boi are cool, I guess. Like, that's pretty self-evident, I don't think anyone needed a whole song about it. Like Roger Ebert's definition of great movies, it doesn't matter what "So Fresh, So Clean" is about so much as how it's about it. We've all heard endless rappers list their worldly possessions, but how many of them include "gator belts and patty melts and Monte Carlos and El Dorados"? Other MCs could take a whole song or even album trying to sell their swagger without ever saying half as much as the duo do in the one bar "cooler than Freddie Jackson/Sippin' a milkshake in a snowstorm." Who else would rhyme "I love who you are/I love who you ain't" with "You're so Anne Frank"? (And yes, there's some innuendo about getting it on in the attic. OutKast obviously hadn't learned their lesson about invoking iconic women of the past century after "Rosa Parks," but at least they picked one who wasn't around to complain.)

4. Missy Elliott – Get Ur Freak On

Elliott opens Miss E: So Addictive, the album this track comes from, by promising "I know some of y'all sick of songs/Ya already heard on the radio/So me and Timbaland gon' give you shit/You never heard before." "Get Ur Freak On" more than delivers on that front, because it's hard to imagine any listener had ever heard anything like this before. Timbaland combed through international records to create a world-fusion style unlike anything else in hip hop — while the sample on "Freak" may sound at first like an Afrobeat banger, it actually comes from a much less likely sources on the opposite side of the hemisphere. This American banger draws from the form of the Indian bhangra, with elements from the much less danceable New Age track "Solitude" by Karunesh. Tumbi strings aren't the kind of thing you're used to hearing on a hip hop track, and Missy Elliott's rhymes are no more conventional. It took the trap renaissance of the last few years for the hip hop world to catch up with the exclamations Elliott inserts seemingly out of nowhere here ("I tell y'all motherSKRRRT! you can't stop me now.") The almost symbiotic MC/DJ relationship (as Missy rapped on "Supa Dupa Fly" in '97, "We so tight that you get our styles tangled") sells "Freak"'s most experimental touches. Elliott's non-sequitur shouts gain extra power from the way Timbaland drops out the beat and pumps up the reverb to announce their presence (including, fittingly, when she shouts "Quiet!"). Elliott delivers the piercing opera-diva wail on "And if you want me– niggaaaaaa! — then come and get me now" and Timbaland makes it even harder to ignore. Elliott makes another promise at the start of the track, maybe a more important one, announcing that "Get Ur Freak On" will be a "head banga." It's even harder to argue she failed to deliver on that one.
Moby and Gwen Stefani – South Side


If you've been following the number one picks for this column, you've probably seen that my number one picks tend to fit into two categories: extremes of joy ("Flashlight," "I Wanna Hold Your Hand") and sadness ("I'm on Fire"). But if you really want to win me over, you just have to hit both those notes at once. "South Side" is a joyful song, but it's a bittersweet, yearning, almost desperate joy, hard-won or maybe still being fought for. Good old melancholiac Moby can take some credit for that, but without Stefani "South Side" was just an undistinguished album track. With her, it's a classic. Though she'd recorded her vocals for the album version, Moby couldn't get the mix right in time for Play's release. Fortunately, he had the finished track ready to release as a single, and it's a good thing he did. Moby's vocals on the Play version may sound flat, but on the single they provide a perfect counterpoint to Stefani's pop diva pipes. (It also cuts down on the awkwardness of Moby, the least gangster man alive, singing solo about how he's got "weapons in hand as we start to ride" — something the video thankfully acknowledges, putting him in a ridiculous pink pastel pimp coat and having him uncomfortably picking at the gold fronts the director stuck him in.) And this is a song that needs a diva — Gwen reaches for those high notes just as the narrator reaches out "for the sunny day." That doesn't diminish Moby's contributions, though – his voice may not be able to scream out the song's yearning like hers, but his climactic guitar solo does all that and more. We've seen plenty of songs about going out for a ride with the top down, but few capture the exhilaration as well as this one. Or the bittersweetness either — there's "love," but there's also "darkness" – they ride through heaven, but they also ride through hell. But when Gwen Stefani belts out, "Hey lord, hey lord" you really do believe love and heaven can win.
2. OutKast – Ms. Jackson


If "So Fresh, So Clean" showed a group willing to get silly, "Ms. Jackson" proved they were just as comfortable getting serious. This isn't something they could take as lightly as "Fresh" — Andre 3000 looked to his own life for content here. The Ms. Jackson of the title is the mother soul singer of Erykah Badu, soon to be grandmother of her and Andre's child. This song is the jester with the bells off; as Andre repeats every chorus, he is for real. But what makes "Ms. Jackson" a classic is how quickly he can switch between tones. He indulges in childlike wordplay, "Hope I feel this way forever/Forever ever/Forever ever?" before turning on a dime to create something deeply haunting: "Forever never seems that long until you're grown." Sometimes it doesn't even take a line break for him to make the switch, like the touchingly confessional spirituality Andre couches in his trademark silliness when he raps "I pray so much about it need some knee/pads." That balancing act's right there in every chorus: "I apologize a trillion times" is silly and sincere all at once, the words of a child who doesn't know or care that grown-ups don't exaggerate like that. The track's also a showcase for OutKast's trademark space-age electronic beats, creating trippy effects by running the tapes backwards.  The duo's backed up by something halfway between an electric church organ and a sci-fi movie theremin that does as much as Andre's rhymes to balance the melancholy and the wackiness.
1. R. Kelly – I Wish

Look, I'm not any happier than you are to have one of the most horrible people in music history at number one. But to act like awful people can't make good art strikes me as a flipside to the toxic thinking that says good artists can't be awful people and enables, say, the Polanski petition, or any of the countless other character defenses we've been inundated with over the past year. And "I Wish" is, not to put too fine a point on it, great art. A tribute to his mother and everyone else he's lost over the years, "I Wish" is a pure jolt of unrestrained, unashamed hoy and anguish, only deepened by the knowledge that it would have been a collaboration with 2pac before the rap icon's murder. You couldn't find anything more nakedly vulnerable on the radio in 2001. When rap, rock, and country were all full of artists trying to one-up each other's Neanderthal machismo, hearing R. Kelly admit he "still wakes up at night/Crying tears" was a revelation. And in a genre that birthed the phrase "no homo," the sight of a major star unashamedly telling his friends "I wish that I could hold you now/I wish that I could touch you now" was even more refreshing. If Kelly's lyrics are powerful, his production is even more so, using a gospel choir to underline his soul and spiritual yearning and a children's chorus to underline his childlike faith to almost unbearably emotional effect. I'm not ashamed to admit that when I get to the part where the choir sings Kelly's chorus back to him — seeming to me like his mother answering from beyond the grave, saying she also wishes she could hold her son again — I also cry a few tears, and even get chills. And even without any accompaniment at all, R. Kelly's plea "Somebody pray for me" is deeply haunting. It's not without flaws — some of the hip hop lyrical touches don't quite fit the song's seriousness, and there's some complaining about how hard it is being rich and famous — but if an artist doesn't overreach, I start to question if their ambitions are too low. It wouldn't surprise me at all to see this at the bottom of someone else's list, but that go-for-broke, love-it-or-hate-it intensity is what propels it to the top of this one.