"Ugly buildings, politicians and whores all become respectable when they get old enough"
      Noah Cross, Chinatown
SoG: This is how it works: Civic leaders and public intellectuals manufacture shared cultural experiences from the past by ascribing, as James Ellroy cynically notes, moments of hurried expediency the appearance of great moral weight.  Memory is History with the perspective of hindsight from the vantage point of power, with events being excised and repurposed to uphold the status quo.  History, in contrast, reclaims materials edited out or misremembered from those versions, excavating social conditions buried under the gloss of official narratives.  As an example: the defacing or removal of Confederate statues exposes how the use of public space to commemorate "state's rights" and military honor actually imposes racial segregation. 
in 1990's City of Quartz:  Excavating the Future of Los Angeles.  Mike Davis, while grappling with a popular misconception that L.A. lacks a civic identity, fostered a dialectical appreciation for the city's organic intellectual vigor. In the essay "Sunshine and Noir" he pointed out that Southern California's most vociferous civic boosters proclaim that the region's climate and decentralized urban layout is conducive to promoting utopian ideals.  Its debunkers, as environmental historians from John McPhee to James Reisner observe,  emphasize that economic and ecological resources consumed to promote these ideals are inherently unsustainable due to fragility of the savannah climate and the volatility of the marketplace.  "Sunshine" evokes the apollonian spirit of bucolic sentimentalists like Charles Lummis and "new urbanists" like Reyner Banham.  "Noir" expresses the dionysian energy of debunkers like journalist Carey McWilliams and numerous hard-boiled novelists and screenwriters who use Los Angeles to critique emerging norms of consumerism.  Davis subsequently argues, in what might be considered a self-critique, that the environmental focus of Los Angeles' intellectual history marginalizes working-class and racial minority voices, and subsequently excludes topics like immigration and labor as subjects tied to the city's identity.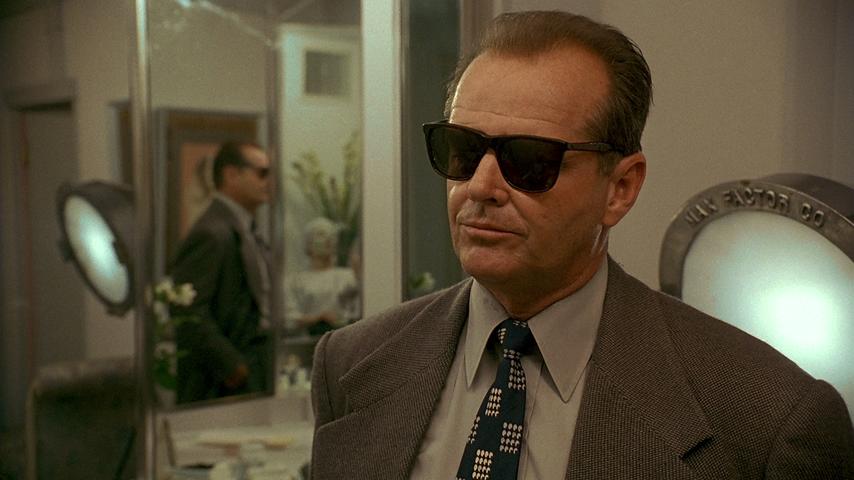 1990 also saw the long-anticipated release of The Two Jakes, the sequel to Chinatown, a seminal L.A. noir text.  Consensus holds that the follow-up is inferior to its predecessor, but before launching into that discussion, I think it's essential to understand the earlier film's celebrated function as a cornerstone of the city's collective memory.  Robert Towne's script deftly integrates an actual series of historical processes, specifically, the construction of Los Angeles' aquatic infrastructure, into the template of a hard boiled detective yarn.   The expansion of the L.A. aqueduct to the Antelope Valley in the 1930s retriggers memories of water theft past in the mind of the film's victim, Horace Mulray (standing in for real life DWP chief William Mulholland), who remains haunted by his culpability in the 1927 San Francisquito Canyon Dam collapse.  Using dark secrets in his wife's family as leverage, Mulray attempts to blackmail his father-in-law, Noah Cross, an influential mover-and-shaker, into backing off the scheme, which also involves manipulating land prices to facilitate the annexation of county land to the city.  Crime fiction's focus on domestic decadence, ala The Big Sleep, converges with an historical account of the birthing of modern Los Angeles.  Quoting Ellroy again, Chinatown is about the private nightmare of public policy.
Towne's screenplay cleverly combines L.A.'s favorite literary genre with a fresh historical take, but as I indicated last October, I wonder if its time has passed.  Many of its tropes, from the connotations of Asian inscrutability and the use of rape as environmental metaphor might be considered offensive (particularly in light of the film's director, Roman Polanski, having since pled guilty to committing sex crimes against a minor).  Moreover,  concealing the business elites' chicanery would hardly have been necessary considering how the citizenry sanctified greed and self-interest as  civic virtues repeatedly throughout the 20th Century.  Chinatown limits the scope of its crimes to a few bad actors, and not to the populace who fueled its desires for material prosperity regardless of moral hazard.  It immunizes the viewer from complicity with the events it depicts. 
The Two Jakes attempts to replicate its predecessor's synthesis, extending the Cross family co-plot while updating the water story to that of oil drilling and suburban housing development.  Before comparing the two, however, I'd like to hear from you, John, about the invocation of memory in To Sleep With Anger.  As I write this, it strikes me that the distinction between History and Memory that I invoke above seems perhaps too specific to how Hollywood shapes L.A.'s self-image, and that alternative meanings of those terms, and art produced outside of the Studio system, might recover those voices that Davis assumes were lost.  What is Memory to the characters of Charles Burnett's film, and how does that deepen our understanding of Los Angeles as place?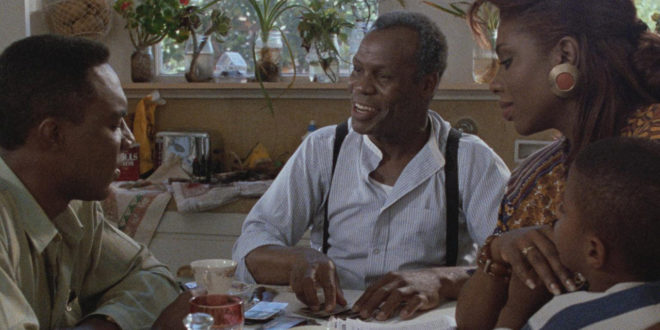 JB: The most direct avenue to answering that question is to explore Danny Glover's virtuoso performance as Harry Mention, whose sudden and mysterious appearance in Black South Central L.A. disrupts the orderly, middle-class life of Gideon and Suzie. Harry epitomizes the past American South: a region that comprises what music critic Greil Marcus has famously called the old weird America. 
And it certainly looks weird from the start. In a film that evocatively shows rather than tells, we hear "Precious Memories" by Sister Rosetta Tharpe play while Gideon dreams of apocalyptic portents of ice and fire. And surely enough Harry brings with him cryptic stories about betrayal, revenge, and karmic twists of fate, forcing a confrontation with a past that Gideon and Suzie put behind them when they moved to California from the South.
In the role of Harry, Glover is outsized, good-natured, but slippery—Harry is part trickster/part demon, based on the African American tale of the Hairy Man. He symbolizes the interpretative traps of memory, the return of the repressed that blurs the lines among history, folklore, and superstition. 
Burnett was familiar with this complex form of memory, having moved as a child from Vicksburg, Mississippi to the L.A. neighborhood of Watts. David Sims, in his review, remarks, 
Burnett sees [Harry] as an avatar for a fading generation and way of life. In the script, Harry seems to exist as a repudiation of the moralizing, church-attending life and community Gideon and Suzie have built in L.A.
Harry is an Americanized lord of misrule. Once Gideon welcomes Harry into his house as a long-lost friend, Harry immediately settles in as a guest. He then throws a party where his down-home social circle, appearing like ghosts of the past, shows up. One of these characters is played by Jimmy Witherspoon, who entertains the partygoers with a stunning performance of "C.C. Rider," a blues song about gunning down an unfaithful woman. As opposed to the European classically-influenced scoring of The Two Jakes, the cyclical and sultry rhythm of the blues—sounding beamed in from a Southern juke joint—drives To Sleep With Anger.
Here we can see a crucial connection with Davis's "Sunshine or Noir." The section on "The Communards" opens with a sketch of Ornette Coleman, who pioneered the revolutionary free-jazz movement catalyzed in L.A. As Davis explains, Coleman, a Texan, was an exile in L.A., definitely not fitting in with the clean-cut, "cool" mainstream (i.e. predominantly white) jazz scene. Coleman started his artistic path playing "heavy" blues riffs in the juke joints of Texas and Louisiana, and, as Davis observes, the "existential ground" for free jazz was "Black Los Angeles's distinctive Southwestern blues tradition."
Throughout his scholarship on L.A., Davis, I'd like to propose, counterposes the "cool" official narrative—which he presents through a deconstruction of the "white hipster" myth and the exposure of the homogeneity at the core of the proto-modern architecture of L.A.—with the "hotter" forms of underground art and political protest movements. To be sure, To Sleep With Anger fits into the hotter category, as it compels, I think, a critical reappraisal of the formal narrative strategies of cultural representation in the 1990 filmic topography of L.A. Son of Griff, I'd like to ask you, where does that leave The Two Jakes, with its uneasy and distracted attention (owing, in part, to Towne's probably unfinished screenplay) to the seismic social shifts that construct the popular image of L.A. as a place of timeless fantasy?
SoG:  That interpretation of Davis' essay is really interesting.  The periodic noir revivals over the years celebrates an attitude of "coolness", in which the dispassionate nature of one's composure subsumes  the "hotness" associated with immersion within an underground culture.  The reassessment  of Humphrey Bogart's reputation among the "hip" revival house crowd in the 1960s exemplifies an appreciation of a low key form of "ownage" that was modernized in Chinatown.
According to Eric Avila, film noir's iconographic transformation of L.A.'s  topography constitutes  an abstract  representation of  post-WWII white flight.  Its photography, defined by chiaroscuro lighting and tilted angles, projected a sense of unease in urban zones whose neighborhood's were fraught with the presumed dangers of race mixing and murky borders.  The internalized charisma of its biggest stars, like Bogart and Robert Mitchum, exuded a taciturn demeanor that kept the city's eschatological shape shifting at a distance; of trying to stay unsullied by the environment's lack of clear-cut social lineation, even when donning the costumes, professions, and attitudes of that demimonde.   One might even hypothesize that the protagonists in noir prefigure the hipsters described in Norman Mailer's "The White Negro".
One of The Two Jakes' most interesting conceits lies in how it  debunks Jack Nicholson's "coolness" in Chinatown. The prequel established its hero, Jake Gittes, as a dandy and a bit slow in seeing how his opposites play him as an easy mark, but exceedingly competent in terms of employing investigative tactics (i.e, using smashed pocket watches to determine when people under surveillance move out of sight) and making deductions from evidence.  By the time the sequel starts during a post-World-War-II real estate boom, the hero is more addled.  He's drinking more, his erotic dalliances with his fiance and prospective clients seem more awkwardly mercenary than romantic, and his perception of facts is murky.  These problems become enhanced when Gittes gets ensnared in a murder investigation in which his client, a Jewish land developer, Jake Berman (Harvey Keitel), unexpectedly kills his wife's lover during a staged "badger game" designed to enhance Berman's divorce case. When the name Kathryn Mulray comes up in the audio recording of the incident,  Gittes goes down memory lane to the climax of the original picture, dramatized in a montage of news clippings and stray errata from his dead case files.  The rest of the film chronicles the detective's  attempt to grasp Berman's connection to the Mulrays, and the angle that the developer's deceased partner and business rivals might have been playing with access to that information. 
Considering that The Two Jakes uses post-war suburban sprawl as its backdrop, it's a bit surprising that the movie doesn't make greater use of it. Outside of Berman mentioning that neither he nor the sister of the L.A.P.D's lead homicide detective could live in his homes due to racial covenants, the picture makes no reference to how suburbanization defined the racialization of L.A.'s mid-century urban sprawl.  The return of the repressed  is instead presented in the form of oil and natural gas, pushing back against the extremity of the boosters' incessant quest for growth.  Environmentalism ushers forth the reckoning that the law fails to provide both here and in Chinatown, but it lacks the dramatic power of the earlier movie since it doesn't demarcate the boundary between the antagonist's public and domestic crimes.
The film  also attempts to balance the contemporary aesthetics of 80s neo-noir (in the style of Body Heat or After Dark, My Sweet) and a pastiche of classical noir.  It really tumbles from that metaphorical tightrope, but before analyzing that, I'd like to contrast the two movies we are discussing.  The Two Jakes constitutes a negative image of the L.A. booster myth.  It interrogates the notion of historical progress as embodied by its antagonists, even ending in a mini-apocalypse instigated by the tectonic stress imposed on the landscape by over-development.  The result exemplifies a jaundiced white native Californian perspective of  the Southland's history (A pretty apt description of Towne, methinks). To Sleep With Anger, on the other hand, is an immigrant's story, forged largely from the social history of the Second Great Migration of the 1940s, and focused on the memory of what remains from the old place despite assimilation to a new region. 
Burnett integrates tropes from traditional genres such as horror and film noir in his story.  The motif of who Gideon lets into his house carries a vampire story residue.  Harry's role also reminds me of Mouse, the sociopathic gunman in Walter Mosely's South-Central L.A. crime sagas:  He's a guy who is useful in a pinch because the institutions guarding individual welfare (and property) in society are either hostile or absent, but relying on his help, as Gideon's younger son Babe Brother learns, incurs a steep moral debt.  Both Burnett's film and Mosely's work understand that a shared regional point of origin, a home-state society, if you will,  establishes a level of trust and knowledge that is more viable than race alone.  If you can't make dinner because the coroner won't remove a dead body from your kitchen, the neighbors will let you come over for food.  The film's depiction of Black Los Angeles is not monolithic but a patchwork of immigrant communities with their own rituals and forms of arcane knowledge in the form of "tobys", aphorisms and superstitions.
John, Do you think that To Sleep with Anger conforms to a genre or style of film making that can be readily defined by tropes or film making tradition, and if so, what is it?  How does that compare, or contrast, to the cinematic re-imagining of Los Angeles' Black community occurring simultaneously in music and cinema at the time?
JB: I think To Sleep With Anger is on an artistic continuum with Burnett's first film, Killer of Sheep, which he made for his 1977 UCLA masters' thesis, and was the most prominent work to emerge from what film historian Clyde Taylor has called the L.A. Rebellion. This movement developed at the end of the so-called "last golden age of movies" in Hollywood, the 70s, of which Chinatown was a lynch pin. The European influence on films like Chinatown produced challenging genre reinventions, which stretched moral boundaries. At the same time, however, 70s Hollywood films re-coded white masculinity. When women and minorities did appear they played more traditional roles, often as background figures – the return, once again, of a repressed problematic cultural antiquity.
While attempts in the 70s to narratively recenter women in film, as I have previously written, met with mixed results, the L.A. Rebellion's freewheeling and collectivist approach to film making that rethought traditional definitions of place and space countered the Hollywood erasure of Black working-class life. Killer of Sheep, opening with Paul Robeson's performance of "Ol' Man River" with a majestic intensity that borders on defiance, has a balladic rhythm, at times, becoming a tone poem of the ritualistic sacrifices of animal lives in a slaughterhouse, which is counterpointed by the endless struggles of living on the social margins in Watts.
Son of Griff and I agree that Killer of Sheep belongs at the top of any list of "best" L.A. films. It's an incredibly moving cinematic experience. But Burnett was unable to get the music rights, thus the film was not theatrically released until 2007. A provocative labor film double feature was held up for the time being: the stoicism of Killer of Sheep paired with what Julius Kassendorf calls, in his review, the neo-noirish pessimism of Blue Collar (1978).
By the time Burnett made To Sleep With Anger, the popular-cultural narrative of Black working-class L.A. life amidst the Republican counterrevolution was being scripted. In 1988, the filmic depiction of a white-washed "shootout at the L.A. corral" in Colors collided with the gangsta-rap call to arms of N.W.A., Straight Outta Compton. This album, followed by Ice Cube, Amerikkka's Most Wanted (1990), forged the template of Black music as hyper-theatrical provocation – as Eric Harvey proposes, in his 2015 article on N.W.A., the rapid-fire sampling of violence, drugs, and sex bought into the market for sensationalism in the same ways as did the quasi-documentary of white paranoia, the TV series COPS, syndicated in 1991.
It would certainly be hard to find a place for To Sleep With Anger in this narrative. I'm even tempted to suggest that this signifies an artistic success: Burnett's re-figuration of the ethos of the L.A. Revolution couldn't be co-opted as easily as the sound and fury of gangsta rap.
The scene in an overcrowded ER, in To Sleep With Anger, after Harry sneakily provokes a fight between Gideon's sons, and Suzie is seriously injured while trying to break up the fight, is an ominous sign: a nurse deadpans that it's just another weekend night in South Central. One year later, police officers were videotaped as they beat Rodney King. Two years later, the acquittal of these officers touched off the L.A. riots.
Had To Sleep With Anger not received an almost unbelievably poor distribution, it might have been regarded as a pointed critique of pre-riot conditions. Instead, the films of John Singleton and the Hughes brothers, which more directly related to the landscape surveyed by gangsta rap, spoke to the narrowing options—fight or flight—of the Black working class in a city in conflagration.  
While it's widely understood that The Two Jakes failed because it couldn't meet the standards set by Chinatown,  the fate of To Sleep With Anger, I'd argue, is rather more complex: its reissue on Criterion last year makes it an ideal candidate for another look.  Son of Griff, how does the reappraisal of films like To Sleep With Anger take part in the re-memory of L.A.?
SoG:  Appraising Burnett's film necessitates dismantling categories that segregate movies on the basis of national origins.  The key films of the L.A. Revolution, as Mark Cousins' documentary on international cinema notes, share more in common with the poetic realism of Third World Cinema artists like Sanjavit Ray and  Sembene Ousmane than their American compatriots.  They portray the material conditions of  colonialism as sensations subjectively felt and remembered. Explaining these movies requires constructing a diasporic film canon that dramatizes the experiences of displaced peoples ensnared in a national history that systematically erases their collective experience.
To extrapolate further, To Sleep with Anger's focus on the blues and the return of the repressed displays a magic realist influence associated with Latin American cultural influences.  The past and present (not to mention the mythic and prosaic) occupy the same diegetic space here, threatening to unleash the characters from linear time.  The superstitions associated with touching brooms and losing one's "toby", and the tending of a miniature garden and chicken coop on Gideon's property, suggest that ancestral memory hasn't really gone away, and imply that the troubles of the past will continue to fester in the Cain and Abel dynamic of his sons' relationship.  Most films resort to devices like fade outs, dissolves and strange visual effects to separate reality from dreams.  Outside of blackouts being used to create ellipses and some rhyming cuts employed in parallel editing, Burnett roots folkloric tropes within a muted domestic melodrama without softening the surreality of that integration.  
The Two Jakes reputation as a failed sequel also requires a categorical re-assessment, albeit one that doesn't rehabilitate it.  The unvarnished look and documentary verisimilitude of Neorealist and "New Wave" European films of the 60s, as you note, shaped a new vision for  the 70s American crime film.  John Alonzo's desaturated, sun bleached palette and roving hand held camera movements, when combined with  Richard Sylbert's meticulously accurate art design and costuming, turns Chinatown away from the Caravaggian moodiness of film noir towards something that might be better described as a hard-boiled period romance.  It doesn't call much attention to the films of the period it represents preferring to immerse the viewer in an immediate and immersive sense of place.  Chinatown looks and feels no different than similar contemporary L.A. private-eye films like The Long Goodbye, Night Moves, and The Late Show.
The Two Jakes attempts to be both  an homage to film-noir style and a revisionist take on that genre's archetypes.  Shooting in a boxier 1:85 aspect ratio, cinematographer Vilmos Zsigmond cements the camera in a more  stationary position and blocks the actors into more triangular compositions,  calling attention to his lens' depth of focus.  He also throws in flashy overhead shots (including a wonderful glimpse of the mosaic of the floor at City Hall) and dutch angles to replicate the typical 1940s crime caper's expressionist look.  The movie also employs voice over narration and an omnipresent, synthesizer-enhanced Van Dyke Parks orchestral score, reminding viewers  that they are witnessing a filmic illusion rather than a realistic slice of tough guy romanticism.  Like to Sleep With Anger, Nicholson's film announces itself as a fantasy, but one whose illusions are defined more by the conventions of Old Hollywood elegance than a fusion of European style and American content.
Lest he be accused of vapid  posturing, Nicholson throws in a lot of irreverence directed at both his own screen image and the genre.   As mentioned earlier, Gittes is a lot more addled here, showing the effects of alcoholism and an ineptitude at sustaining erotic ardor with his fiance and the various femme fatales that cross his path.  The above mentioned photographic flourishes are reminiscent of Orson Welles's Touch of Evil in the way they call attention to the actors' thinning hairline and expanding girth. This self-deprecating take on the source material undermines the project's sense of tonal consistency. This is most painfully apparent when it uses its femme fatale (Madeleine Stowe as the widow of Berman's partner) as comic relief and the woefully un-enigmatic Meg Tilly as the mysterious Mrs. Berman.  As any fan of classic noir knows, women constitute the genre's steely backbone, possessing the ability to bend the male protagonist's stoic self-comportment to her indomitable, sexually charged will.  Nicholson, to the contrary, finds the period's attitudes towards eroticism dated and ridiculous.  This is a huge miscalculation as it divests the labyrinthian plot of murder and extortion of human stakes driven by gendered antagonism.
By projecting Jake Gittes' story into the future, The Two Jakes hints at making a broader historical comment about the post-WWII Los Angeles it purports to represent.  While attempting to evoke the nostalgic remembrance of movie coolness past, the role of the private dick, the epitome of a pre-Eisenhower-era hipster, never feels like a type whose loss would be felt on the emergent crabgrass frontier.  In Chinatown Gittes felt at home in a polyglot of civic municipalities becoming consolidated  into a more centralized metropolis due to the construction of a massive aquatic infrastructure.  In the Chandlerian tradition, he could move through the different urban social strata to provide a modicum of justice to his clients who couldn't go through "official" channels lest they expose themselves to legal, or personal, jeopardy. The breakdown of that centrifugal energy in the sequel, signaling a return to a more decentralized urbanism, in which racial and socioeconomic homogeneity radiates outward from the downtown, denies Gittes the diverse social contacts crucial to the plying of his trade.
This path opens up the possibility for a more elegiac tone for the private-eye story, providing an  interesting counter narrative to the "gangsta" mythology that replaced noir as the dominant genre of L.A. crime by the 1990s. Within the indeterminacy of light and dark in the film-noir world lies an ambiguity of identity.  Moral mandates of right and wrong become decentered as material forces pit physical needs and desires against ethical principles. How might one act in terms of right or wrong, good or evil, as the means of production shift along spatial lines?  At the end of The Two Jakes Gittes subverts the processes of the law to maintain the secrets of a young woman whose trust he inadvertently betrayed, with tragic consequences, years earlier.  Her adversaries were punished but her husband, for a brief moment, gets away with murder.  Had Nicholson's rewrite of Towne's screenplay better framed this existential narrative within a dynamic of white flight, he might have been able to partially redeem the project, drawing a connection between the genre and its cultural articulation of urban anxieties.
The characters of To Sleep with Anger seem to inhabit the noir world historically even though the film bypasses its aesthetics.  It seems ethnographically rooted, through its references to churches, juke joints, and arcane superstitions, in what historians call the Second Great Migration, when jobs created by WWII lured African Americans to Los Angeles and other manufacturing based urban centers from the rural countryside.  The gap between the aspirations for mobility and systemic racism encountered there formed the basis of the first Black "noir" fiction of Chester Himes and Donald Goines.  In displaying how a community from the Deep South drew upon their past to remain connected amidst the materialism of modernity, Burnett seems more in sync with the spirituality of L.A. of the late 40s than Nicholson, even though Burnett's film utilizes a contemporary setting. 
This boils down, ultimately, to the separation of the public from the private in popular narratives that convey a sense of history.  The Two Jakes represents suburban housing, inadvertently, as a blank canvas devoid of flavor and community.  In contrast, To Sleep with Anger, contrasts the "vanilla" suburb with the "chocolate" city, one whose values are informed by the vivid connection to a pre-urban past.  John, do you see these films, forming a kind of dialogue on L.A. history, as providing the basis for a meaningful re-interpretation of how popular culture has diversely interpreted the Southlands urban culture?
JB: Let me start by briefly addressing what has become a cottage industry of film criticism: the "recovering" of past films. The idea of recovery insists, then, that there's something "lost" to be somehow "discovered" (with obvious colonialist overtones). Series that have been featured on the Onion A.V. Club, My Year of Flops and Forgotbusters, are based on the fact that (as it almost goes without saying) what is always unavailable at the time a film is released is the benefit of hindsight.
Now, if we're talking about The Two Jakes, one thing we get in hindsight, as you point out, is a chance to view it against the rise of the media-sensationalized "gangsta" culture. While this culture drew heavily on the archetypal cinematic gangster figure—and in particular, the scenery-chewing drug kingpin in Scarface (1983), The Two Jakes was seen as beyond the reach of such cultural signification. Watched now, The Two Jakes evokes the post-war suburbanization of L.A. that, as Davis illustrates in Ecology of Fear (1998), by 1990 had created widespread worsening economic decline. White flight was now from older, crumbling working-class suburbs; minorities, pursuing the American Dream, moved into these depleted neighborhoods, only to find similar levels of crime, poverty, and racism as in the urban areas they had left. 
In hindsight as well, the very unwise decision to market To Sleep With Anger as an art-house film–geared, of course, to a predominantly up-scale white audience—robbed it of its being considered as a response to such conditions. In particular, the film's disclosure of the subtle signs of an ever-widening disconnection from concerns about urban living would've been denied, whether consciously or unconsciously, by its target audience.
And by 1990 the idea of an art-house film couldn't help but signal diminishing returns, a retreat from the artistic ambitions of 70s Hollywood. Yet like Chinatown, which epitomized these ambitions, The Two Jakes is selective when addressing race and class issues. The musical scoring for Jake's investigation into how Kathryn's escape was engineered by her Asian house servants has enough of an anachronistic Orientalist feel that I suspect Parks is being somewhat tongue in cheek. While the frequently irreverent tone of The Two Jakes distances us from the characters, it does help to draw attention to the flash-/callbacks from Chinatown that take on a critical function: the flip side to the commodified "good old days" is that Jake acts, at times, as if he's been traumatized by what he's witnessed in the past.
The modernist take on the historical detective story that animates The Two Jakes becomes fed into Jake's subjective point of view, to which we have access. With the exception of the surreal opening dream sequence, To Sleep With Anger does not grant us this privilege—here, the past is not seen through flashbacks; instead it is retold from multiple and opposing perspectives. If The Two Jakes ends, moreover, with the explosion of a suburban house, the family implosion in To Sleep With Anger leads to reintegration in the closing scene, with the assistance of the local community, cued by a musical outro that shifts from dissonance to consonance.
To wrap up what has been a fascinating conversation about how memory functions in 1990 L.A. films, I'll return to Davis's work. A key component of what could be called his radical historical intervention is his unmooring of the nostalgic unity of place and space in L.A. In different ways, both The Two Jakes and To Sleep With Anger push back against the commodification of the past and use collective social memory to explore L.A. as a site for already-conflicted modes of cultural representation.
In so doing, these two films dramatize the dystopian and utopian impulses in Davis's work. Further cultivating Jake's "noble-loser" persona in Chinatown, Nicholson in The Two Jakes is our witness to the failure of individual acts of post-war heroism to prevent in 1990 the social inequality on full display in a city under virtual lock-down by an authoritarian police-state founded on technological surveillance, militaristic posturing, and systemic racism.
To Sleep With Anger articulates the response that Davis would support for besieged communities: an initial stance of subtle resistance. First, Harry questions too-easy assumptions about the modernist ramping up of the Protestant work ethic as the fulcrum of socioeconomic progress. Then, in the most bizarrely-comic moment in the film, he keels over, but his body remains in the kitchen, and the coroner never shows up. In a gesture of solidarity, the neighbors hold a cookout for the family. These apparently small acts, well under the radar of the official narrative, are the moments that over time can lay the groundwork for a future L.A. where larger progressive measures, such as defunding the police, are justified as a public good.