A scene or sequence of which I never tire could be called the Expanding Chaos scene.  I don't mean a well-done action scene, even one that takes a turn; those usually have clear objectives and actions to get there.  I mean the kind of scene where plans or actions start failing, get crossed up, or overtaken by outside forces.  These scenes are inherently cinematic, giving smart directors the chance to cut between different people, locations, and actions.  Often these scenes come towards the beginning of a film rather than the end, because they can set a plot in motion:  Ben Affleck's Argo started with a brilliant ten-minute sequence of the American Embassy in Tehran getting overrun; Brian de Palma did one of the best ever versions of this scene in the first Mission: Impossible, as the first operation of the plot went bad, most of the cast got killed, and all of the clues for the rest of the film got planted.  (On television, ER brought a scene or two like this off every year in its glory days.)  In Steve de Jarnatt's Miracle Mile, the Expanding Chaos scene comes twenty minutes into a movie that runs less than ninety, both a great example of this kind of scene and the gearshift moment.
P. T. Anderson coined the term "gearshift movie" for movies that start in one genre and then flip to another one in a single moment.  For the first twenty minutes, Miracle Mile plays as a Los Angeles-based romance or romantic comedy:  Harry (Anthony Edwards) and Julie (Mare Winningham) meet cute, have a date, have another, he drops her off at the restaurant where she works (the iconic and now closed Johnie's on Fairfax), they plan to meet later, he misses the date because of a chain of coincidences that he started, she goes home, he arrives at Johnie's at 4am.  So far so good:  this is going to be like An Affair to Remember, the kind of romance where Lovers Overcome Fate (or Perhaps They Were Always Fated to Be).  Harry calls her home, gets her answering machine, hangs up, then the phone rings again and
SPOILERS
he finds out that a nuclear war is going to start within the hour (hey Son of Griff, I got yer "apocalyptic urbanism" right here)–someone in the missile silos has tried to call his father and warn him but dials the wrong area code, a detail that will most likely be incomprehensible within a generation.  Speaking of one of the great gearshift movies, Audition, Mike d'Angelo said that the ideal way to see it would be "to have a trusted friend that knows your tastes hand you an unlabeled copy in a paper bag, so you have no presuppositions about what it is and where it might be going."  Same goes for Miracle Mile, because nothing at the beginning overtly indicates what the movie will become.  (Covertly, there are lots of indications, discussed in this Soundtracking.)  de Jarnatt launches into this plot and never looks back or de-escalates for the next hour, as Harry has one objective:  get to Julie and get out of Los Angeles before the bombs hit.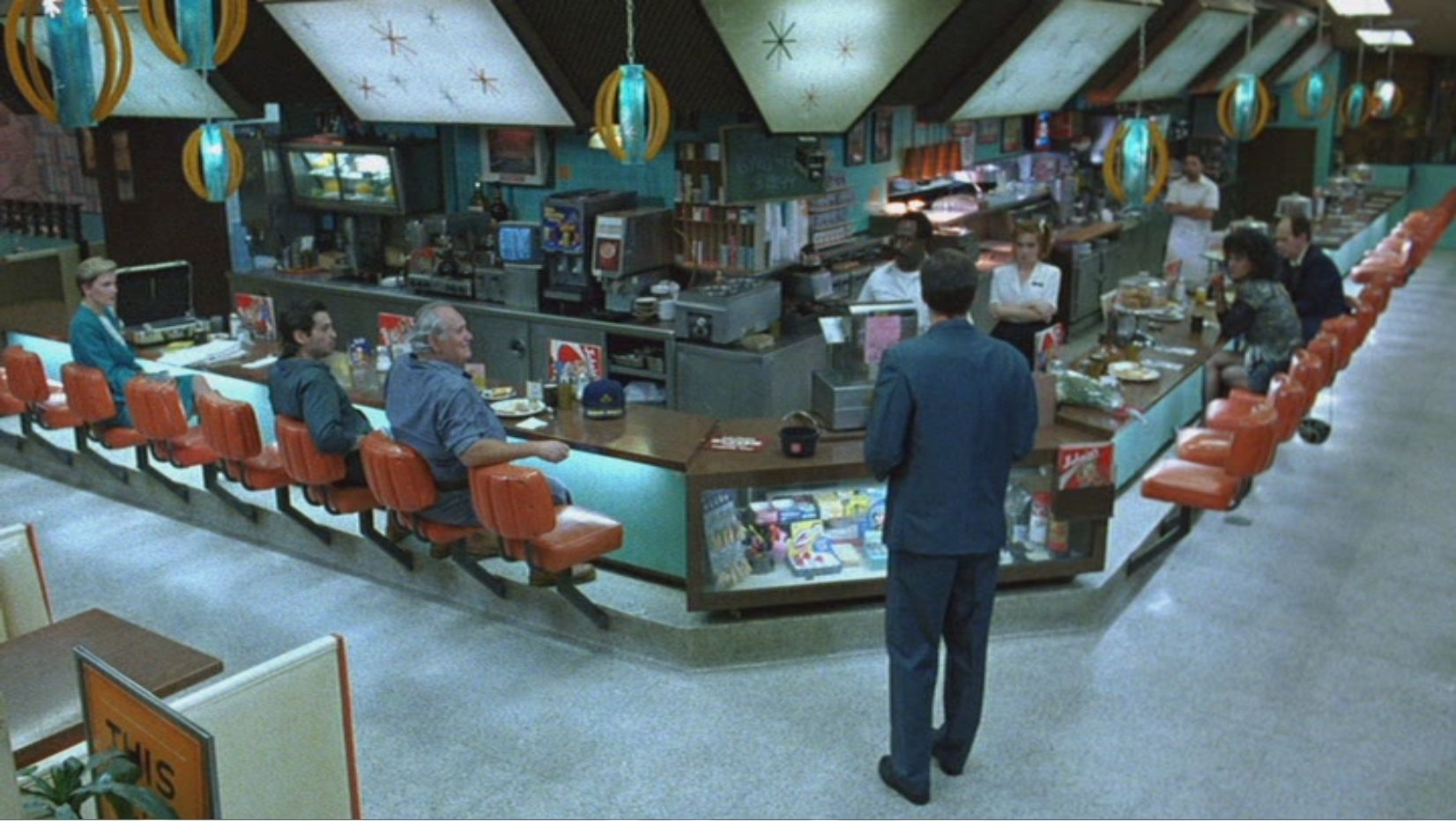 Before that, though, he goes back into the diner (in a good, disorienting moment, he forgets to open the door and walks into it) and the scene begins, a kind of contagion where the knowledge passes from one character to another.  de Jarnatt does a lot in this scene to establish the details of an ordinary early morning in West L. A., and how strange that can be.  He'll throw in a lot of details and characters that he simply observes, with no indication that they're important to the story.  Before the call, Harry went into the diner and that gave de Jarnatt a moment to just hang back and observe people; now there's a longer moment for that as Harry's in shock and doesn't know what to do.  There's no reason for the camera to stay on him, and de Jarnatt checks in with everyone else:
–at a booth, a somewhat overly made-up woman (Diane Delano) in an outfit doing some kind of mime.  This was probably obvious to most viewers, but I didn't immediately recognize that she was in a stewardess' uniform and what she was doing was practicing the little ritual of "demonstrating putting on an oxygen mask."  I feel it as Lynchian, an ordinary moment shifted by five degrees and made something uncanny.  (Also Lynchian is another woman passed out in another booth with tarot cards all over the table.  Took me six viewings to notice her.)  It's clear without any exposition that she's not a regular, because she's at the booth, not the counter, which is occupied on one leg of its L by
–Earl Boen and Roger (Danny de la Paz), both clearly regulars.  They're having a discussion about the location of something and using noodles to represent freeways.  ("What is this then, if this is the Golden State and this is the 101?"  "I don't know, that's your noodle, I didn't put that there.")  Both Boen and de la Paz have the kind of lived-in feel of great character actors, the kind who can just show up and come off as someone you met.  Their conversation, their look, that Roger is a transvestite, and most of all the way that deJarnatt shoots all of this as completely normal make it exactly right for 4am in West L. A.  Nothing is unusual here except what's just happened to Harry.
–At the other leg of the L we have Harlan (Claude Earl Jones) and Mike (Alan Rosenberg), garbagemen (probably just going on shift), also clearly regulars, also both played by strong character actors–Rosenberg is just as comfortable here as the Apostle Thomas in The Last Temptation of Christ.  They're the kind of customers who come here for the company as much as the food; Harlan spends a lot of time not so much hitting on as making jokes at
–Landa (Denise Crosby).  Her introduction is as quick and economical, giving us everything we need to know about the character with zero exposition.  She walks in outfitted with a power haircut and a power suit (shoulder pads, a great late-1980s detail), and cook Fred (Robert Doqui) sez "Hi, Landa" and without any request, serves her coffee and flips the TV to a channel showing nothing but stock market prices.  Crosby, with her piercing eyes and almost spherical head, looks like no one else.  She's human, definitely, but maybe a few hundred thousand years evolved past the rest of us.  She'd already begun as Tasha Yar on Star Trek: the Next Generation, and Miracle Mile is the only other work that used her so well.  She sits down, opens an aluminum briefcase ("drug lord luggage" was Douglas Coupland's exact and exacting phrase) that contains a bulky satellite phone and begins speed-reading the Cliff's Notes to Gravity's Rainbow over a copy of The Wall Street Journal.  She's not of the world of the diner but she's a regular, and she's involved with something powerful; not only all the details but Crosby's regal carriage bring that home.  There's no condescension or showoffiness here; this is a secure person, and everyone knows her.  All that will play into the scene–and for those of us who've read to the end of Gravity's Rainbow, we just got another clue.
–As Harry sits down, deeply freaked out, two more characters come into play here:  waitress Susie (O-Lan Jones) and Fred.  As she brings coffee to him, he grabs her wrist, and gets the entire pot from her.  (In one of my favorite cinematic food moments, he dumps all the cream from the container into it.)  She goes back and starts talking to Fred, both of them in the exact demeanor of sizing up a potential threat.  Fred and Susie come across as ordinary citizens here reacting to something not ordinary but also not extreme.  Susie doesn't scream or fight, and Fred doesn't come over, not yet.  
That means de Jarnatt can now stick with Harry.   He gives us an almost surreal moment as bright red blood drips from Harry's nose into his eggs, an example of Miracle Mile's saturated primary-color scheme.  Edwards gets a long closeup here as he plays the fear infecting him, changing from freak-out to conviction.  ("This can't be true.  It was.  It is.")  Edwards plays Harry as something less than fully panicked, and that's crucial to the scene.  A fully panicked person comes off as delusional, but Harry recognizes that he has to do something.  That makes this threat real and also creates the essential component of drama:  the need to act.  His next action is to get the word out, speaking, then yelling the question "does anyone here have a son in a missile silo?"  The reactions range from indifference (Roger) to worry (Mike), again, about the usual range of possibilities for someone ranting in a diner about the imminent end of the world.  Then we get the gearshift moment of the gearshift scene:  first a cut to Fred with an expression of real fear, then he looks to his right at Landa, then a cut to Landa and a small push-in on her face.  There's some fear in that look, but it's more about realization.  Now we know that there's a reality to this beyond Harry.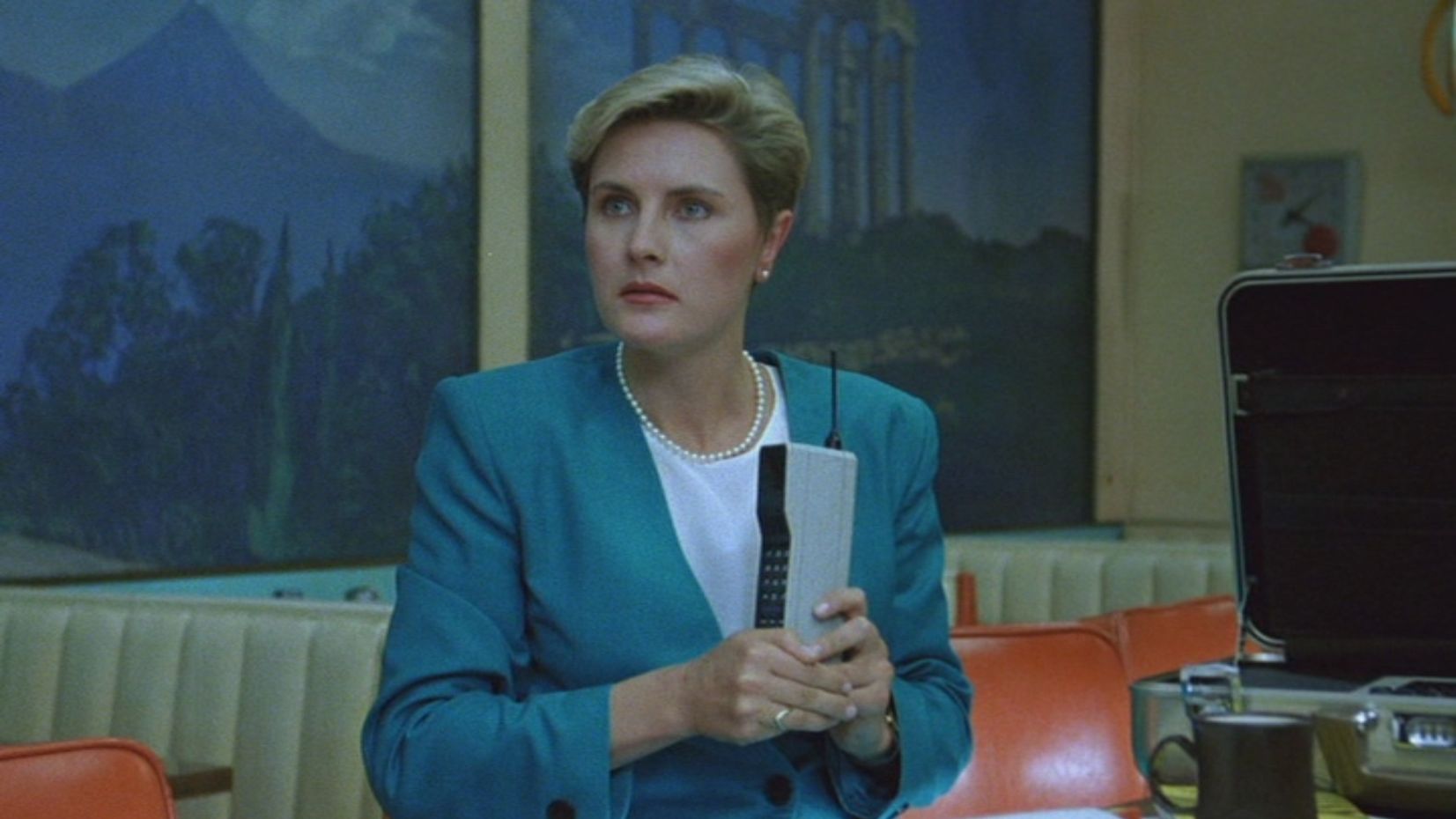 Like Threads, I wonder how effective this moment can be after the Cold War, although it's more effective now than it was two months ago.  The possibility of nuclear war and the end of humanity in a single night was something that was on a lot of our minds then, as was the possibility that it could start without any warning.  (The Terminator, another L. A. nightpiece with a strong supporting role from Boen, used this idea too.)  In 1989, this scene felt like a real possibility, not just a plot device, and L. A. had enough defense workers who kept odd hours that someone like Landa felt believable too.  
The fear has made the jump from Harry to Fred, and now the other characters start to come down with it.  de Jarnatt first tracks Harry pacing, then Fred walking over to Landa while we hear background voices:  the other characters arguing, Fred questioning Harry further, and Landa on her phone.  It's another moment that belongs only to cinema, allowing us to take in a huge range of information aurally while we only see a simple action.  de Jarnatt mixes the voices carefully, allowing Landa's to come through occasionally–we hear her as the other characters would and understand why they're getting more afraid.  The conversation between Fred and Landa is chilling–("You said we had to strike first if it ever came down to it–remember you told me that?"  "I remember, Fred")–and answers a question posed a moment before:  why did Fred react instantly to what Harry said?  We also get the detail of Landa's hypercompetence, conversing with Fred and calling contacts simultaneously.  The fear is fully established now in both of them, and starts backwashing from that end of the counter.  The conversations grow more urgent, Delano moves from her place at the booth to the counter, others become convinced.  Not only do people start yelling, but de Jarnatt also cuts more quickly, so that the feeling of panic becomes something embedded in the structure of the film itself and not just the characters.  It all climaxes as Fred comes back into the frame, jumps on the counter, pulls a pistol and fires a shot into the ceiling, then points in Harry's face and yells "I'M VERY SERIOUS ABOUT THIS SHIT!  NOW YOU TELL ME NOW, YOU'RE JOKING HUH!"  It's a classic line (funny, but also realistically strange and awkward) and a classic filmmaking move, the two-person standoff done in two shots (one closeup on Fred, one on Harry); no matter what anyone else says, it all comes down to Harry saying "it's true."  Fred puts the pistol away, says "I ain't taking no chances," and goes into the kitchen.  The shift has been fully made now; these characters now have to deal with a new situation.
As a kind of comedown from that moment, Landa calls Harry over to her.  That means the camera can shift away from the rest of the action–we can wonder what Fred's doing but we don't have to follow it.  Landa displays another beat of competence as she asks for Harry's name, the action of someone who's trained in how to put people at ease.  She gets Harry to recount the conversation, and de Jarnatt also uses her language ("can you repeat the conversation please, verbatim if you can") to mark her separateness from everyone else here.  Tangerine Dream's score kicks in very subtly at this point–it will continue for the next ten minutes or so, indicating that we've gone into an action movie.  It's a smart move by de Jarnatt to put this part of the scene after the gunshot; it could have been used to show Landa catching the fear but it takes too long and would have interrupted the rising action earlier.  Landa stops Harry on the code he heard ("Thor-Arthur-66DDZ") and this conversation plays as confirmation instead of paranoia, and she seals it in a quick exchange with Mike:  "that Thor Arthur stuff, it meant something to you, I know it.  Is that the code for it?"  "Maybe. . .I used to date a guy who worked at RAND."  The confrontation with Fred established that the threat was real, and this conversation sets up what's going to happen next:  Landa's going to get everyone she can out of L. A. and to the Antarctic.  Harry and Fred lock down the situation; Harry and Landa set in motion the response.  
During the conversation, Fred comes out of the kitchen with a shopping cart full of canned goods.  de Jarnatt tracks him in an unbroken shot from the kitchen to the front door; he shoots from outside the diner, catching a homeless man on the street watching, another quick, strange touch.  The earlier part of the scene had cuts for fear; the unbroken shot here makes the action directed, controlled.  (Another classic from the previous year, Die Hard, favored unbroken camera moves over cuts, and to the same effect.)  Most everybody leaves and piles into a van (another quick touch:  Boen throws up in the background); Roger stays behind, by choice.  Later in the film, we'll come back to Johnie's, and it will be empty except for a homeless woman seated in his place at the counter.  I've always wondered if that was an alternate-timeline echo of Roger, another moment of Lynchian uncanny.  Also not going along is Harlan, and he'll show up later too, driving his garbage truck.  The ability to create the feeling of large events with a few details and characters goes all through the film.  The new genre, a Beat the Clock story to get out of L. A., has now been fully launched, and the next story beat will be Harry ditching everyone to go find Julie.
de Jarnatt wrote and shot Miracle Mile with an abundance of craft and artistry, in the service of a stark, simple story.  It has a particularly fevered West L. A. feel to it, the apocalypse that was always part of its culture realized in bright colors, 1980s style, and an electronic soundtrack, an end-of-the-world romance that belongs next to the end-of-the-world comedy Night of the Comet.  Almost any scene in Miracle Mile's quick running time claims our full attention, from the title sequence to this scene to the conclusion that completes a narrative circle that's on the order of Interstellar's.  Like Nolan's film, it brings the entire human race down to the love between two people, and does a better job of it too.  It was only de Jarnatt's second feature film and he never made another one.  Miracle Mile deserves to be remembered, an enduring myth of the Cold War and Los Angeles.