Bound is an intensely playful movie. This was the directorial debut of the Wachowskis—who also wrote the script—and while they would go on to make films more video game-like, more ostentatiously maximalist, and more puzzle-like in their construction, Bound is still the best at capturing that bright, vibrant sense of play.
The characters are conscious of a lot of it, acting out roles they may or may not be enjoying and seemingly embodying clichés that may or may not be who they really are. It's most blatant with Violet (Jennifer Tilly), who is lush and breathy-voiced, a live action Betty Boop or Jessica Rabbit. How much of it is an act? The answer is complicated to us but not to her. As she says, "I know what I am." She's conscious of the deceptions she practices coolly and routinely—what she does with Caesar (Joe Pantoliano) isn't sex to her but work: "You said you made [your choices] because you were good at something and it was easy. Do you think you're the only one who's good at something?"—and she resists being defined by it. It would be easy to have there be only two Violets, the straight masquerade and the queer truth, but there's more to her than that. The real Violet isn't constructed—either by her or by the Wachowski Sisters—to feel "natural." Instead, we see the artifice she takes pleasure in, the exaggerated and campy delight of a performance she enters into for her own fun.
Her seduction of Corky is consciously staged and deliciously, hilariously overblown, like she's created a ready-made porn movie for Corky to walk into: please come help me with this terrible plumbing problem I'm having, and oh, what can I possibly do to thank you? "Do I make you nervous, Corky?" she says, and when Corky scoffs, Violet revises, smoothly, insinuatingly: "Thirsty, maybe." She acknowledges that it's a game, that she dropped her earring down the drain knowing it would be an excuse to get Corky to her apartment, that this is an extremely planned seduction.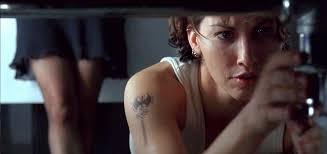 The truth, for Violet and for Bound, has nothing to do with whether or not someone's playing games. It has to do with what they hope to win.
And, fittingly for a crime movie, the stakes here are clear and often physical. When Corky's not sure if the over-the-top seduction is "real" or not, Violet takes Corky's hand and puts it between her legs: "You can believe what you feel. I've been thinking about you all day." After they're interrupted, after she's had to resume her job of being Caesar's loyal girlfriend, Violet pointedly apologizes to Corky not for having to hide and lie, but for the more concrete and physically remedied problem: she still needs—and wants—to get Corky off.
She looks and acts like a femme fatale, and Corky is too smart—and too hardened from experience—to miss it. It's that genre-savvy mistrust that actually makes their love story all the more convincing, because Corky isn't a chump lured in by believing everything out of a beautiful woman's mouth. She knows Violet could be lying to her. She knows Violet's a good liar—the rip-off the two of them plan hinges on that, even. She chooses to trust her anyway.
Appearances—helpful or not—are one of the film's major motifs. And again, the Wachowskis have fun with them. Caesar enters his apartment to interrupt a disheveled Violet and Corky on the couch and has a split second of reading the situation correctly—right up until he notices that Corky's a woman, whereupon he becomes sheepish and apologetic: "Fuckin' dark in here." He was right, and then the reason he thinks he was wrong is, in fact, the detail that's key to him being right.  In an especially great move, Caesar's main responsibility with "the business" is laundering money, a figurative term that becomes gloriously and iconically literal as he has to wash a suitcase's worth of bloodstained money, hang it all around the apartment to dry on a clothesline, and then iron each individual bill.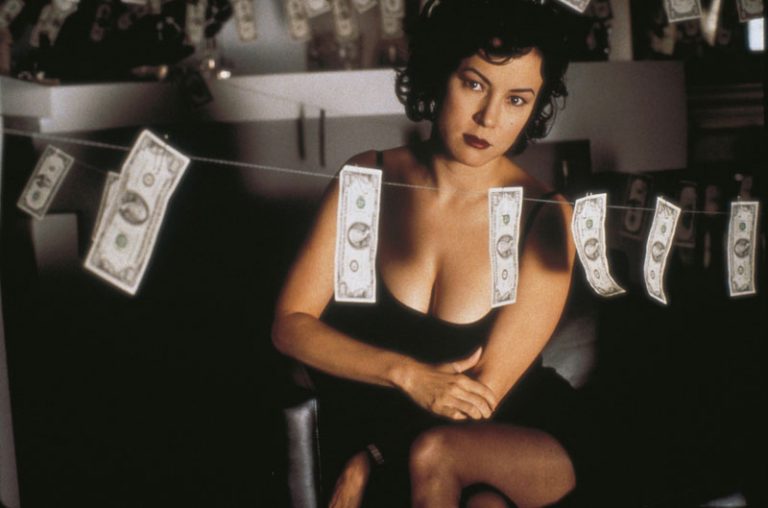 There's no better visual in the whole movie than those hundred dollar bills strung out across the apartment, but the Wachowskis, against all odds, put up some pretty steep competition. While there are shots the movie oversells—the slow-motion rigid falling back of the now-dead Gino (Richard C. Sarafian) is the main one—there plenty more it nails. There's a special love of the hyperbolic and grotesque. Corky overhears Violet and Caesar having sex, and we cut to her snaking a filthy drain, her visceral disgust and dislike of the straight sex happening on the other side of the wall given an almost comic-book-like visualization. A rug is hastily pulled over a pool of blood to hide it from the cops, and we see a cop's shoe on it, his weight making the saturated fabric ooze blood around his heel; a little later, we get blood falling into a pool of white paint, a body down in it like a snow angel. Body disposal in the bathroom is shot from above, like we're looking down at a diagram explaining how this kind of work is done.
All of this—the strong visual sense, the feeling of performance, the reality of the characters' feelings—combine to make for some particularly great cinematic sex, as well. It's a sexually charged film even in the absence of those scenes, too. I wouldn't be the first person to note that the camera lingers on Corky and Violet's hands, singly or together, during sex and otherwise; it's a distinctly queer gaze approach given the primacy of hands in lesbian sex. (I wish I could find where I first read this analysis, but you can imagine the results of Googling hands bound movie sex. This works, though.) There's also a visceral appreciation of Corky doing physical work: the camera loves Gina Gershon's lean muscles, and we get a lot of them.
And Bound is all the more impressive because it's tightly plotted and well-paced; the games are embedded in the narrative and don't require pauses. Among other things, it follows some of the key rules for writing good antagonists—always make them a little bit smarter and more capable than the protagonists are prepared for—and heist-style plotting—never let things go according to plan, but never let the plan go awry too soon. The movie even effortlessly scaffolds in additional antagonists. Caesar is the most visible and most threatening to Violet and Corky, but being part of the mob means he comes with a preexisting social fabric. There's Mickey (John P. Ryan), older, urbane, quiet, terrifyingly sharp, and helpfully tender towards Violet; there's Johnnie (Christopher Meloni, always the man to choose when you want someone to play "charismatically unhinged"), the boss's son and the eternal thorn in Caesar's side. There are the cops who get called in about the gunshots, and as gently bumbling as they are, they're still a threat because of the power they have behind them. The dangers mount up, and they all have to be dealt with.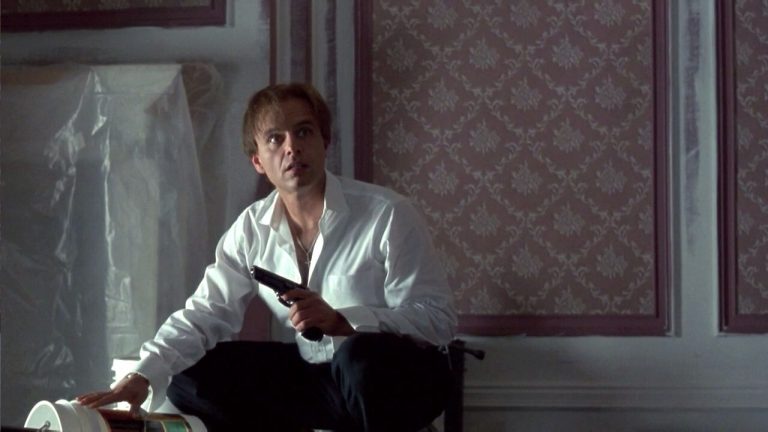 The Wachowskis went on to make movies that have left a bigger mark on the pop culture landscape, but this remains my favorite of the lot. The greater restraint of the noir/thriller conventions work in their favor here, combining with their meta streak to produce a work that has the buzz of flirtation; later films, once they had a blank check, let it all hang out. They're more gleeful but less playful: you need a structure, after all, if you're going to bounce a ball off something. They caught lightning in a bottle here, and Bound still feels fresh almost twenty-five years on.