[There are SPOILERS for Lost Highway at your house right now.]
David Lynch has never given off the impression of a filmmaker too concerned about negative reception of his work – at least enough to be influenced by it, – but, looking back, if there was ever a low and uncertain point in his career, it very well could have been in the mid-1990s. The original incarnation of Twin Peaks was over just two years after it propelled Lynch as far into the mainstream as he was ever going to get, the show having retained less than a third of its pilot's audience by its end and Fire Walk with Me having been released to critical and commercial rejection, which scrapped the reported plans for two more films. Work on TV (HBO's Hotel Room), commercials, and omnibus films (1995's Lumière and Company) followed, but as far as feature filmmaking was concerned, Lynch ended up going on a 5-year hiatus, his longest to day (and since, unless we see him make another film). Out of this murky period – which included, importantly, the O.J. Simpson murder trial – emerged Lost Highway, one of the director's darker and more nightmarish works; it received little to no mainstream attention, but it (re)affirmed Lynch's preoccupations with identity, desire, dreams and reality, existential horror, and noir, and, in hindsight, arguably began to cement his current reputation as an uncompromising, larger-than-life old master of the medium.   
There's no way for me to write about Lost Highway without writing about Slavoj Žižek, who was having one of his sharper and more agreeable moments when he offered up an interpretation of the film as a story of a man who escapes from the "deadlock" of his reality into a dreamscape, only to find it even more horrifying and be forced to escape back. As it happens, I watched Žižek's lively 2006 movie-dissection showcase The Pervert's Guide to Cinema, not knowing which films would be spotlighted in it, mere days before my first viewing of Lost Highway (which, in turn, was my first Lynch movie), and ended up in a very strange position of already having, sight unseen, what seemed to be a solid take on a film that was originally widely received as nonsensical. Per Žižek, the film's protagonist, Fred Madison (Bill Pullman), stuck in a "drab, gray, upper-middle-class suburban reality" and "terrorized by the enigma" of his wife, Renee (Patricia Arquette), and consequently unable to perform with her in bed (for all its virtues, this is not a very sophisticated movie), murders her, then enters a "fantasy space" where he reinvents himself as a younger noir protagonist (Balthazar Getty) who is actively pursued by Renee's stand-in (Arquette again) and faces strictly external obstacles. It is not long, however, before this dangerous but exciting dream space, too, starts turning into a nightmare.
But it's in that opening third where the true horror of Lost Highway lies, with Lynch taking the suburban drabness Žižek describes and amping up the suffocation; it is not so much the actual reality but a subjective one, belonging to a man whose most significant line is, "I like to remember things my own way… Not necessarily the way they happened." According to what may very well be such a memory, everything in and around Fred and Renee's house is unnatural in a way that isn't always explicit but keeps gnawing at you, from the artificial-looking sunlight to empty rooms and the sickeningly drained-out pale pink of the wallpaper. Meanwhile, Pullman, in an expertly modulated performance, plays Fred as a husk of a man, someone relentlessly muted by his entire existence, at least when he doesn't get hold of a saxophone. First seen in darkness lit only by his cigarette, looking more like a shape than a person, he moves slowly, speaks mostly in questions (which occasionally take a turn for the comical, as when he demands to know "Who the hell owns that dog?") and creates an uncanny impression of blankness personified and enraged by itself. In bed, he's a heavy, awkward bulk of flesh, failing miserably, and when Arquette pats him on the shoulder for his efforts, it's not hard to believe that this would send him over the edge. (Lynch is generally not nuanced about these things, but it's not a problem because he works in the realm of the iconic; this is a rare instance where he lands more on the side of crude. Nevertheless, the needed point is surely driven home.)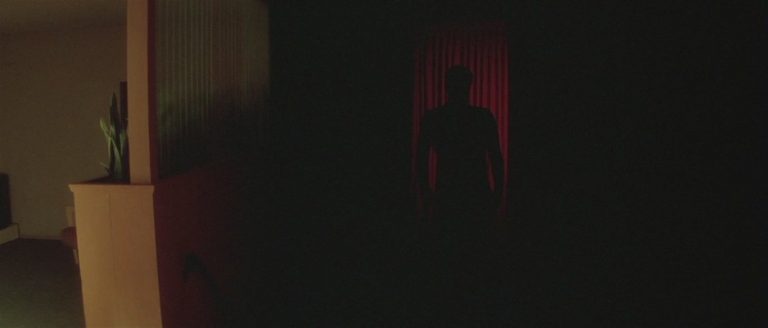 Once on death row, Fred morphs into strapping young mechanic Pete Dayton (punctuated by the prison guard's pricelessly panicked comment: "Captain… this is some spooky shit we got here" – it's always great to see normal folks in Lynch's work react to the Lynchiana they encounter), and the film becomes less atmospheric and more self-conscious as it appropriates genre tropes and visual language. Fred/Pete putting himself into the middle of a noir narrative aligns with Lynch stripping noir down to its fundamentals: because the protagonist, up to a point, is able to essentially direct his own new life, Arquette, reimagined now as Alice, the moll of gangster Mr. Eddy (Robert Loggia), can simply show up and start throwing herself at him, soon inevitably drawing him a robbery plot that goes south. In the end, everything comes back to sex, inextricably tied here to the larger theme of control: Mr. Eddy, as the externalized foil, pulls a huge gun out of his trousers and declares that, should he find out that someone is involved with Alice, he will "shove it so far up his ass it'll come out of his mouth"; Pete, over the course of his trysts with Alice, is shown thrusting more and more desperately, and before long starts talking like a jealous husband ("Did you party with him? Did you enjoy it?"); Alice has the last word: "You'll never have me!," she triumphantly purrs into his ear after perfect sex in the desert, leaving this new identity of Fred no choice but to disintegrate too.
Add to this Lynch's acknowledged sources of inspiration, which combine into "what if O.J. Simpson went into dissociative fugue", and everything pretty much coheres, give or take Robert Blake's Mystery Man, who can be productively interpreted as a representation of jealousy, violence, death, a supernatural higher power, the filmmaker, the audience, or any combination of the above. For me, this isn't and was never a problem: Lynch's mysteries don't diminish when there's an interpretation at hand, because his generally awe-inspiring command of sound and image can easily work in tandem with it, and because interpretation doesn't mean explanation; potent ambiguities still remain. The problem with Lost Highway specifically is the weak human element: while there's a fine joke to be found in the notion that of course Bill Pullman's idea of cool would be Balthazar Getty, we are still left with a story where the most substantial character is defined in no small part by his hollowness. Arquette as Renee/Alice is, by design, either unknowable or a femme fatale or both, and Fred's escape into another reality in search of control over her and his life as a whole, while making for an effective tale of cosmic horror, does not have the pain and resonance of Diane Selwyn's similar arc in Mulholland Drive, a film that took the same fundamental idea and uncovered the tragedy in it.
I did not expect to write anything so ambivalent about this movie until after this most recent viewing – my fourth – a few days ago; I'd spent more than six years adoring it, even down to the goofy "Ramm-STEIN" needle drops over scenes of Depravity (is this the reason Lynch has never allowed his work to be remotely as of-the-moment since?), and when, 18 months ago, I got a chance to see it on one of the biggest screens in town with the sound turned noticeably up, it was one of the most exhilarating cinematic experiences of my life. Was my comparatively underwhelmed reaction this time around due to returning to the small screen, too little time passing in between, or the movie's well genuinely running dry after all? Movies, and David Lynch's movies among them, can be mysterious in more ways than you'd like them to.