Everyone has their favorite Mystery Science Theater 3000 gag, but I think the best piece of criticism the show ever leveled is pretty straightforward. Watching Manos: The Hands of Fate, Joel says, "Every frame of this movie looks like someone's last known photograph," and you know, isn't that more interesting than the idea that every frame's a painting? It's uncanny and weird and unique. Not good, by any means, and probably even funny for all the wrong reasons. I'm shocked Joel and Mike and the bots never got around to Another Son of Sam, a film that breaks many, many rules of what a movie is supposed to do and functions as the last known photograph of its creator. 
The rule-breaking starts from the get-go — while the title implies a sequel, a la Another Thin Man, this is not a chapter in the Son of Sam franchise. In fact, what skimpy sourcing I can find says this was filmed in 1975, before David Berkowitz heard the word from his neighbor's dog, and shelved for two years. Any connection to the notorious serial killer has been added in, mainly in the form of title cards that create a serial killer roll call at the beginning of this 72-minute movie — Jack the Ripper! Charles Starkweather! Ted "The Seattle Slayer'! Uh, the Black September terrorist murders at the 1972 Olympics? And then Berkowitz, recently caught and "to stand trial?" a card asks. We are primed to ask: Could another serial killer be on the way? Could we be watching his story?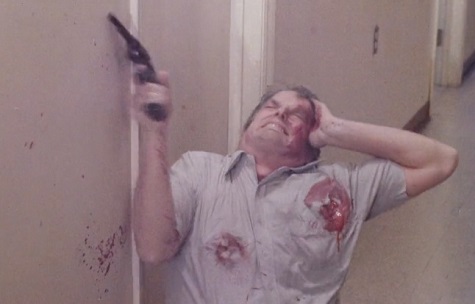 Well, could we? The movie opens with a cop and a doctor chilling on a powerboat and then going to the Trees Lounge — an institution thanked in that procession of title cards, along with the city of Charlotte, North Carolina, the Charlotte Police Department and the for-profit King's College — to catch the vocal performance of Johnny Charro, a "popular entertainer from the Tampa Bay area [who] has been performing since the 1970s, he saw Elvis Presley perform live as a child and was inspired by him." (What does it say when the syrupy Neil Diamond-esque lounge lizard performing in your movie has a Wikipedia page but the movie itself does not?). The head cop hangs out with some cop buddies before his doctor girlfriend is finally assaulted by a large man in a straightjacket who escapes from a hospital and runs past the head cop, who does nothing.
We learn that this man, Harvey, had been sexually assaulted by his mother as a young boy, and as one would expect, his mother was apparently left to her own business while Harvey was institutionalized for a decade and given shock treatment. This series of words explains, at a basic level, why Harvey is now running around killing people, but they make zero sense as something that would actually happen. This is how the movie rolls throughout — there's a subplot involving college girl Tina stealing money from the school office for something, we never find out what (someone I saw online suggested an abortion). Another girl, this bitch Darlene, narcs on her, clearly out of malice, no idea why. Whenever someone turns on a radio, Johnny Charro is singing, and he's singing the same song, "Never Said Goodbye." An homage to The Long Goodbye? Doubtful. Stuff just happens, culminating with Harvey holed up in a dorm ("Thank goodness most of these girls are on spring break," an administrator says after Tina has been killed) and the head cop calling in the world's most incompetent SWAT team, who proceed to accidently shoot Darlene in the brain. "Surely one of the hostages wouldn't be looking out the window," the head SWAT guy says afterwards.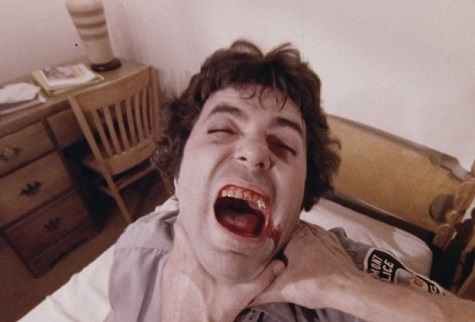 This nonsense in the story is, of course, padded by bad dialogue and plenty of scenes of people walking around, with shots of Harvey's torso navigating staircases a frequent motif (only topped by closeup shots of Harvey's eyes). But it's the nonsense in conveying this cinematically that really stands out. There are numerous slo-mo scenes out of nowhere. The head cop's run through a park turned into a fancy prance, in particular, is hilarious. And scene after scene ends in freeze frame while the dialogue continues — did something go wrong? Was this to conserve film? The color of the film itself frequently shifts, at one point seeming to go black and white, but this could be down to mere technical incompetence. Someone has chosen to allow these other decisions.
That someone is Dave A. Adams, who did stunt work on Whiskey Mountain, Trucker's Woman, and The Brass Ring before helming this as writer/director/producer/editor/casting director. And handling stunt work, of course — there is a nice sequence of cars crossing tracks before a train arrives that was almost certainly not cleared beforehand. And Adams is not without skill in other areas. There's a genuinely scary shot of Harvey's hand emerging from under a bed, and the constant shots from Harvey's POV are not a bad idea in theory — this is well before the concept was codified in slashers everywhere — even if his execution leaves a lot to be desired. So much lumbering up and down staircases, interspersed with conversations that stop visually while the audio continues. 
And it's the role of "casting director" where Adams really falls down. An IMDb review, allegedly from the production manager, says that "Most of the 'Stars' were local TV newscasters," and that is very easy to believe. Everyone here is stiff and stilted or failing at overacting. A roommate's cry of "Please not you, Tina!" is just as unconvincing as the lead actor (Russ Dubuc, his only role) receiving departmental reprimands, updates on the serial killer, and news that his girlfriend died with the same stone face. All of this adds up to a haze of incident and action performed by people with obscure motives in uncertain circumstances. We're in Charlotte, but there's no firm ground.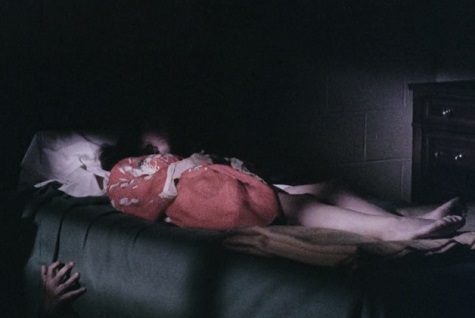 "Basically, nothing here is normal," an astute review notes, and that goes straight through to the end. After Harvey kills numerous cops and SWAT people while camping out in a dorm room (these guys are incredible morons throughout), the authorities finally bring out the big guns — Harvey's mother! Who is just cooling her heels in town like a normal person despite abusing him? "Don't worry, they won't hurt you anymore," Mom tells Harvey, who comes out of the room and is immediately shot to death. The head cop takes the ring he gave his now-dead girlfriend and gives it to Tina's roommate, for some reason. "I can't understand why things like this go on," the roommate wails. "I can't understand why it has to happen, and I don't think I ever will!" Smash cut to the credits and one final needle drop of Johnny Charro: "I never said goodbye, I never told her how much she meant to me…"
Here is an easy way to understand why things like this go on: Dave A. Adams said so. Movies can do anything, but they often don't. This isn't surprising, because anything includes the confusing, the upsetting, the downright bad. It's easier to follow some basic rules if you want people to actually watch your movie. Think of the biggest thing to come out of 1977 — Star Wars created an entire galaxy but told a story purposely conforming to the most elemental concepts. A year later, a Star Wars story that made much less sense (and to be fair was inept in nearly every way) came out and was soundly rejected. I've expressed my fondness for that particular film, but then again, I've watched a lot of inexplicable crap and have no intention of stopping, even though that can backfire. Because there's stuff like this out there.
Adams took some people's money and then fell off the face of the earth as far as making more movies was concerned. What he left is a bad movie with plenty of slow and stupid points, but it is singular and compelling in its weirdness, and maybe most importantly, in the public domain, out there for anyone to be baffled and amused by. A work of near-"total inexplicability," to use the description from our own Sam Scott of another film of regional oddness. There are worse things to be remembered by, and it's better than not being remembered at all, either for making something forgettable and bland or not making anything at all. The Wikipedia page of Johnny Charro was almost certainly written by the man himself or a close buddy and is currently flagged as "The topic of this article may not meet Wikipedia's notability guideline for biographies." Maybe Wikipedia will one day bounce Johnny Charro from its sum total of human knowledge, but he'll still be onscreen here. He hasn't said goodbye.