The Capture is a divided movie about a divided man. John Sturges films Niven Busch's story like a Western, except when it's a noir. Lew Ayres' protagonist is a conniver except when he's honest. Fate will track you down unless you balk it. It's a movie that can't be pinned down, so it makes sense that it's in the public domain, floating around on cheap networks for the curious to give a casual view — and then be wrong-footed as the film consistently finds places to split into forks in plot and character and goes down the more crooked road, eluding easy attempts to capture it. 
The movie opens with a cowboy chasing a man on the run, a wounded desperado who is clearly a dangerous man, a scene out of many a Western. But instead of the capturer, the movie follows the man about to be captured, a desperado who runs to ground in the hut of a priest who is willing to listen to him. And as the desperado has very little time before he's discovered, he might as well tell his story.
Ayres plays Lin Vanner, an upright oilman working in Mexico and engaged to be married to the local spitfire. Some people keep robbing the company's payroll though, and only the company vice president Mahoney (Barry Kelley, all blustery bonhomie in the suspicious Sydney Greenstreet mode) and one other man have been left alive by the latest heist. Mahoney leads a posse in one direction; Vanner, looking to cash in on a $2,000 reward and using some fairly basic reasoning about routes to freedom, sets off by himself on another path. And he comes across Tolin, the oil worker suspected of the heist, a man who refuses to hold up his arms and surrender, yelling incoherently instead. Vanner shoots him with almost no hesitation.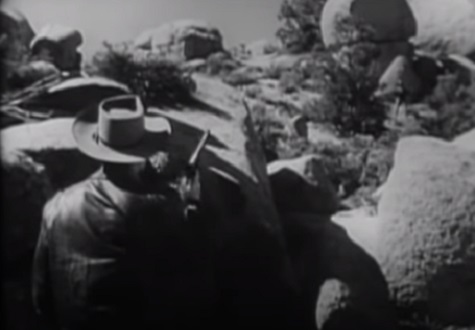 The movie's first zag, out in the big empty of location shooting, rocks and gulches providing no shelter for men and their motives: Tolin, played with grim fatalism by William Blakewell, says he was set up. And he couldn't follow Vanner's orders because his left arm was too wounded to raise in surrender. Vanner is no fool and recognizes that things are not adding up — where's the loot, for one thing? — when Mahoney's posse arrives and takes Tolin into custody. Cut to the police station, where behind a closed door, a clearly strenuous interrogation is taking place, while Vanner waits outside, increasingly aware of how he's set this in motion. Mahoney and his goons leave, Vanner goes in to hear a dying man calling for his mother. Tolin expires, with Vanner furious at how he was placed under so much stress. Zag two: the doctor pipes up, clear as a bell, that Tolin's death warrant was signed the moment he was shot, the bullet slowly working through his guts. This is on Vanner and Vanner alone.
We're not done zagging! Vanner is disturbed by all this, to the point where his fiancee (Jacqueline White), who coldly but not without reason just wants him to take the money and move on, tells him to get over it or get over her. He can't let it go, so he lets her leave. She takes off her engagement ring and sarcastically tells the now-morally upright Vanner to give it to a blind man. It's an indication of his perverse stubbornness that a reel later, he does.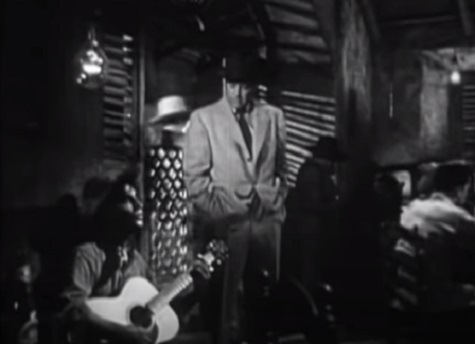 All of this happens before the first act of this 90-minute movie is over, by the way. We still have one more zag to set up. Vanner, unable to keep working at the oilfield, decides to head south and figures he might as well ferry Tolin's corpse to its destination as he does so. But when he sees Tolin's widow Ellen (Teresa Wright) coming to meet the corpse, he pulls a fast fade. He tries to get back in the oil business with an old buddy, but guilt won't let him. He decides he has to tell the widow the truth and goes to her ranch — where she assumes that this guy has shown up in response to an ad for a hired hand. You know, someone to work the ranch because her husband and the father of her 10-year-old kid was murdered. Vanner plays it as it lies. He keeps his mouth shut and takes the job. Since Vanner killed Tolin he's felt tied to the void he left behind and he accepts that fate has found a fair judgment — he must replace the man he murdered. Westerns are about justice and its cost, noirs are about desire and its price. Vanner is paying double.
Vanner is capable, and capable of cruelty, but without the cold, easy arrogance of the hard-hearted. Ayres' most famous role was the lead soldier in All Quiet On The Western Front; he has a face you want to trust, maybe because it so easily lends itself to doubt. Is it meaningful that Ayres was drafted but declared himself a conscientious objector in World War II — not a popular position — yet served with distinction as a non-combatant medic? Someone who's there but holding back, taking a stand in the middle that he thinks is right? Vanner knows that he's fucked up, knows that he has to make amends, but won't admit that to the people he's wronged. Luckily, because this is 1950 and we are not wasting time on bullshit, Ellen figures out who he is about a day after he starts working on the ranch. She is also capable, and capable of cruelty. She sets Vanner to harder and harder tasks, growing angrier and angrier as he complies with a mixture of duty and insouciance, which comes to a head when he takes a bath in front of her, loudly splashing about and taking no pains to hide his shame.
Because in their antagonism, Vanner and Ellen have of course developed feelings for each other. Ellen finally makes her accusation, Vanner counters with Tolin's final words — a guy on his deathbed calling for his mother, rather than his wife and kid? Doesn't sound like he had strong family bonds, and Tolin's willingness to work for months on end at an oilfield instead of at the ranch he owns with his family is more evidence of a loveless marriage (Vanner casually insinuates that Tolin was a wife-beater in the bargain — I told you he has some cruelty in him).
We're still in the second act by the way; all of this has been happening at a fair clip — a trot — until it breaks into a gallop, and it's to the credit of Ayres and Wright that they can hold onto the reins. They ride the love/hate of this confrontation and its soap opera reversals, coming out where they began, as two people with strong feelings toward each other. But with a different perspective, they now understand each other better. Way, way down in Mexico, on a ranch away from corruption and confusion, they have found a place — Sam Peckinpah spent his life trying to move there. They get married of course (the blind guitarist Vanner gave that ring to plays their wedding reception, an ominous indication of circularity, of fate), and are ready to settle down. But jerk teens are teasing Ellen's son about his dead dad, and Vanner realizes that something is incomplete in this situation. No, you clods, it's not that he hasn't told the kid that Dad #2 killed Dad #1, he's not going to do anything like that. But all the sketchiness around Tolin's death remains unresolved. Vanner has been worse than used, he put himself out there and let other people use his mistakes as a gift. He can't live with this, and heads north again to finally get some answers.
Vanner can't let it go. You know what I can't let go? All the dumb fucking thumbnails Netflix uses for its movies, just absolute ass photoshops that generally show faces Gloria Swanson wouldn't even bother to drown. They're already suffocated by dullness of expression, the carbon monoxide poisoning of cyanobacteria on the pool of content. I went to Tubi on a whim and searched for '1950' to see if I could find anything for this YOTM and poked through the results and perked up at one screengrabbed thumbnail, an over-the-shoulder shot of a man staring up a tower's stairs, the shadow of legs dangling on the far well. Sign me up! The legs belong to the other survivor of that heist at the start of the movie, of course, and when Vanner tracks him down and asks him some pointed questions, he hangs himself with the rope attached to the town's church bell. This West doesn't have an evening redness any more — we're now fully in the dark shadows of noir.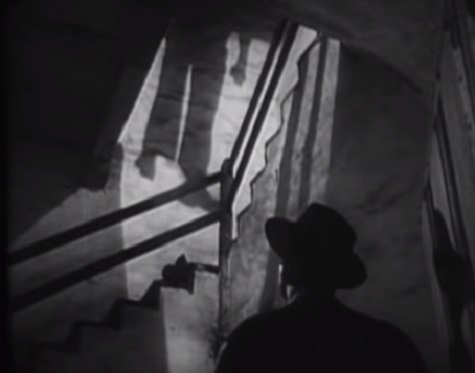 Sturges has hinted at this direction throughout the movie, most hauntingly with a shot of Vanner heading south on the train, his reflection in the window staring at him as he tries to justify his flight, the metaphor of a divided man in a dark world made literal. Noir looks at the darkness within people's souls but also at the darkness without, a world that so easily admits black thoughts and black deeds. And here the movie makes another zag, letting the darkness in and the air out of the setting. 
The large rooms and open spaces of the ranch are replaced by increasingly claustrophobic shots of Vanner confronting people who can lead him to the truth, and of course this leads him to Mahoney, richer than before and behind a desk with many drawers. Mahoney had been heisting his own company, to cover bad investments elsewhere, and if some people had to die, who cares? Vanner cares, owning Mahoney by clocking him with the drink he was offered a moment before (a classic move) and then hitting him a bit too hard in a struggle for Mahoney's gun. It's the second man Vanner has killed without meaning to. And this one puts him square in the sights of yet another posse looking for a murderer. Vanner took Tolin's life, then he took Tolin's wife, now he's taking Tolin's death — on the run, headed to only one place, following fate.
What follows is Sturges flexing hard, the guy who would make The Great Escape unsurprisingly knows how to shoot a guy on the lam. Vanner relies on cunning, switching his clothes and hiding out when he can, but he also has to flee between trains and over rooftops to escape, Sturges casually following multiple planes of action between pursuer and pursued. And what do you know — Vanner too is shot in the arm, rendering it worthless. He hides in rivers, runs over that Western landscape that now looks like a parody of noir's blackness — nowhere to hide. And he winds up in that priest's hut, babbling about how he's come full circle and is about to assume the death of the man he killed. Because the posse is now at the door, demanding he surrender. And he can't raise both hands.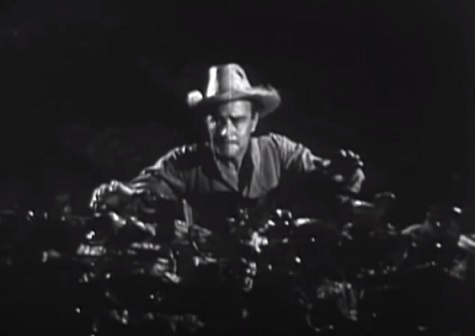 Four years earlier, Niven Busch helped adapt the most famous version of James M. Cain's The Postman Always Rings Twice, a story of carnality and doom that has lost none of its power in the 85 years since it was written. A guy falls off a truck and into a diner and can't stop thinking about fucking the waitress and killing the owner, who happens to be her husband. The waitress can't stop thinking about the same thing. The fatal attraction between two people who should let each other alone and the man who stands between them powers the second act of The Capture, and the title's ambiguity is purposeful. Who has captured whom? But where Postman has two people clutching each other as they drown, Busch considers love as a force for redemption here. Perhaps he too was divided.
Because as Vanner prepares to die the same way Tolin did, Ellen comes bursting through the door, brought by the posse to talk him down but unwilling to just be a tool. She decides to take a stand with Vanner, and as bullets rain down he grabs her and yanks her out of the line of fire. Grabs her with both hands. His love for her apparently overcomes his injury and his fatalism, and both walk out of the cabin with the priest. The posse holds their fire — Vanner's hands are held high. Roll credits.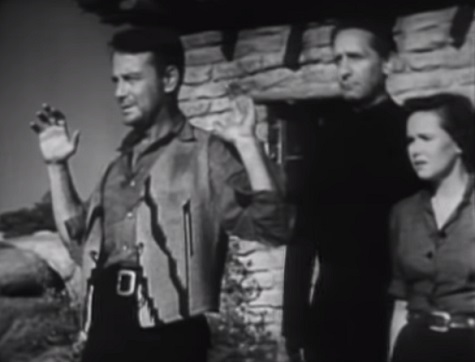 As a metaphor, this is pretty damn neat. All movie, Vanner has been a guy whose right hand doesn't bother sending any telegrams to the left about what it's up to. He goes off on a bounty hunt and is surprised when that hunt ends with him killing a man, and is further surprised that that killing won't let him stay with the woman he intends to marry. His guilt leads him to the woman he widowed, his horniness leads him to marry her, and his guilt won't let that marriage lay quiet. But here he is, self united at last, hands over his head in supplication, a priest there to offer absolution. He is finally whole. 
What about Ellen and Tolin's kid, though? (What about him? I don't even remember his name. Maybe I shouldn't be casting stones.) What about his actual father being killed by his new father? What about that new father being slotted into the life of the man he killed, a fatalistic punishment perhaps, but a fitting one, and then stepping out just because he got the chance to see his wife again? Hell, what about that posse? The movie implies that without Mahoney alive to pull the strings, some actual justice will be done, but these are the same guys that rode along with him no questions asked.
If noirs and Westerns can answer questions with a certain finality, a noir will find the darkest answer and a Western will find the harshest. Not a lot of room for mercy in the shadows or in the sun, not without cost. But in The Capture, flawed people find forgiveness in unselfish gestures to each other and are able to walk away. Maybe it's not all black and white.