There's a scene in Love Streams (1984), written and directed by John Cassavetes, where someone meets a writer and says, without a trace of irony, "I love your novels. They make loneliness seem so, so exciting." Making fun of the artistic depiction of suffering as romantic, Cassavetes always refused to play on his audience's sympathies to make his characters more appealing.
An outspoken admirer of Cassavetes, Alex Ross Perry follows his philosophy in Queen of Earth. As writer and director, Perry depicts the suffering of the protagonist, Catherine, with a careful detachment. Dealing with her father's suicide, a successful artist whose affairs she managed, and an emotional breakup with James, her boyfriend, Catherine is in a fragile state even before she arrives at a lakeside house to spend a vacation with her best friend, Virginia.
Two women who currently are jobless and know how to push each other's buttons alone together with plenty of unstructured time—you can feel the chill in the air even in the golden summer haze. Through a series of flashbacks, we learn that the year before, Virginia was going through an equally difficult time when Catherine showed up at the house with James.
In one of many moments of uncertainty, we don't know if Virginia holds a grudge or if she would possibly want to mess with her friend's head. The two have a habit of casually saying rather nasty things to one another. But the balance of power is tilted when a neighbor, Rich, keeps dropping by. Virginia and Rich are having a fling. Now Catherine feels outnumbered, like Virginia did the previous year.
Perry systematically removes the guideposts for what happens during the week of Catherine's vacation. Most women her age would be defined by their employment; she no longer has a job. The movement of the camera leaves it frequently up in the air whether we are seeing the world through Catherine's perspective. The flashbacks show her to be self-absorbed but introspective; at the present, she seems withdrawn yet capable of a ferocious response if provoked.
In this film, Perry's forward thinking in his use of music is another way he stands apart from the Hollywood system. Composed by Keegan DeWitt, who worked on Perry's last film, Listen Up Philip (2014), the dissonant score further builds tension through interjecting a feeling of ambiguity. Is the music meant to reflect Catherine's disordered state of mind? Or more sinister things afoot, over which Catherine has little control?
Queen of Earth bears the traces of Roman Polanski, a director recognized as a master of the psychological horror genre. Just as there were legendary battles during the making of Rosemary's Baby (1968) between Polanski and Cassavetes, who acted in the film, a similar conflict plays out here. Perry wants to pose philosophical questions, as Polanski would, such as, first and foremost, how can we tell the difference between cruelty and paranoia? Playing the role of Catherine, Elisabeth Moss, who also acted in Listen Up Philip, takes a less abstract and more raw approach—as if she were inspired by Gena Rowlands's portrayal of a mental breakdown in one of Cassavetes's most revolutionary films, A Woman Under the Influence (1974).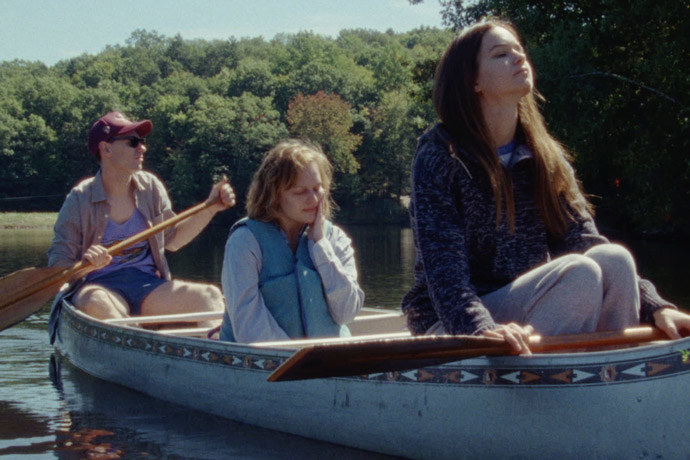 Moss's body language expresses much more than what words can say. She has a restless energy, even when she appears at rest, that propels the narrative at an almost uncomfortably fast pace—despite the lack of a major conflict. Virginia, played by Katherine Waterston, does her best to instigate one, if only to bring her friend out of self-exile. There are, of course, several skirmishes among Catherine, Virginia, and Rich. But these encounters feel like stones skipped across the surface of the lake. What lies underneath we can't really see.
Queen of Earth features the kinds of complex female performances that in the 70s could be regarded as a connecting thread among directors such as Cassavetes, Polanski, Ingmar Bergman, Robert Altman, and Woody Allen. Perry, however, goes beyond mere homage. While the cinematography, by longtime accomplice Sean Price Williams, evokes the tensions between internal and external worlds that shaped films such as A Woman Under the Influence, Perry is actively interested in challenging the gender conventions of the past.
That is to say, Catherine may not have enough or, perhaps, any, friends close by who can relate to her; she is, nevertheless, ready and willing to strike off on her own. Maybe she doesn't know the cost of independence—at any rate, she doesn't seem to care one way or another.
It's not hard to consider Catherine's nonconformist tendencies as reflecting Perry's artistic vision. Listen Up Philip unmasked the pretensions of artists as a means of complying with the social expectations of their patrons. Queen of Earth goes further in crafting a story that is well outside of the current scope of Hollywood. By the time the major studios catch up (time will tell), Perry may well have traveled even a greater distance down this road of his own making. His latest film is the strongest argument yet that we should all sign up for the ride.