I should make it clear upfront that the only reason I combined these films for a single piece was because of how packed the month was getting, not because I had any grand point to make about them as a pair; nevertheless, they are both underseen 1997 releases taking place in the early 1960s, centering on children, and building up to climactic acts of violence, so in those respects at least they make for a productive double feature. (Actually, it now occurs to me that both also connect to Lost Highway, one via its focus on a deranged mind escaping from reality, the other by examining the tension between memory and reality, as well as featuring a deeply unsettling supporting character in white kabuki make-up.) Neil Jordan's The Butcher Boy has as its child protagonist the 12-year-old Francie Brady (Eamonn Owens), who lives in a small Irish town with his abusive alcoholic failure of a father (Stephen Rea) and mentally unstable, suicidal mother (Aisling O'Sullivan).
That set-up might suggest a piece of kitchen-sink miserablism, but the ambition and the accomplishment of The Butcher Boy,  adapted from Patrick McCabe's 1992 novel, lies in how it tunes into its main character's increasingly disturbed POV to fuse the tragedy with a raucous black comedy. The dysfunction of Francie's family leaves him without a clear moral compass or an authority to look up to; his mind constantly fueled and disoriented by pop culture (comic books, paranoia-stoking '50s sci-fi, The Lone Ranger) and the threat of nuclear apocalypse, he turns everything into a game, and soon enough he's not just playing cowboys and Indians with his best friend Joe (Alan Boyle) or assuming the guise of boy hero "Algernon Carruthers," but is having imaginary conversations with a foul-mouthed Virgin Mary (Sinéad O'Connor) and finds an Enemy that he can blame for all his problems in the snobby Mrs. Nugent (Fiona Shaw, in a performance that must have served as an unintentional audition for Petunia Dursley), whose war with Francie is kicked off when he mugs her son out of some comic books in an early scene. In response, she pays a furious visit to the Bradys, calling them "pigs", which in turn leads Francie to break into her house and, put it this way, try and live up to the insult.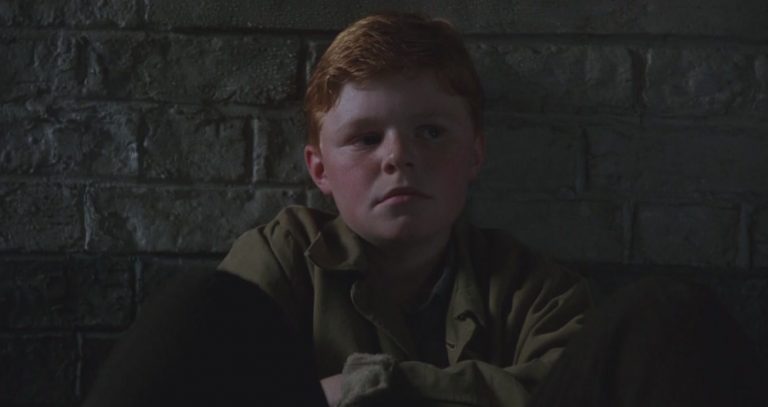 Owens' lead performance is a marvel, the key to it being that, as Francie's circumstances worsen and his mind unravels, he continues to play him like a normal unruly kid – brash and profane and irreverent, his over-vivid imagination providing not only an escape from daily horrors but also a way to rationalize (and/or stay oblivious to) the risk he poses and the damage he wreaks himself. Filled with boundless energy, continually hurt by what the real world serves up for him, yet cheered on by Elliot Goldenthal's score and by adults in his community, who benignly call him a "character" and engage in nowhere-going small talk ("That's a cold one. Would you say that's a cold one, young Brady?" "I'd say it's the coldest yet!" "The coldest yet, he says!" "He does!") up until the point where he does something truly shocking, Francie remains both believably, entertainingly obnoxious and fundamentally guileless as he slips further into insanity.
Led by this portrayal, the film is a flamboyant tonal tightrope walk, resembling the then-recent Heavenly Creatures not only in its narrative but in its fluctuation between emotional extremes, and it is Jordan's most striking (and probably best) work as a director. At first glance, it makes a hell of an impression. Revisiting it, however, one can see the ways in which its attachment to Francie's subjective POV conflicts with its larger narrative strategy. The Butcher Boy takes pains to show its protagonist being failed successively by his parents, his community, religion, and his best friend, all while taking its cues from him in its restless and overeager approach, e.g. cutting from him shouting "Fuck off!" at the fish in the nearby stream straight to him coming home to find his mother standing in the kitchen with a noose in her hand. Jordan's approach is essentially assaultive, which befits his main character and the madness of the era when the story takes place, but it also encourages broad comedy and overacting on the sidelines, and there's a predetermined quality to the film that keeps it from truly plunging into a dangerous, anything-goes delirium.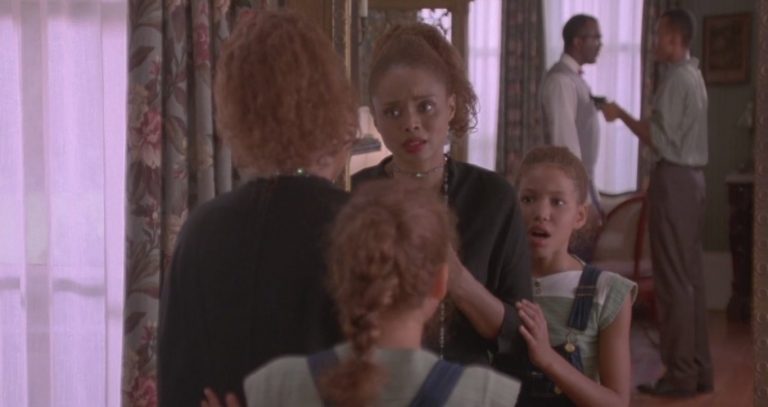 Kasi Lemmons' Eve's Bayou, by contrast, is a much calmer affair, although that's only on the surface: the actual story is all about hidden or poorly concealed passions. Here, too, the main character brings death, except she announces it right away: "The summer I killed my father, I was ten years old," somberly intones adult Eve offscreen in the opening minutes, the line meant largely to hook the audience (the narration doesn't reappear until the end), and the film proceeds to track the events of that fateful summer, spent, as it turns out, in Louisiana's prosperous, seemingly isolated (none of the larger world's problems ever get brought up) Creole-American community. Preteen Eve (Jurnee Smollett)'s relationship with her dad, Louis Batiste (Samuel L. Jackson) – "the best colored doctor in all Louisiana," as an atypically clumsy line of dialogue from a side character informs us – initially seems swell, but she is horrified when she catches him having sex with a family friend in a barn, and although her older sister Cisely (Meagan Good) seems to convince her that she's misinterpreted something innocent, it's clear that even in this moment both girls realize that they're lying to themselves for the sake of comfort. Comfort they may regain, but Louis' weaknesses – expertly conveyed by Jackson beneath his usual arresting swagger, which here gets reconfigured as something of a defense mechanism, a persona – aren't going anywhere, and will be reckoned with before the end, though not in a manner quite as straightforward as Eve's above-quoted line suggests.
Until then, it's life, with its incidents, crises, joys and memories. Eve's Bayou, unlike The Butcher Boy, was not adapted from a novel, yet feels like it was (in a good way, for the most part): its dialogue is literary, its storytelling enjoyably loose, with a large family in the center and different members getting attention at different times, never when you expect. Throwing things curiously off-balance, the most significant adult female presence is not Eve's deceived mother, Roz (Lynn Whitfield), but her aunt and Louis' sister, Mozelle (Debbi Morgan, in a mesmerizing turn that should have led to a far greater big-screen career), clairvoyant and widow of three, who also gets the movie's standout scene: a flashback set entirely within a mirror, which she first observes as she's narrating it, then rejoins by stepping from the present into the past, all in a single shot. In another section of the film, she has a premonition of a child being run over, which leads Roz to lock up her daughters and their younger brother inside the house; when another boy is killed, the Batiste children are thoughtlessly happy at the news, a perfectly observed behavioral detail on Lemmons' part that helps keep the film alive and immediate.
The accumulation of events and characters (some of whom, specifically two major male characters who aren't Louis, get short-changed in terms of screentime, as in a novel adaptation that was forced to cut things out) forms a structure that's seemingly random and can well make you forget all about that opening voiceover – right up until the climax arrives and you realize everything was leading here all along. "All I know is that there must be a divine point to it all," muses Mozelle late in the film, "and sometimes I think there's no point at all, and that's the point." The film manages to support both sentiments; divine or not, the point is that the world runs on lust, carnality, jealousy, and other physical concerns and impulses (menstruation and incest, too, figure into the story – impressively, without making the film remotely sleazy) far more than we'd like to admit, while the truth is elusive and you may only get to make sense of things once they're behind you. In the end of The Butcher Boy and Eve's Bayou, their respective protagonists are left in front of an unknown future, both films generous enough to afford them hope rather than despair.