Conventional films about love bring people together, and thus deal with class issues in two ways. These films either depict how love reinforces class identity or mediates class differences. In contrast, films about bad love tend to not resolve class differences, especially when the love of power triumphs over the power of love. This is what Chinatown (1974) takes a twisted view of, hiding the really uncomfortable truth until the last possible moment, and driving home the tragic realization that, despite his best intentions, Jake Gittes, a divorce-case private eye, is responsible for the destruction of not one, but two women—in the same exact place, and perhaps indirectly for another.
There are many forms of love on display in Chinatown, and they're all rotten. The film's director, Roman Polanski, whose pregnant wife was murdered by the Manson family in 1969, was determined to make the film reflect his romantic fatalism. Forget happy endings—the ending he wanted, and got, verged on nihilism, where even the appeal of seduction is tarnished when women are restricted to being either villains or victims. And what would seem to be the most basic kind of relationship, that of a father and daughter, is corrupted almost beyond belief.
There's also a dramatic letdown in seeing Jack Nicholson, at the height of his physical attractiveness, stripped of his hipster charm for the role of Jake. For much of the film, he has an ungainly bandage on his nose, often flecked with blood.
Jake embodies the ugliness of his environment. Racism is far from casual in late-30s Los Angeles. In one scene, Jake tells an interminable joke about "screwing like a Chinaman." The film, in a telling way, associates racism with ignorance. A Chinese gardener gives Jake an immeasurably valuable clue, but he overlooks it. Chinatown is also where Jake, when he was on the police force, made a crucial blunder. As he puts it with a chilling frankness, "I was trying to keep someone from being hurt, and I ended up making sure she was hurt."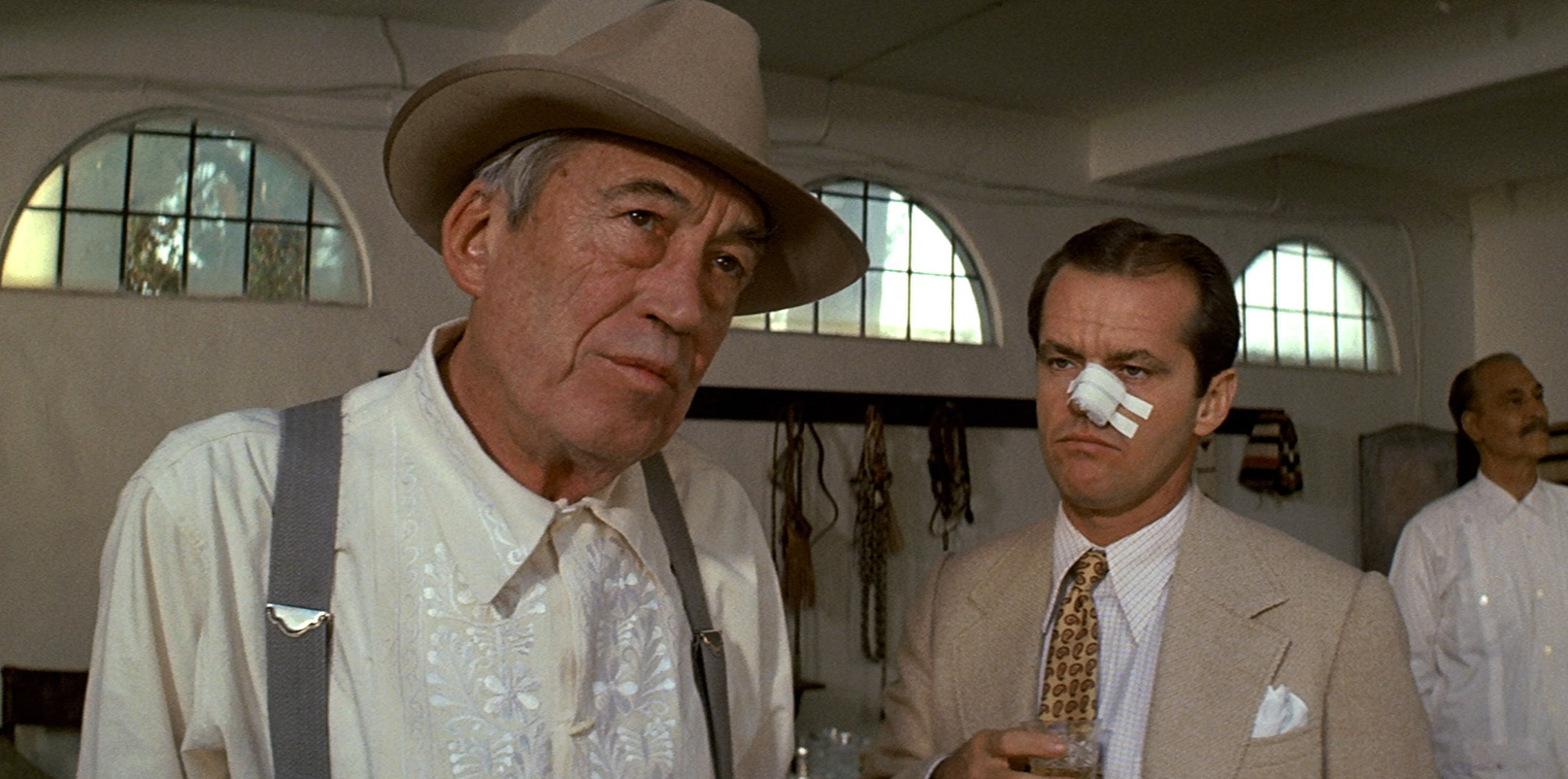 The film's heart of darkness, however, is the ruthless and deranged Noah Cross, played with a menacing swagger by legendary film director John Huston. Cross is a tycoon who has his eyes on the biggest prize of all: he wants to buy the future in the form of a secret water grab (based on an actual scandal in 1908) to irrigate the San Fernando Valley. While now a tired and problematic (on any number of levels) metaphor, the rape of the land being equated with sexual rape is powerfully dramatized here. Cross doesn't just think he can get away with anything—he knows he can: be that the murder of a business associate or incest with his daughter. Cross thus knows himself all too well, bluntly telling Jake that "most people never have to face the fact that at the right time and place, they're capable of anything."
The partner Cross bumps off, Hollis Mulwray, is married to his daughter. One of the few idealistic men left in Los Angeles, he refuses to build a dam, because he feels responsible for an earlier disaster, when he designed a similar structure that collapsed. Before the murder, Cross and his cronies enlist Jake to spy on him, with the help of a woman who pretends to be Hollis's wife and claims he's cheating on her.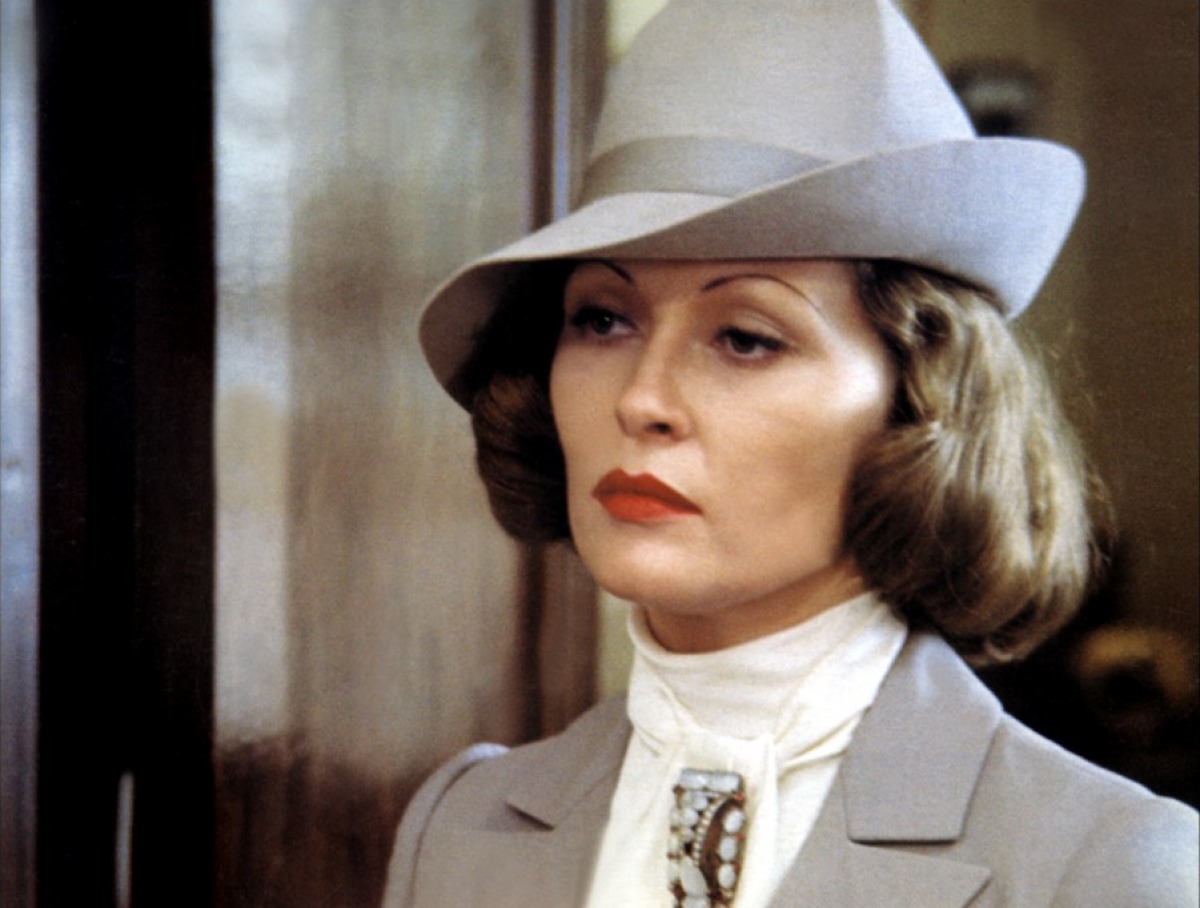 Then the real Evelyn Mulwray shows up at Jake's office to set things straight. The problem is that she can't come out and tell Jake directly what she knows. Jake, not being very sharp, suspects her of hiding something. Played by Faye Dunaway, she looks like a femme fatale, beautiful and enigmatic.
The film is full of misdirection. The evidence of Cross's plot is not hidden in some dark room, but in the sunny orange groves where he's buying land cheaply after creating a drought by secretly dumping water. Evelyn is not guilty of anything; she's only trying to hide her shame about what her father's done to her. Jake thinks he'll solve the case, and the police will be on his side. But he's not Sam Spade, and he doesn't realize that Cross owns the police.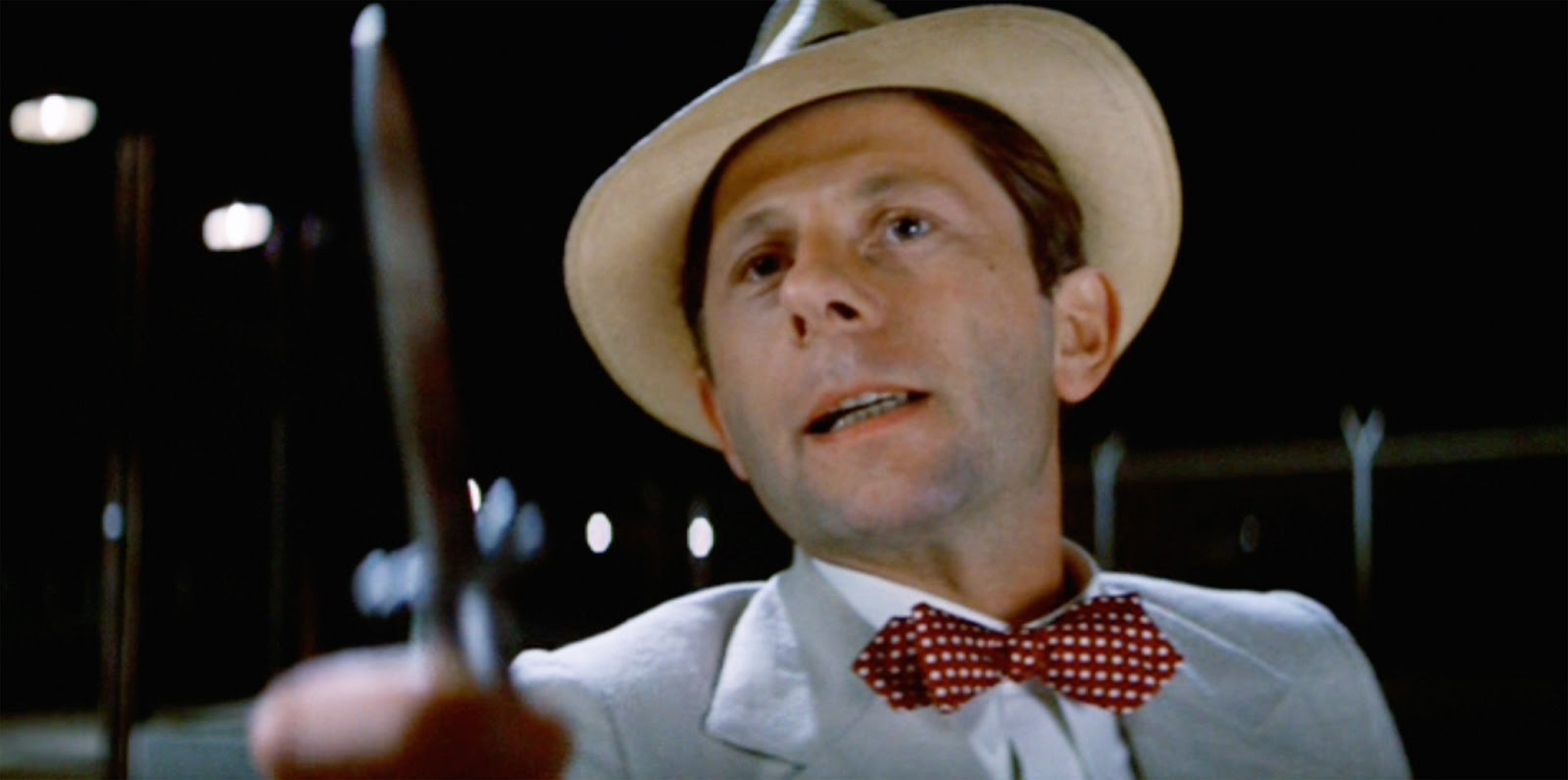 At least, Jake is methodical, so much so that the majority of the film is taken up by his piecing together the clues. He's stubborn as well, refusing to back off the case after he gets his nose sliced by a miniature thug, played by Polanski. But the closer Jake gets to solving the case, the closer Cross gets to discovering the hiding places of both the woman who pretended to be Evelyn and Evelyn herself, who is trying to protect her daughter (who is her sister as well) from their father.
Chinatown reminds us that fate is usually not kind to the foolish. Those who think they're smarter than everyone else are the easiest to fool. Jake may indeed claim that he's out to bring down those at the top in charge of running the scam (rather than their underlings), but he exhibits relatively little sympathy for those getting cheated out of their land.
Like In a Lonely Place, the tension in Chinatown is heightened by the conditions in which it was filmed. Reportedly, on the first day of shooting, Polanski was so nervous that he threw up in front of Nicholson. He proceeded to act like a dictator on set, bossing Nicholson around with countless corrections on his line readings and growing impatient with Dunaway's struggle to find the motivation for the complex character of Evelyn.
The night of passion between Jake and Evelyn after they narrowly escape the clutches of her father's henchmen feels like time stops. Jake is able to put aside his suspicions about Evelyn, or maybe they act as a turn-on. But the film's fatalistic atmosphere makes the bad love of the past seem like an overwhelming force in the present.
The grim conclusion, watched today, has an even more bitter taste: the race and gender stereotypes that connect the inscrutable Chinese to the mysterious Evelyn become more pronounced. Assisted by her Chinese housekeeping staff, Evelyn makes plans to blow town with her daughter/sister.
Unfortunately, Jake is smart enough to figure it all out and tips off the police to Evelyn's whereabouts in Chinatown. Cross is waiting for Evelyn. She tries to get away, and is fatally shot through the eye. Cross leaves with his remaining daughter. Jake is let go by the police; he's too unimportant, in the bigger scheme of things, to be charged with any crime—as long as he forgets what's happened.
Chinatown has particular relevance to me. Flint, Michigan is a few hours away from where I live. In a scandal that plays like a sequel to the film, the governor of Michigan, Rick Snyder, created the legislation necessary to take over Flint, an impoverished city with a 57% black population. After the takeover, the decision was made, in order to save money, to shift the city's water supply to the polluted Flint river. Snyder tried to cover up how the residents were being poisoned by this water. In the resulting political fallout, charges were brought against three low-level city employees. There has been a growing effort to recall Snyder.
There's a memorable line, in Chinatown, where Cross says, "Of course I'm respectable. I'm old. Politicians, ugly buildings and whores all get respectable if they last long enough." Perhaps bad love could be added to the list.